Cat Hamburger Bed
Date Published: 06/30/2014 4:46 AM
Buy Now

@Amazon
Find on Ebay

The cat burger bed is a pillow/bed for your cat that looks like a hamburger and is perfect for cats that just like to hide out in dark cavernous places, but also for cats who love hamburgers. While your cat is lounging in their hamburger bed, you as a human can also enjoy the comfort of a hamburger as you take a nap in your very own cheeseburger bed along with loaded toppings to keep you extra warm and snug. To purchase the cat burger bed you will have to venture through the scary and confusing experience of a Japanese website, although they're bright, flashy, and you will most likely have a seizure, hopefully you can find the light at the end of the tunnel and end up with a nice cozy hamburger bed for your cat.
SITE ANNOUNCEMENT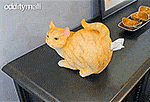 We Are Giving Away 6 Cat Butt Tissue Dispensers
The cat burger bed comes in three colors to choose from, rose, caramel, and lavender, and measures 18.5 inches x 15 inches x 7.9 inches.
[Alternate Purchase Link] [Other Alternate Purchase Link]