Auto Start Button Bling
Date Published: 03/03/2016 10:32 AM
Buy Now

@Amazon
Find on Ebay

I often look at the start button in my car and think to myself, "My God am I poor, I don't even have jewels around my start engine button, what kind of peasant am I?". Luckily I've recently found the auto start button bling that you can attach to your car's start button to become filthy rich looking instantly. You can now live the luxurious lifestyle knowing that when people get in your car they'll think you paid in the 6 figures for your car because you now have some fake jewels plastered onto the dashboard of your '92 Mercury.
SITE ANNOUNCEMENT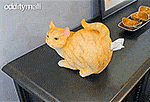 We Are Giving Away 6 Cat Butt Tissue Dispensers
The engine start button bling comes in three different colors to choose from, including silver, pink and blue, are made with premium crystals, durable metal, and strong adhesives that won't fall off. The bling pieces are a universal fit that will work with all cars, SUVs, trucks, and can even work on other things in your car like knobs, ignitions, buttons, and more.