Bandages With Pictures of Severe Injuries On Them
Date Published: 11/04/2014 2:01 AM
BOO-BOOS are bandages that have images of some pretty gruesome injuries on them to make your injuries look much worse than they actually are. Get a little paper cut at the office? Put a boo-boo bandage on it and make it look like a bullet hole. The cat scratch your finger a little bit? Put a boo-boo bandage on it to make it look like a blunt force trauma wound. The bandages have all sorts of different injuries to choose from, including a chemical burn, a skin ulcer with skin slip, an ulcer with a maggot infestation, a small caliber gunshot wound, and a slashing sharp force trauma.
SITE ANNOUNCEMENT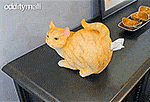 We Are Giving Away 6 Cat Butt Tissue Dispensers
The bandages are sterile, latex-free, measure 3 inches long x 0.75 inches wide, and each package will contain 20 bandages (4 of each of the 5 designs). The Boo-Boo bandages are currently in a funding phase on IndieGoGo and will begin manufacturing shortly after they reach their goal, so go reserve yours now.