Back Of The Hand Push Soap Dispenser
Date Published: 07/26/2013 2:01 PM (Updated: 11/15/2016 8:45 AM)
Buy Now

@Amazon
Find on Ebay

Why get the front of your hand full of poop germs by touching the soap dispenser when you could just touch it with the back of your hand to get your soap. It is probably a fact that 90% of the Flu virus is spread through soap dispensers, but since the back of your hand is immune to the Flu, once your purchase the back of the hand push soap dispenser you will have nothing to worry about.
SITE ANNOUNCEMENT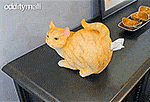 We Are Giving Away 6 Cat Butt Tissue Dispensers
The back of the hand soap dispenser works great with any type of soap, has a soap level indicator on the back, is green and white in color, and is a great modern addition to your dumpy, smelly bathroom.