Alien-Like Baby Carrying Pouch
By Ryan on 11/30/2017 9:59 PM (Updated: 11/15/2022 9:48 AM)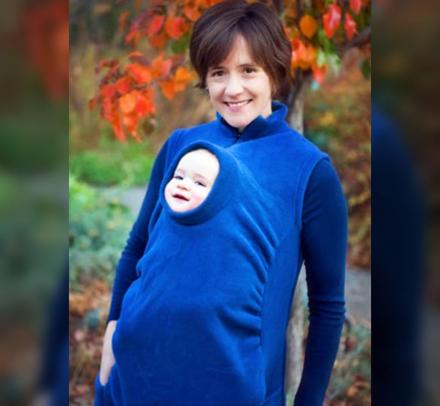 Carrying babies is hard, why use your hands when you can carry them around like a kangaroo like nature intended? This sweater-vest-like garment allows you to carry your babies around in a big pouch on the front of it, and requires no slime during use.
To use this handy baby carrying pouch, just place your child into the pouch, and poke their head through the breathing chamber. The handy part is that the breathing chamber doubles as a feeding vessel. Just place food in front of the hole and the alien baby inside the pouch will feast away.
Although this baby carrying jacket is efficient at carrying your baby around when you are on the go, it is Inefficient at helping you fit into society. It also may make people think you have some sort of alien protruding out from your stomach.
The alien-like baby carrying pouch comes in a few different colors and sizes to choose from, is made from a soft and flexible fleece material, has a side zipper that allows you to easily take it on and off, and can be work by having your baby on the front or back of you.