Apollo 11 Astronaut Sweatshirt and Sweatpants
By Ryan on 01/05/2015 2:01 AM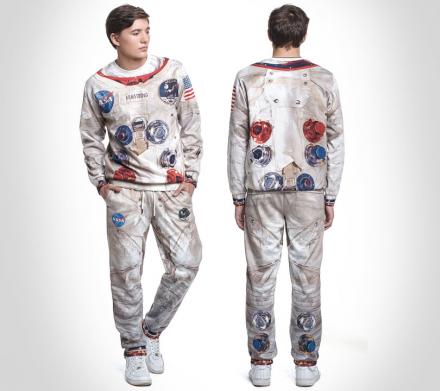 The Apollo 11 Sweatsuit is a pair of sweatpants and a sweatshirt that are almost an exact replica of the space suit that the astronauts from Apollo 11 wore to the moon, except, you know... in sweatsuit form. Quite similar to the SpaceLife space suit jacket, the Apollo 11 sweatsuit is perfect for lounging on the couch watching Netflix, eating Cheetos, and getting even fatter, while pretending to be one of the most determined, focused, driven, and influential humans to have existed. Now you can live out your boyhood dreams by slipping into your Apollo 11 sweatsuit, pack your things in your space messenger bag, go camping in your spaceship camping tent, sleep under your astronaut bed sheets, while on top of one of your galaxy rugs for better cushion, all while charging your phone on your astronaut phone charger.
The Apollo 11 Astronaut Sweatsuit is made to look like an exact replica of the A7-L space suit that was worn by Neil Armstrong on the Apollo 11 mission to the moon, has an elastic waistband with a drawstring, has fitted cuffs with a relaxed fit, has two side pockets along with one in the rear, and is made from 45% polyester, 45% fleece, and 10% elastane. The sweat suit can be purchased together as a whole sweat suit including the sweatshirt and sweatpants or they can be purchased individually.
Want to buy just the sweatshirt? Click here.