Animal Head Shot Glasses - Safari Animals Shot Glasses
Date Published: 09/19/2016 3:00 AM
Buy Now

@Amazon
Find on Ebay

These animal head shot glasses look like they were plucked from the wall of a safari hunter, either that or some sort of extravagant chess set. You can tip the animal heads over and pour a shot into the neck of each animal. Each one can balance on the top of their head using their ears, antlers, horns, etc. A perfect gift idea for a hunter or outdoorsman, the animal head shot glasses are sure to be a target at your next party or gathering.
SITE ANNOUNCEMENT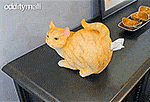 We Are Giving Away 6 Cat Butt Tissue Dispensers
These finely detailed animal head shot glasses are made from a durable ceramic construction with a high-gloss finish, and come in a set of 4 shot glasses that include a moose, a bear, a rhino, and a ram. When not in use, the animal shot glasses can be set onto a bottle of wine, liquor, or beer as decoration.