Woouf Amplifier Bean Bag Chair
Date Published: 12/05/2014 4:22 AM
The Amplifier Bean Bag is a bean bag chair / ottoman that looks just like a guitar amplifier. Designed and created by Woouf a Barcelona based company (no, I'm not talking about wuphf.com, the social media company created by Ryan from the Office), the amp bean bag is a perfect gift idea for any guitar player, singer, god forbid a bass player, or really anyone who thinks their band is going somewhere someday. Use the amp to sit on, lean on, rest your feet on, or to tell people your play the guitar. If you're not into amplifiers, Woouf makes a wide array of realistic looking bean bag chairs and furniture such as a keyboard sofa, a wad of cash bean bag chair, a camera bean bag chair, a Rubik's cube bean bag chair, a giant shoe bean bag chair, and more...
SITE ANNOUNCEMENT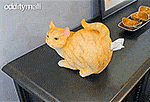 We Are Giving Away 6 Cat Butt Tissue Dispensers
Filled with an EPS compact core along with high-density foam, the Amplifier bean bag chair is covered with an water repellent canvas cover that is removable with a zipper, is machine washable, measures 20 inches wide x 16 inches long x 12 inches deep, and unfortunately the volume knob does not go up to 11.