This Wooden Picnic Table Folds Down To a Briefcase For Easy Transport
Date Published: 12/04/2014 2:01 AM (Updated: 04/18/2018 5:17 PM)
Buy Now

@Amazon
Find on Ebay

Similar to the picnic table that folds into a bench, this picnic table folds all the way down to a briefcase so you can easily carry it from one place to another. Perfect for the mobile eater, tailgater, beach goer, or picnic enthusiast, the folding picnic table seats up to 4 regular sized humans, and can quickly and easily be folded down so that it actually turns in to what looks to be a large wooden briefcase. No longer will you need to make 4 trips to the car when out at the beach or a park to grab chairs and a hefty table, just haul out seating for four, as well a generous sized table to fit your food all using just one arm.
SITE ANNOUNCEMENT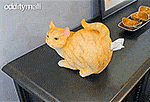 We Are Giving Away 6 Cat Butt Tissue Dispensers
The folding picnic table briefcase is made from wood and stainless steel, has a hole on the top to hold an optional umbrella, comes with a zippered canvas protective bag which also has a handle, can withstand up to 240 lbs of chubbiness per seat, and measures 33.25 inches wide x 26 inches long x 53.75 inches tall when fully opened, measures 33.25 inches wide x 14 inches long x 4.5 inches deep when folded in to briefcase mode, and weighs 27 pounds in total.