Thor's Hammer Bottle Opener
By Ryan on 09/25/2013 2:01 PM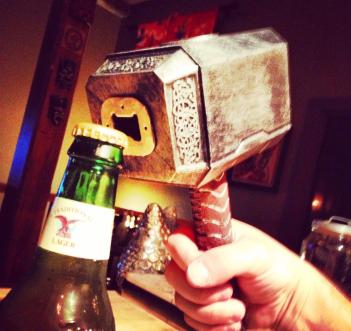 If you are looking for the most extravagant, over the top, flamboyant, yet manliest way possible to open your bottle of beer, then you may want to purchase Thor's Hammer Bottle Opener. Become a God of beer with this bottle opener, which has a bottle opener built into the side of it so that instead of smashing skulls, you can smash your bottle open.
NOTE: The linked bottle opener is smaller in size than the one pictured. The pictured bottle opener doesn't seem to be for sale anywhere.
Thor's Hammer bottle opener is crafted in solid metal, measures 6 inches tall from the handle to the top, and is sure to take your virginity with it's first use.