Star Wars Darth Maul Lightsaber Night Light
By Ryan on 07/09/2018 7:14 PM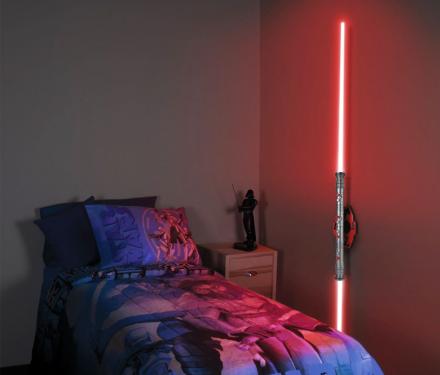 The lightsaber light is a Darth Maul lightsaber night light that will keep your room lit up in the dark to keep the scary monsters away while you're hiding under your Star Wars bed sheets which are wrapped around your twin bed along with your Darth Vader statue looking upon you in embarrassment from your side table.
Perfect for giving your room a soft red glow, the Darth Maul night light measures about half the length of the true size of the Darth Maul lightsaber at around 54 inches long.

The Darth Maul lightsaber night light is powered via 3 AAA batteries, is adjustable so you can have it sit vertically or horizontally, is not detachable from the wall, and measures 4.5 feet long x 2.5 inches wide x 2.2 inches deep.