This Stacked Rain Barrel System Helps You Collect Rain Water For Your Garden
By Ryan on 02/09/2023 2:55 PM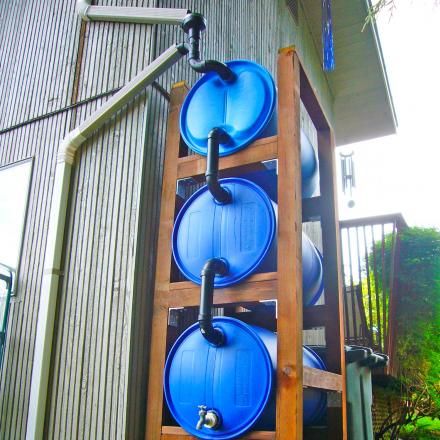 In this day and age, water conservation is one of many important tools for battling climate change. Collecting, storing and reusing rainwater is a viable option for most areas, but water barrels can take up a lot of space. If nothing else, reusing rainwater can offer users significant reductions on their water bills, while keeping the garden well-nourished. And this next set of DIY plans can also help users keep water barrels up and out of the way while doing so.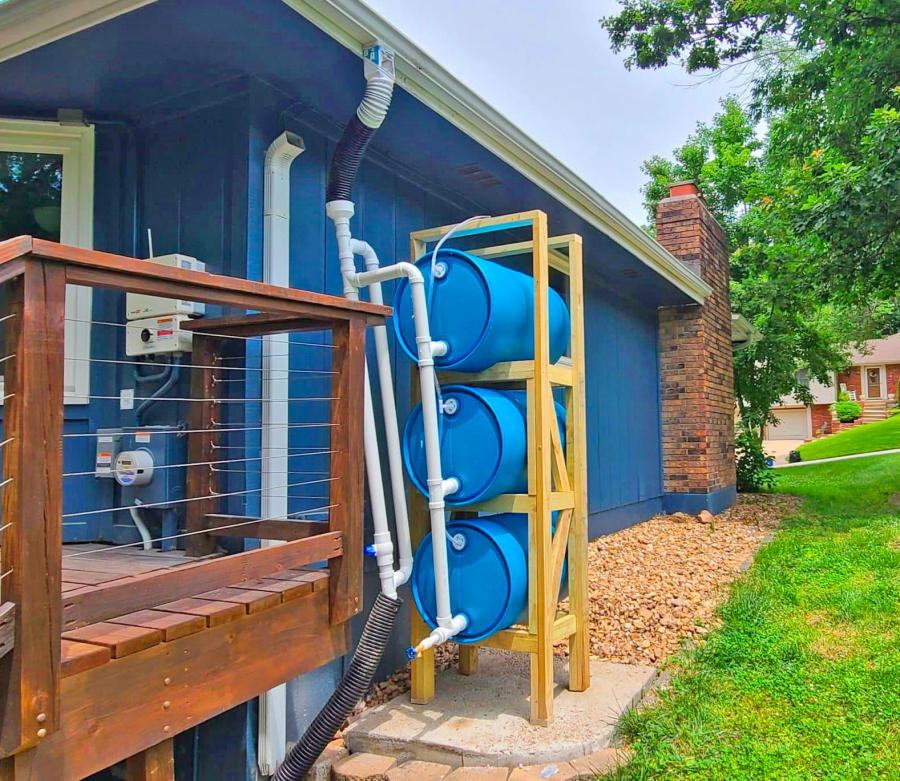 Credit: Big Living Little Footprint
These DIY plans for stacked rain barrels are a great way to save space and maximize rainwater storage in your backyard from the shop BigLittleFootprint on Etsy.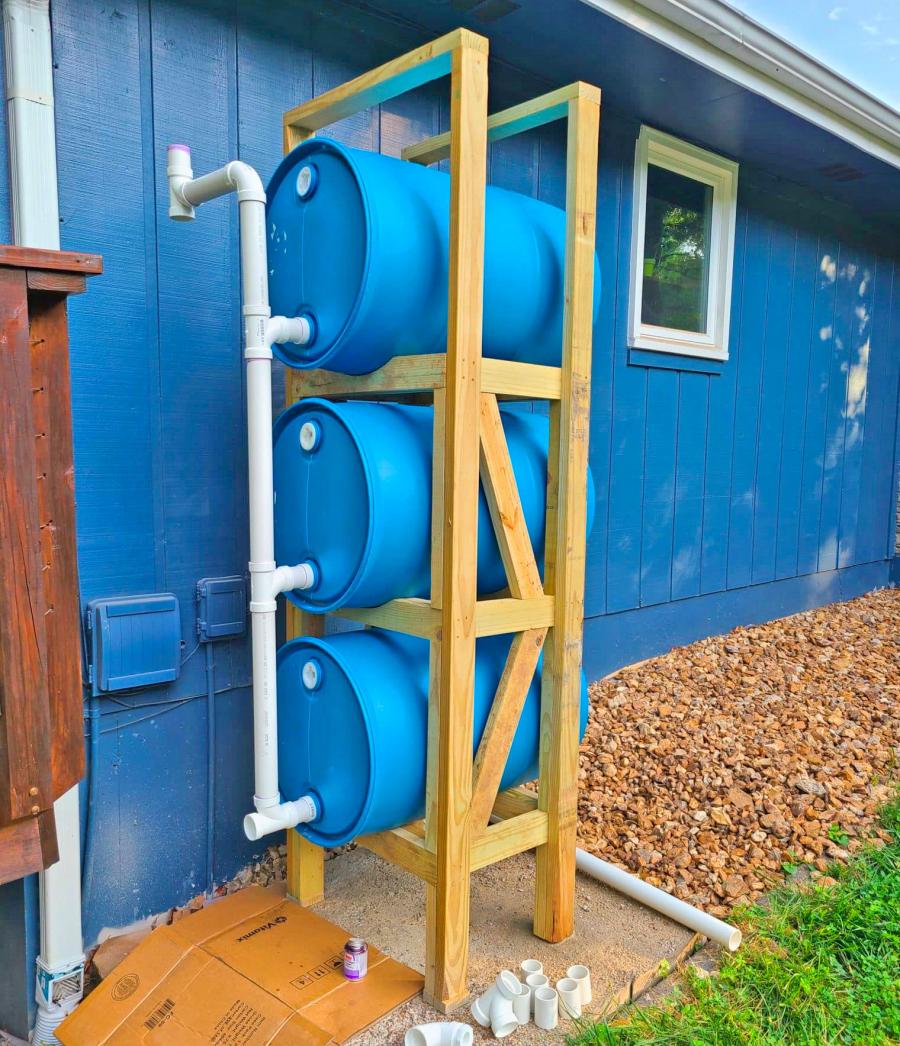 Credit: Big Living Little Footprint
The shop is offering an affordable set of DIY construction plans to build these stacked wooden rain barrel holders, which could be a great way to get the most out of backyard space while reusing rainwater.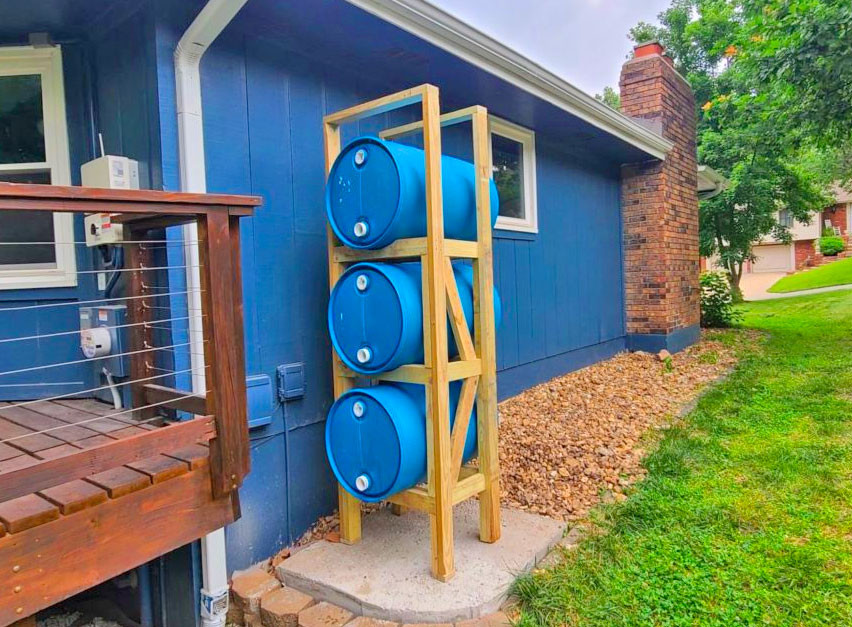 Credit: Big Living Little Footprint
Additionally, on another website called dswens.com, you can find some free instructions for a stacked rain barrel rain water collection system. Though this page doesn't tell you every single detail on how to build it, and is meant more for woods-working experts or someone with quite a bit of experience. Credit: dswens
These rain barrel systems come with a large, stacked wooden barrel holder, and instructions for putting the plumbing in place to connect up to three rain barrels in the stack. The rain barrel holder also includes a hose spigot for using your stored rainwater, and a drainpipe to prevent overflow. Credit: Big Living Little Footprint
This project is meant to be built yourself, though it looks fairly simple altogether for someone who is relatively handy. Credit: Big Living Little Footprint
The PDF file with instructions for the DIY stacked rain barrel holder includes detailed drawings and product photos, a guide on reading the engineering drawings, a materials list and the detailed plans themselves. Credit: Big Living Little Footprint
Additionally, the plans include building instructions for a decorative screen, which is an optional add-on to the DIY stacked rain barrel holder to make it a little more visually appealing. In addition to saving space, building your rain barrels into an upright holder also has the benefit of elevating your water line, which ultimately increases pressure to the hose. Credit: dswens
When fully built and set up, the dimensions of these rain barrel holders are roughly 46.2 by 31 by 108.5 inches (about 117.3 by 78.7 by 275.6 cm), though the shop also notes that the design could take up more space than that depending on their plumbing assembly once complete. Credit: Big Living Little Footprint
Stainless steel feet can be optionally added to the base of the unit to help disperse some of the hefty weight that it could potentially be holding after a large rainfall! Credit: dswens
The shop rates the DIY project as having a beginner to intermediate difficulty level, adding that the plumbing is a bit more advanced than the simple straight cuts of the wood. Credit: Big Living Little Footprint
Upon purchasing the rain barrel holder PDF plans, you'll simply need to open the Account tab in your Etsy account, then click "Purchases and Reviews," find the order from BigLittleFootprint and click "Download Files." Your 8.5x11-inch PDF of the DIY stacked rain barrels will then begin downloading to your device. Credit: Big Living Little Footprint
Other potential options to go along with these stacked rain barrel systems include this simple whiskey barrel-styled rain barrel and this aesthetically pleasing raindrop-shaped rain barrel, both of which will easily connect to a downspout on the house. Or, if you're really serious about minimizing your impact, you might consider following this couple's example and building your own off-grid solar tiny home — complete with rain barrel systems for reusing your rainwater, of course. No matter what you need water for in your backyard, whether in the garden or doing something else entirely, these DIY rain barrel holders are the perfect way to collect and reuse rainwater. Along with holding up to three rain barrels, these plans let you save space by stacking the barrels upright, and they're likely to add a little ease to your rain storing plans. Credit: Big Living Little Footprint
You can then stain the rain barrel holder as you see fit, and once completed, it'll be able to withstand upwards of 1,400 lbs of rainwater! Credit: dswens
You can buy snag DIY stacked rain barrel holder instructions from BigLittleFootprint on Etsy for around $10 bucks, including the digital download of detailed PDF instructions. Credit: Big Living Little Footprint