This iPhone Case Lets You Hold It With One Finger
Date Published: 08/07/2015 2:01 AM
This 3D printed iPhone case is made with a ring in the top corner of the phone so that you can hold it with just one finger or attach it to your key-chain or backpack. Although the only reason I want the case is so that I can twirl my phone around like it's a gun and slide it into my pocket ever so casually. People will bow down before me as I assault their minds with my old western style coolness. Plus there's a little button inside the loop that allows you to wake/sleep your iPhone, since the loop on the case is covering the button.
SITE ANNOUNCEMENT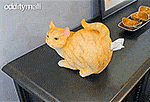 We Are Giving Away 6 Cat Butt Tissue Dispensers
The ring iPhone case is 3D printed from white polished nylon that's extremely strong and flexible with a matte finish, has an open window on the back of the case to show the world that you do indeed own an iPhone, and comes in 8 different colors to choose from. It's true what they say, if you like your iPhone 6, you should put a ring on it.
- via Gadgetsin