Post-It Note Door Hangers
Date Published: 10/27/2015 8:13 AM
Sometimes regular ol' post-it notes just won't do the trick when you're trying to remind someone else to do something. These Post-It note door hangers are essentially giant note-pads that have a large hole on the top of them so that they can easily hang on your door knob, thus making sure someone receives your note before they leave the house. No longer will you need to stuff notes and items into peoples shoes so that they literally can't leave the house without noticing and probably ignoring what you put in their shoes, simply write your note on the giant Post-It note door hanger and rest assured that your message will be received (assuming they leave the house).
SITE ANNOUNCEMENT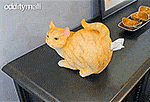 We Are Giving Away 6 Cat Butt Tissue Dispensers
The Post-It note door hangers take the design of a do-not-disturb sign that you usually see at hotels, and turns them into a useful way to pass messages back and forth within your home. The Post-it door hangers come in either pink, yellow, or blue colors to choose from, are made from paper, come in a pack of 100 sticky notes, and each sheet measures 7.1 inches long x 2.7 inches wide.