This Pizza Tacos Bacon Wall Decal Is Perfect For People Who Hate The Live Laugh Love Trend
By Ryan on 09/12/2022 10:33 AM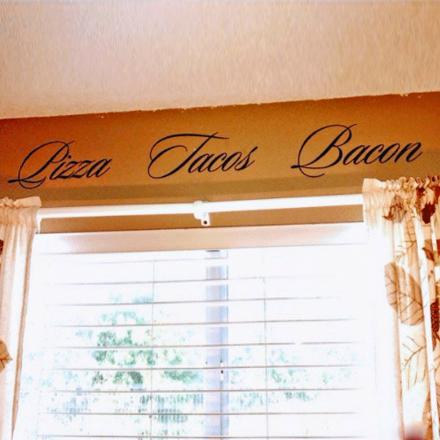 We are pretty sure you are tired of seeing the old statements of "Live, Laugh, Love" on somebody's wall. But, while this old-school, homely decoration appeals to the hearts of many, seeing the comforting foods we all know we love – like pizza, tacos, and bacon – may appeal more to your taste. They also bring a different type of satisfaction you and your loved ones can quickly get.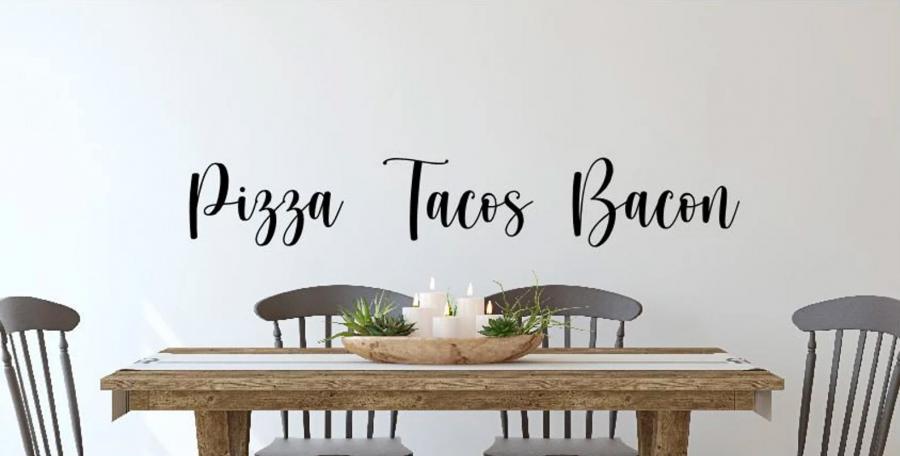 Choosing the right home decor means making a lot of decisions and giving it some thought, which can take time in the long run. In addition, it may take time to decide if the decor is a good fit for your tastes and the furniture you own.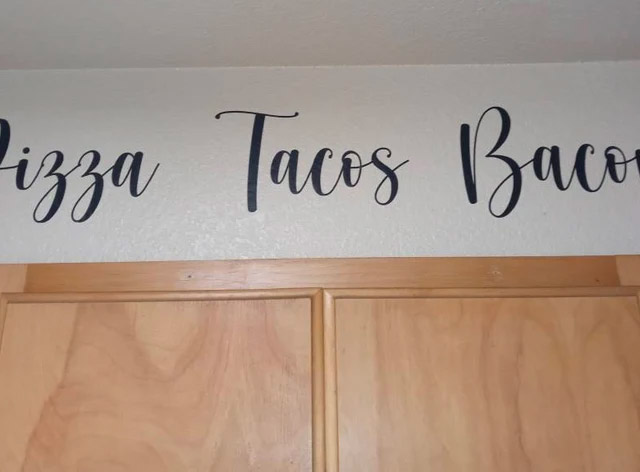 Fortunately, this "Live Laugh Love" parody decal sticker brings a new and reassuring perspective to your home, which is sure to stimulate your appetite. Gone are the days when you took a lot of time to think of the perfect food that could satisfy your food cravings. With vinyl wall lettering pasted on your wall, you already have three pretty solid options.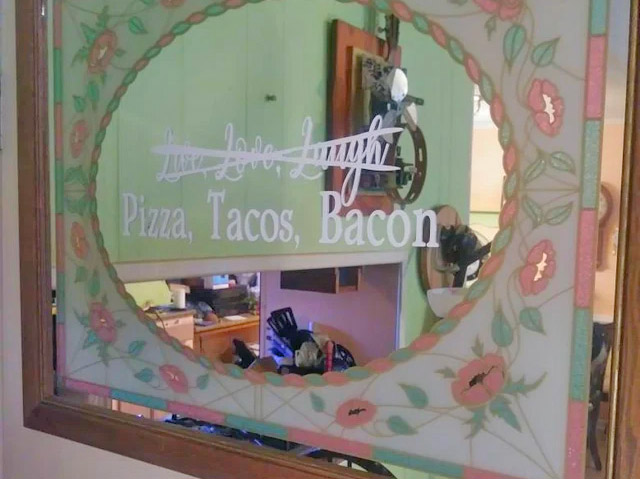 Source
These options can be interchangeable when you think of the meals to eat for your breakfast, lunch, and dinner.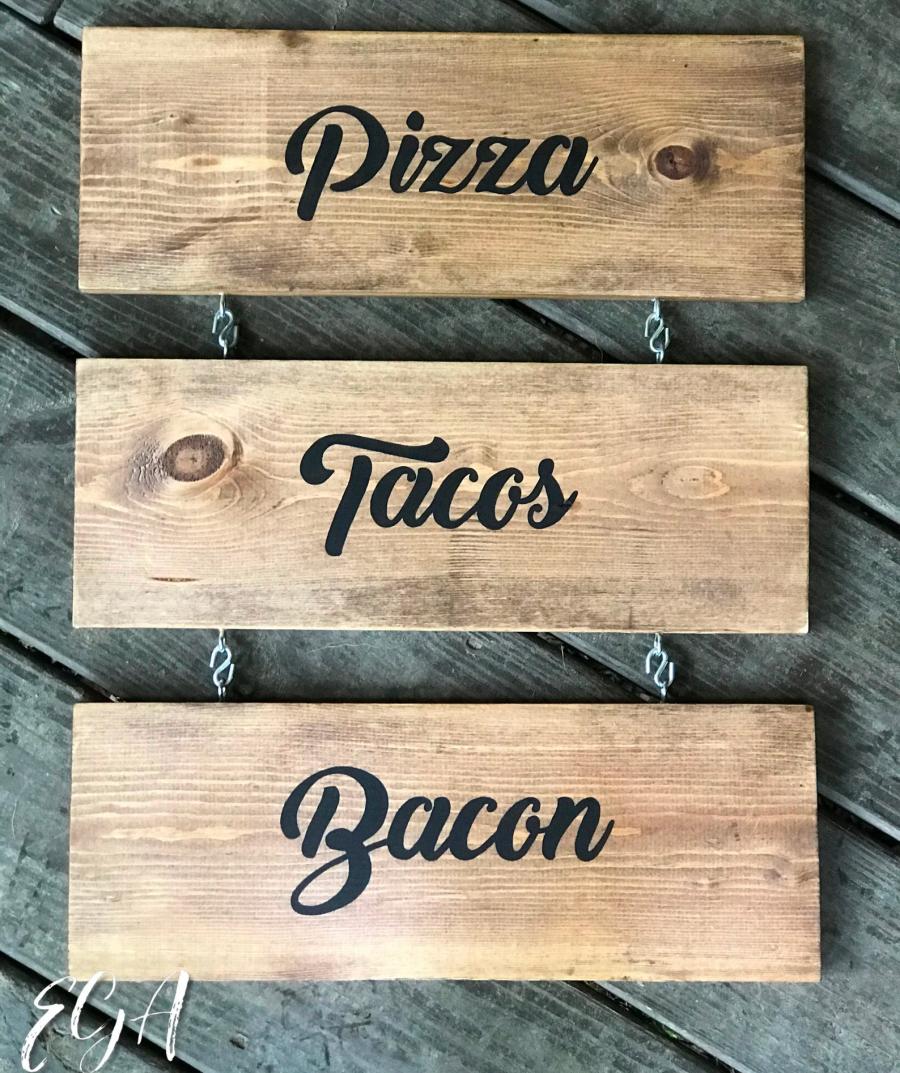 Source
Aside from gathering enough laughs and looks for your home, this sticker is guaranteed to stay there as long as you want it to. This wall sticker is made with an adhesive backing on the back, which is best to be pasted on your wall without it falling now and then.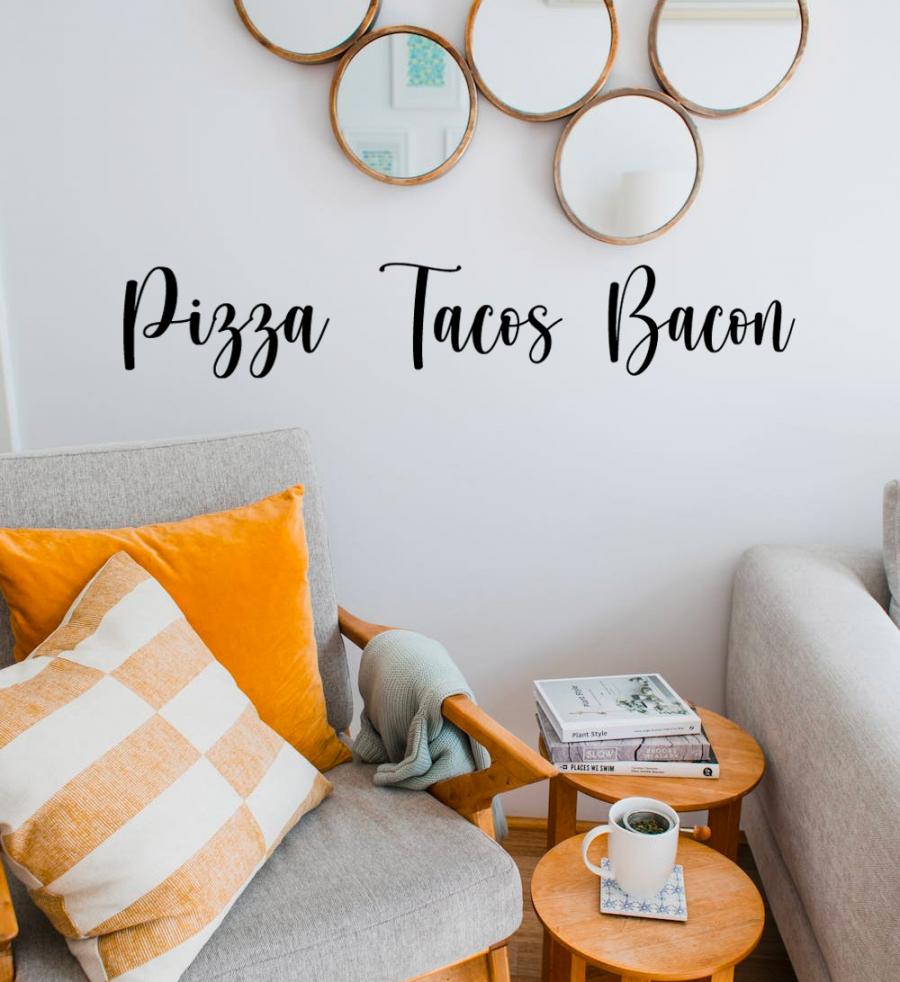 This vinyl sticker is handmade in different sizes that you can choose from. The smallest measurements you can get are 4H and 28L inches (H pertains to height, L means Length, and W talks about the width of the overall product). This size is sufficient to make some subtle changes in your kitchen or dining room decoration.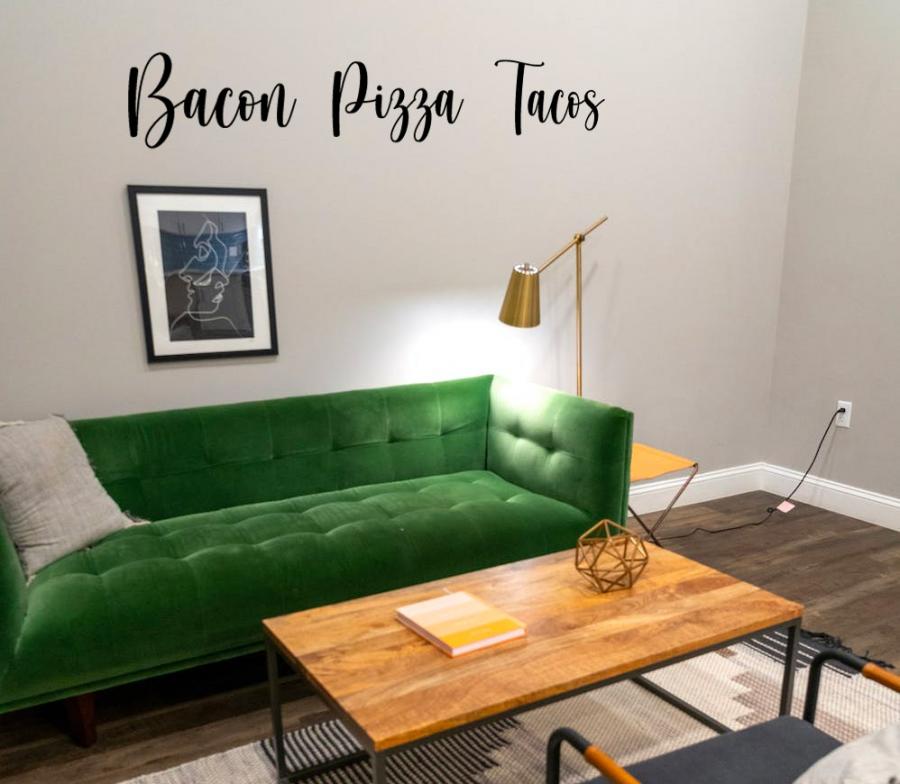 However, if you want these vinyl stickers in a larger size to attract the attention of your guests, you might be happy to choose the 12H and 72W inches of the scripted letters for pizza, tacos, and bacon and place them on the wall of your dining or living room.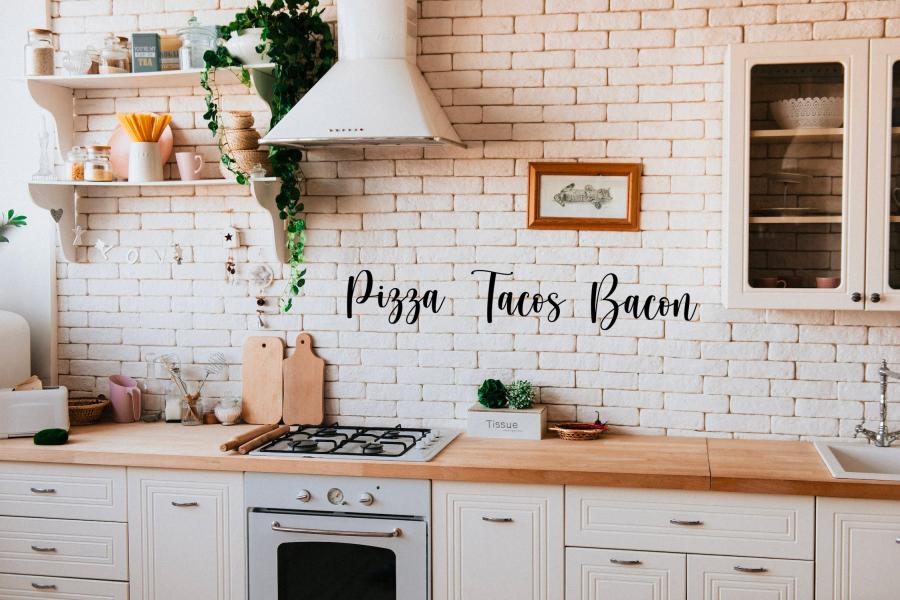 In addition, you can go for different shades of pink, red, orange, brown, green, or blue, entirely depending on what you want it to look like in your home design.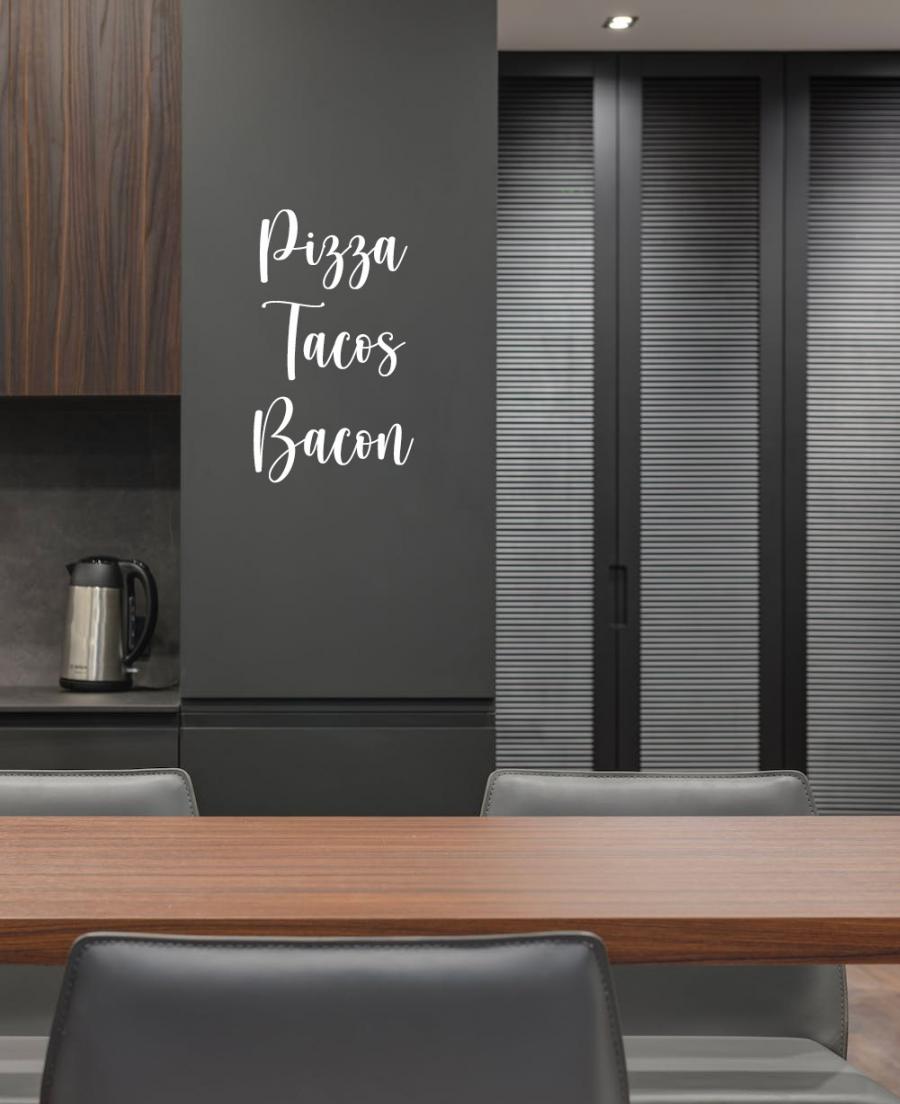 The next thing that makes this product stand out is the durability of the material used. We love that this product is coated with three coats of paint combined with high-grade removable vinyl, which completes the whole look.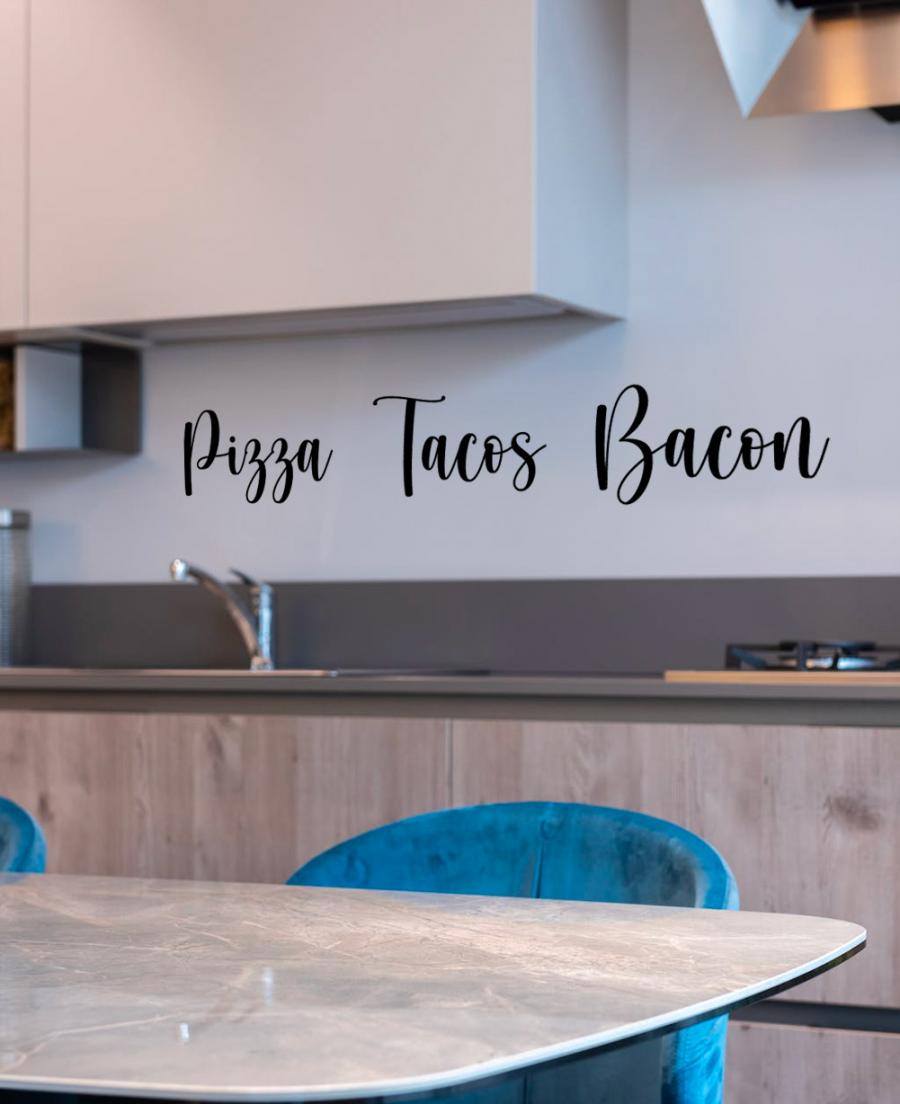 When you take a look at the product itself, you'll notice that you have the option of modifying the height and the spacing according to your preference.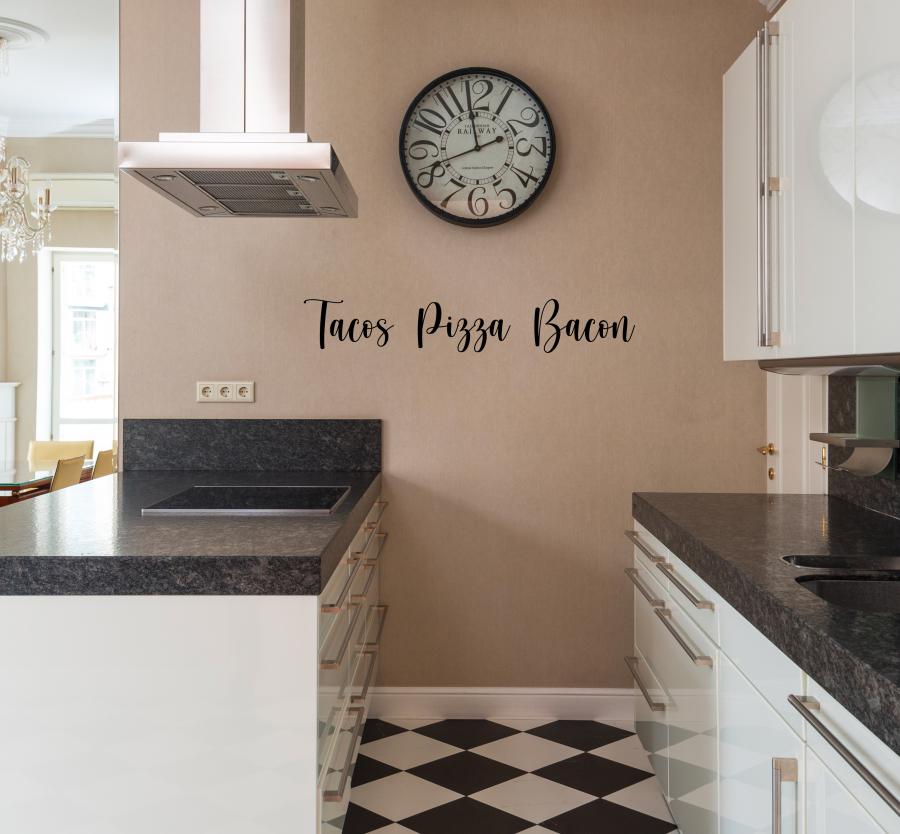 On top of that, you don't have to sweat about its application, as it can be easily pasted on any surface you have in mind.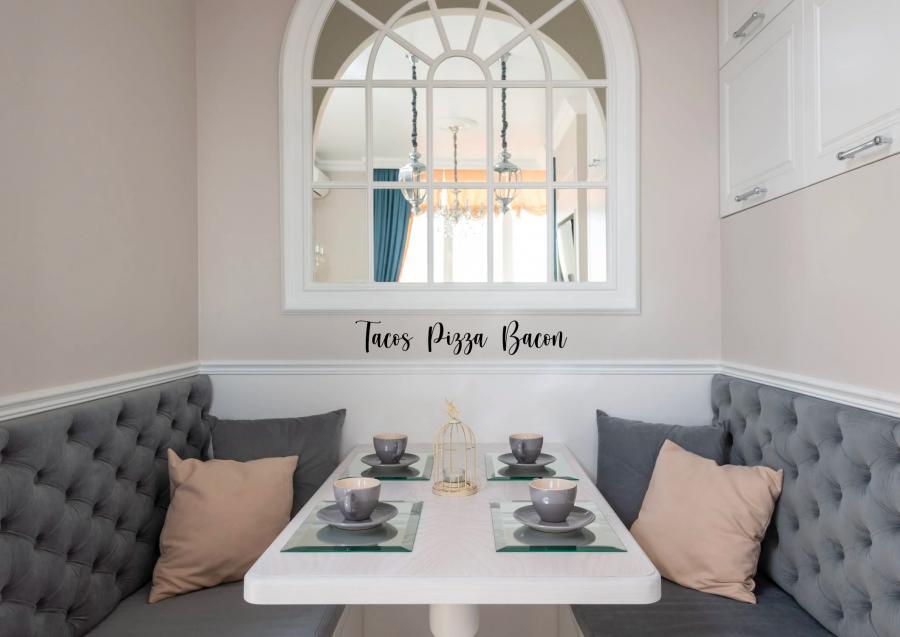 You can snag the pizza tacos bacon parody wall decal from their Etsy shop for around 17 bucks!