These Pendant Lamps Are Designed To Make It Look Like Their Rope Is Too Tight
Date Published: 05/29/2015 4:06 AM
These really well designed pendant lamps are made to look like the rope that they were hung with are too tight, thus crumpling the lamp fixture. Somewhat resemblant of a white paper bag of sorts, the 'Applique Crease' lamps as they are called would certainly give any home a unique and modern look, and would most likely grab the attention of anyone in the room. Designed by Simon Naouri, a designer from Paris, the crumpled paper pendant lamps are made from bisque porcelain along with a braided rope to hang them up, and in total including the rope the lamp measures 4 feet long x 1 foot wide.
SITE ANNOUNCEMENT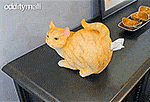 We Are Giving Away 6 Cat Butt Tissue Dispensers
These beautifully designed pendant lamps made to look like their rope is too tight are unfortunately just a concept for now, but hopefully someday come to fruition.