Nostalgia Fruit and Vegetable Peeler, Even Twists Potatoes For Curly Fries
By Ryan on 03/06/2017 1:10 PM (Updated: 03/15/2018 7:23 PM)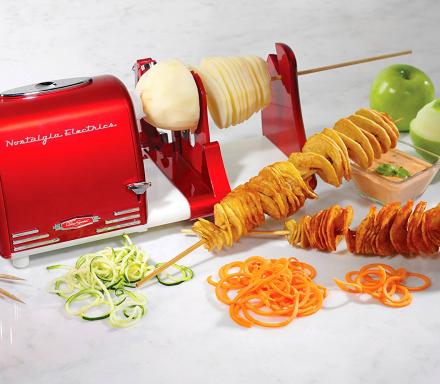 There's nothing worse than when the wife asks me to help her peel potatoes or other veggies for dinner. Using a regular hand peeler will thoroughly destroy your wrists in about 5 minutes. This handy peeler by Nostalgia Electrics allows you to place in any fruit or vegetable onto a rotating rod and have it automatically peel, shred, or spiral cut the entire thing in seconds.
Perfect for peeling fruits or vegetables, the robotic peeler gadget has three different attachable blades that give you different ways to prepare your food. One of them offers a way to peel the outside of the entire piece of food, another is a shredder that will shred the entire thing, and another is a spiral cutter that is perfect for making curly fries, spiral potato chips, or making spiraled cucumbers to fancify your meal.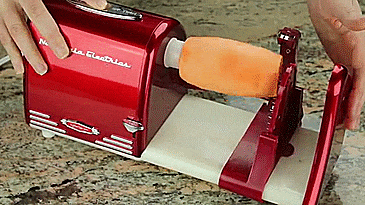 Like everything Nostalgia Electronics makes, the shredder/peeler/spiral cutter is designed to resemble a retro 1950's style piece of kitchen equipment, with the functionality and quality of a modern kitchen gadget. The peeler is super easy to use with just one button, just simply apply the appropriate blade, place your piece of food onto the device and hit the button to start the operation.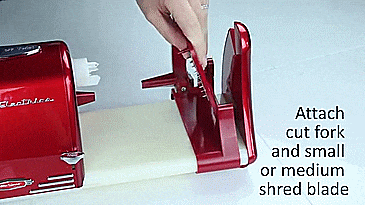 The Nostalgia peeler has a storage compartment on its side to store all of the blades, accessories, an power cord, includes 10 bamboo skewers, along with a plethora of recipes within the user manual.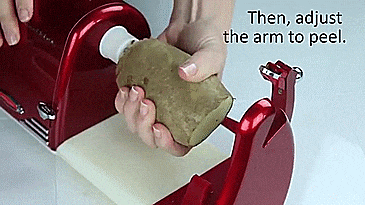 The retro kitchen peeler, twister, and shredder is red in color, comes with a 35 inch power cord, weighs 2.8 lbs, and measures 14.3 inches long x 6 inches wide x 6.5 inches tall.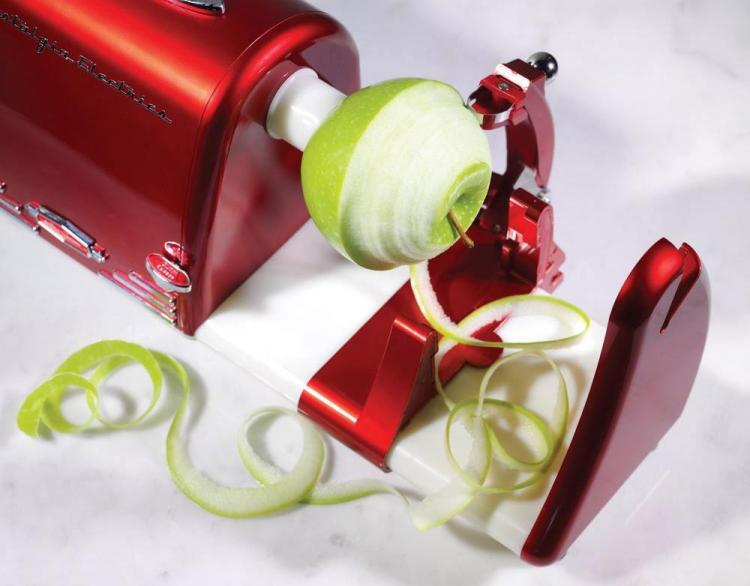 Check out the Nostalgia peeler and twister in action via the video below.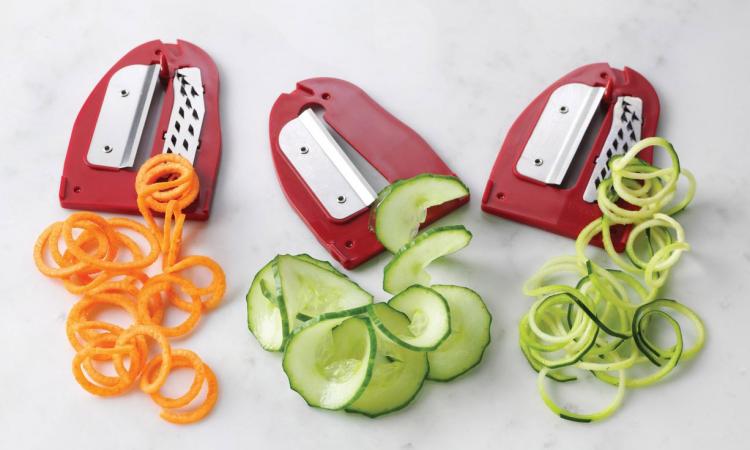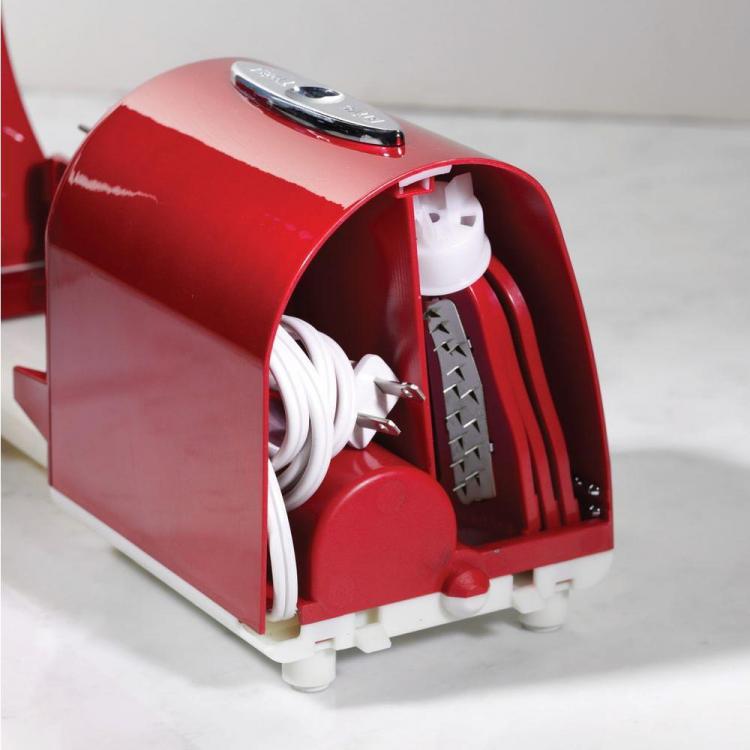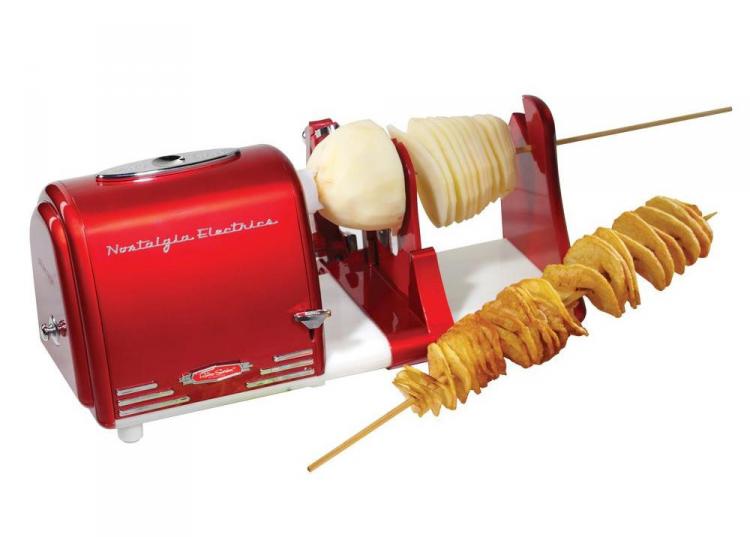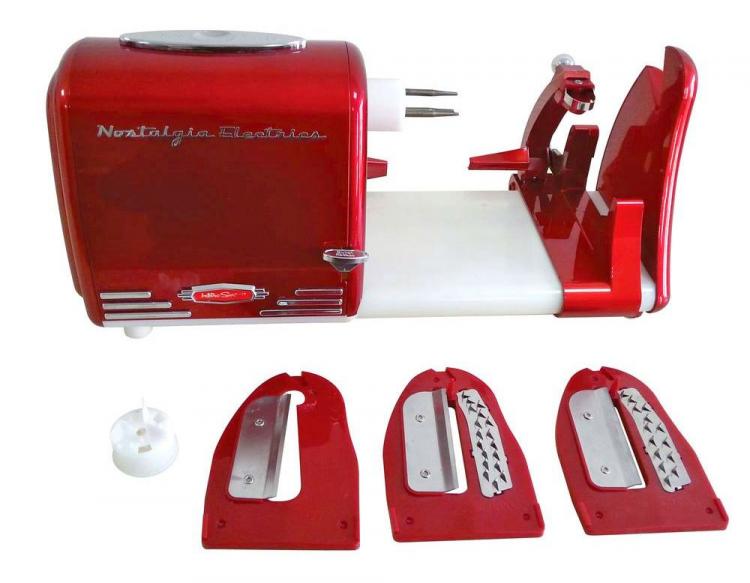 Subscribe To Our YouTube Channel