Nostalgia 3-in-1 Breakfast Station Makes Your Entire Breakfast
By Ryan on 04/24/2021 11:07 AM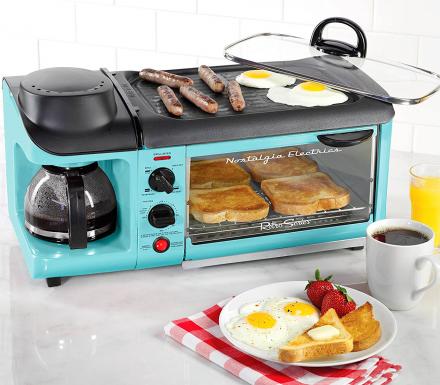 Why fill your cabinets with 3 different kitchen appliances, when you could just buy one item that does the same functions of all of them put together? The Nostalgia breakfast station is a 3-in-1 kitchen tool that has an integrated coffee maker, a large family-sized cooking griddle, along with a toaster-oven that can toast up to 4 slices of bread at a time.

Colors: Red or Blue
If you were ever going to gift a kitchen appliance to a college student, this would be the holy grail! Not only does it take up a lot less space than having 3 separate appliances, but it's retro design makes it pretty snazzy to look at, and everyone will be stunned at your quick and optimal breakfast cooking efficiency.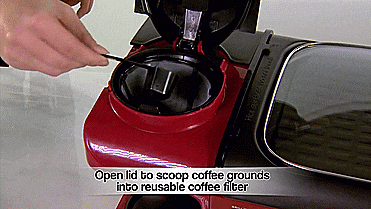 Not only does the mini toaster-oven cook and toast your breakfast, but it can also be used to bake, cook, or reheat any type of food a lot quicker than a regular sized, which takes forever to pre-heat. Plus, you'll get a lot better quality food from reheating leftovers in a toaster-oven than you would in a microwave that would leave everything soggy and nasty.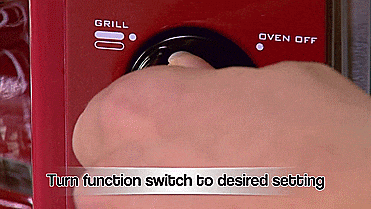 Both the oven and the cooking griddle have removable parts so that you can easily clean it after use, the cooking griddle has a glass lid for better cooking speeds and to cook more evenly, plus the station includes an integrated cooking timer that can go up to 30 minutes.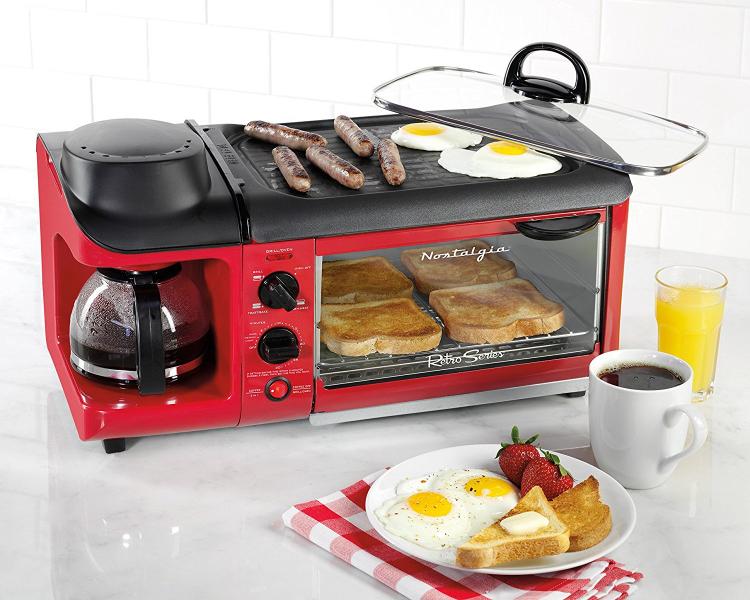 The coffee pot in the breakfast station can make up to 4 cups of coffee at a time, the cooking griddle is perfect for eggs and meats, and the toaster-oven works great for everything from toasting bread, to mini 7-inch frozen pizzas, or even toast sandwiches or make desserts.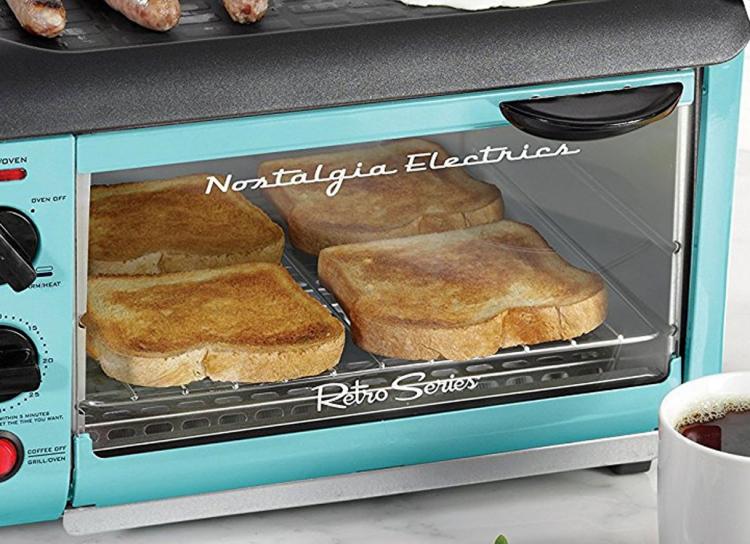 The Nostalgia 3-in-1 retro 50's style breakfast station has easy-to-use control knobs on the side of the device that lets you control the griddle and toaster-oven, a switch to turn on the coffee maker, and a 30-minute timer that will automatically shut everything off when it runs out of time.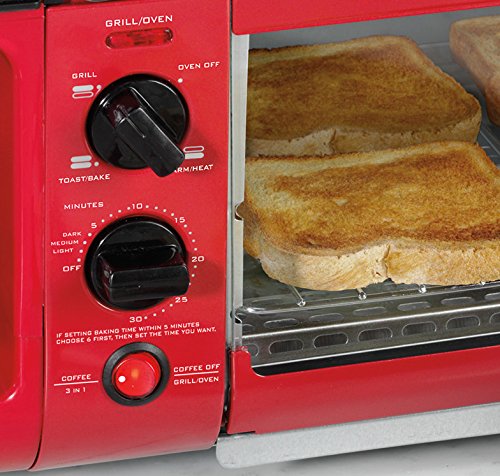 The breakfast station comes in red or blue colors to choose from, weighs 12 lbs, and measures 19.25 inches long x 11.75 inches wide x 11.5 inches tall.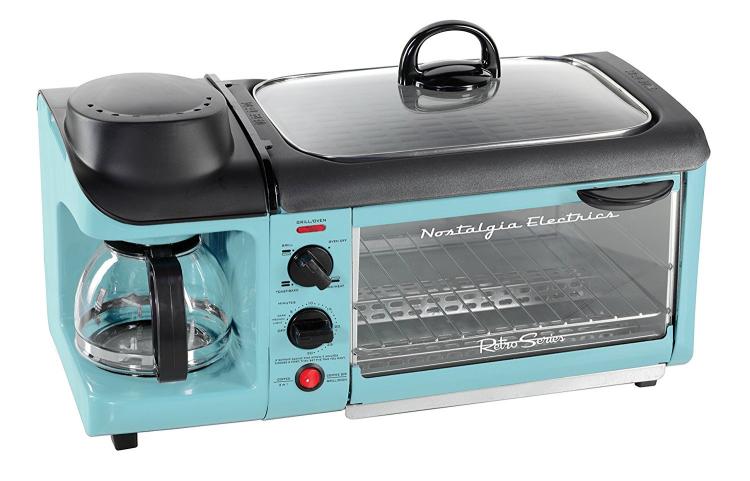 Check out the Nostalgia 3-in-1 retro breakfast station in action via the video below.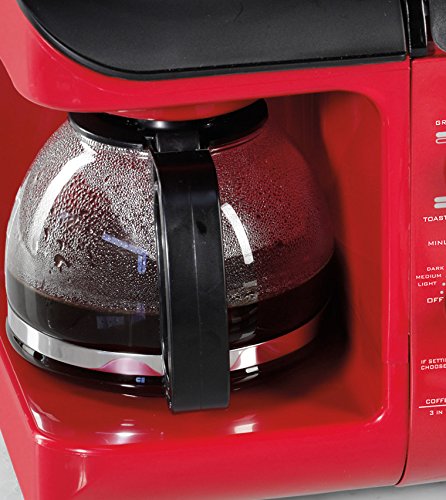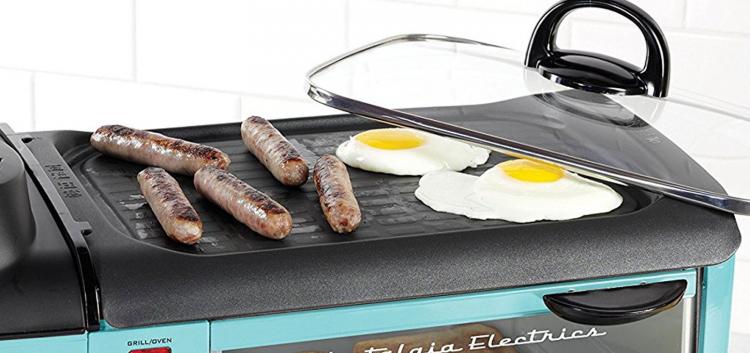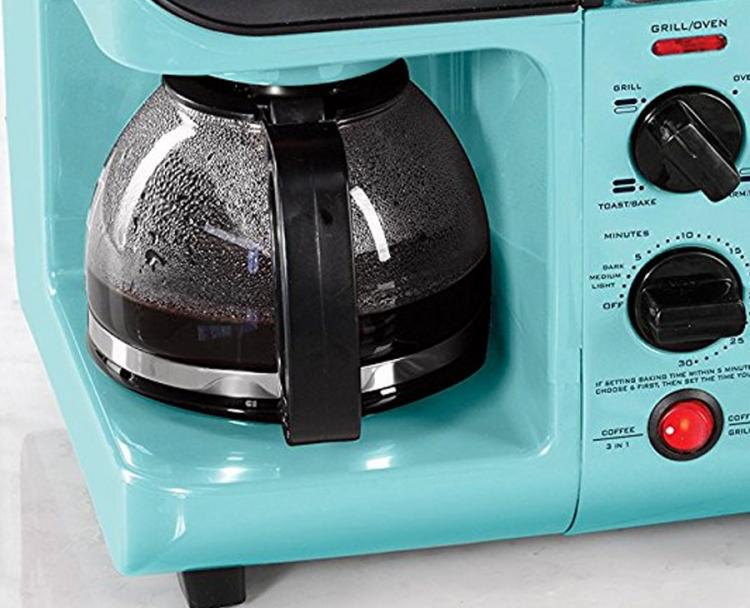 Subscribe To Our YouTube Channel