No Regerts: This 'No Ragrets' Temporary Tattoo Is The Ultimate Tattoo Fail Prank
By Ryan on 11/02/2021 10:04 AM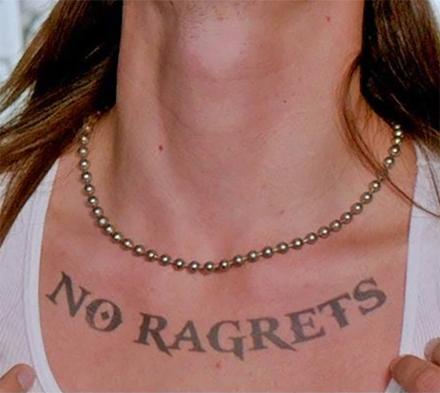 If you ask me, tattoos are all about regrets. If you get your girlfriend's name on your shoulder and then you break up? Regret. When you get a sweet looking tat all over your arms and then you get old and your skin sags, making the art look like a Salvador Dali piece instead? Regret. If the tattoo parlor artist messes things up and it's ugly? Regret. Or maybe they misspelled a word. You guessed it. Big time regret (or regerts?).
My point is that lots of stuff can go wrong when you get some permanent skin art. So maybe it's best to start with a temporary tattoo. Something that highlights this whole regret thing. Something like this No Ragrets Temporary Tattoo. It makes it look like you got a tat that is clearly misspelled. People will see it and feel sorry for you, but mostly it's just funny.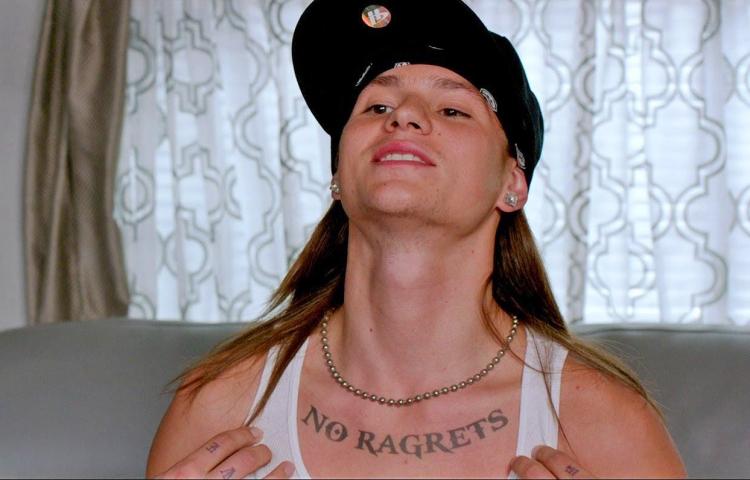 Straight from the movie We're The Millers, the No Ragrets tattoo lets you copy Scotty P's unfortunate tattoo across the upper part of his chest!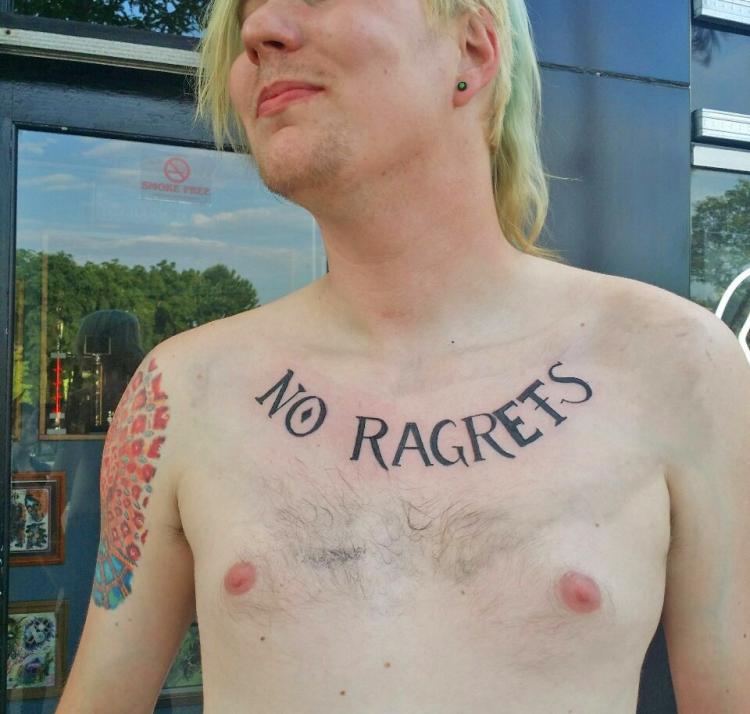 This temporary tattoo measures 7" x 1.5" and is full of regret. Make that ragret. It's great to wear anytime for some fun. You can use it as part of a Halloween costume too. It will be fun to trick your friends into thinking that you got a big tattoo fail.
Now please enjoy these other highly regrettable (or ragrettable?) tattoos!
This No Regerts tattoo is another common and hilarious misspelling that of regrets that has somehow been tattooed onto a human!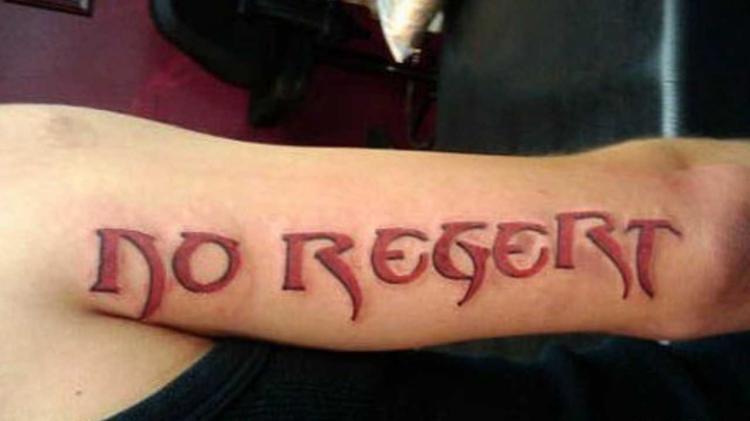 'Nolege Is Power' This ironically terrible tattoo was placed on someone's arm, and apparently the tattoo artist either didn't care, is equally bad ad spelling, or thought it was too hilarious to let them know...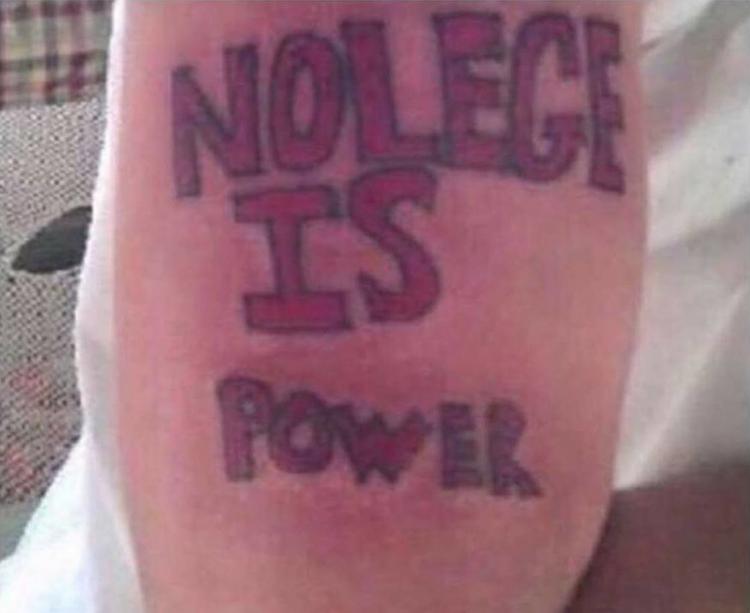 'Your Next' tattoo. When you're tattooing words on your body, especially those that will be seen by everyone, you'll want to make sure they're spelled correctly, and with the proper grammar. This guy needs an extra finger or two to include an apostrophe and an 'E' at the end!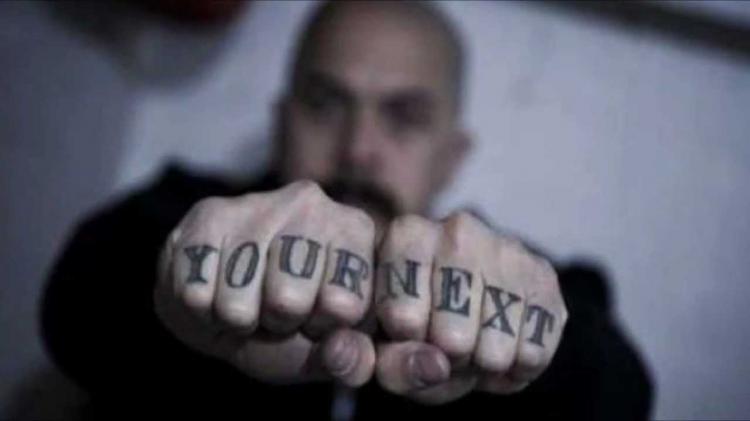 'Tommarrow Never Knows' tattoo! I'm not sure if this guy was predicting the next Bond movie, or he's trying to create his own clever quote, but it certainly didn't work out with this terribly misspelled tattoo! He definitely has some regerts after this one!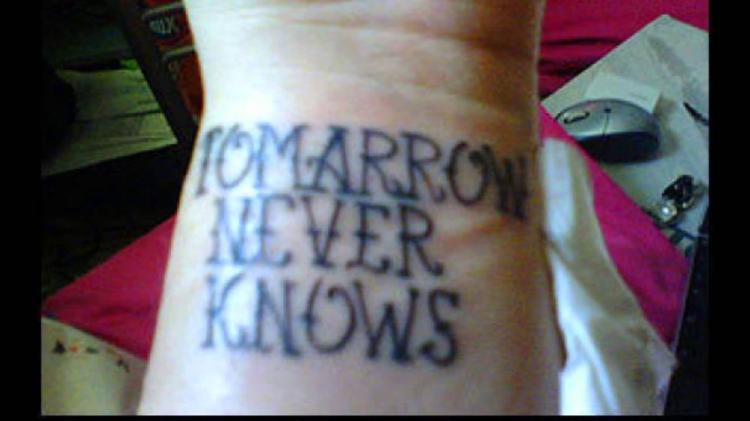 'Plan Ahea' (Plan Ahead) tattoo! Ok, this one has to be planned this way to look quirky, funny, and apparently not so bright. But if this wasn't planned this way, I commend you and the tattoo artist you chose!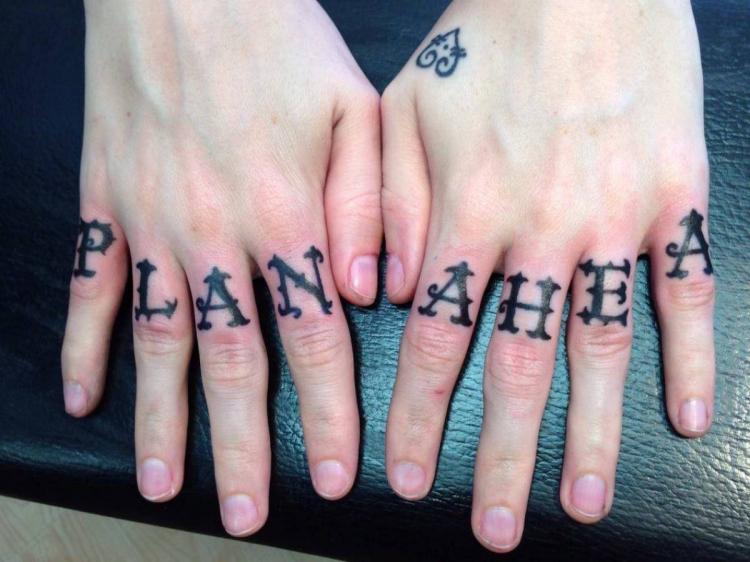 'My Mom Is My Angle' (angel?) tattoo! Perhaps this guy's mom really likes geometry, or perhaps this guy has some regerts? Which one do you think it is?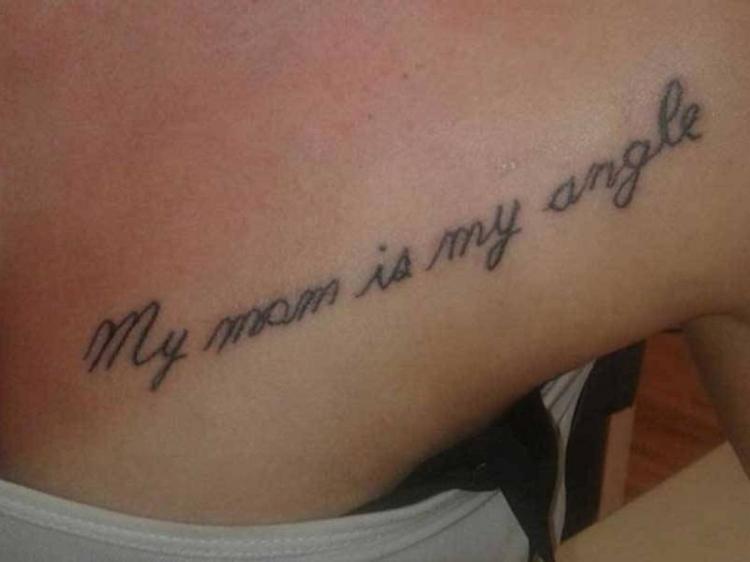 'You Only Life Once' tattoo! It's true that you only live once, but I'm not sure what you only life once is meant to mean. Perhaps this guy was mixing up two different phrases, and his tattoo artist just went with it to display on his tattoo fails board!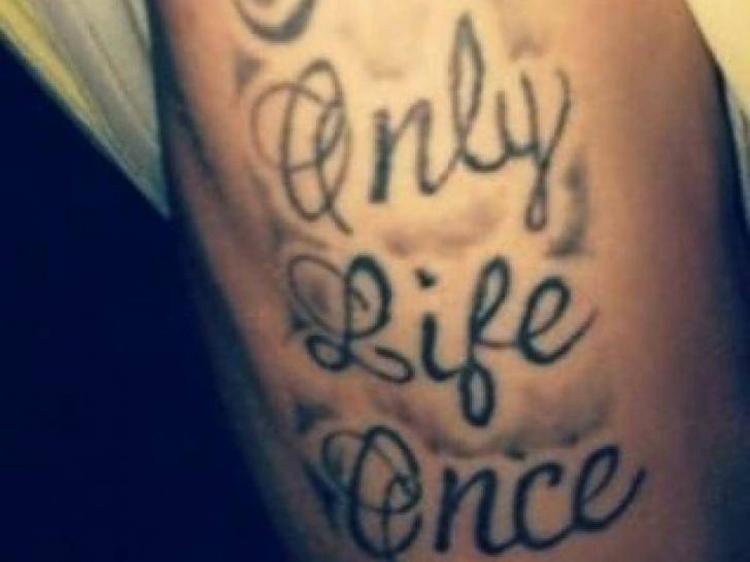 'Only God Can Fudge Me' tattoo! Similar to sending a letter to your congressman, it's always best to choose the correct font when getting a tattoo! You don't want to send an important letter in Comic Sans, nor would you want your J's to look like F's with your tattoo!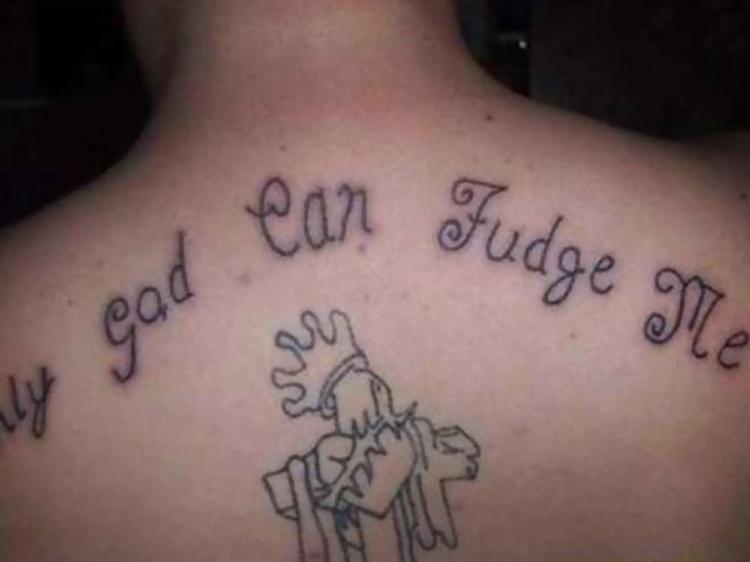 'Tradgey Comedy' Tattoo! These tattoo fails are comedy to us, but to the one getting them, it's really a tragedy, or I guess a 'tradgey' in this case. There are definitley some regerts with this tattoo!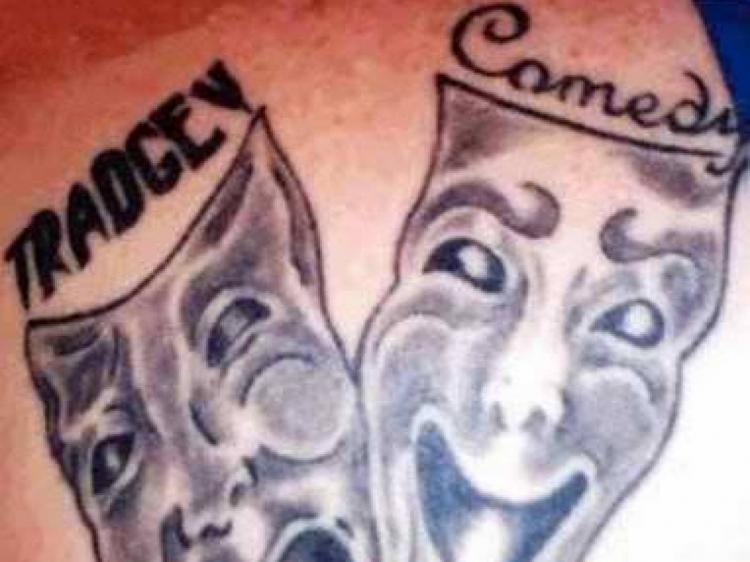 You can get the No Ragrets temporary tattoo from Amazon here! It goes for around $10 bucks!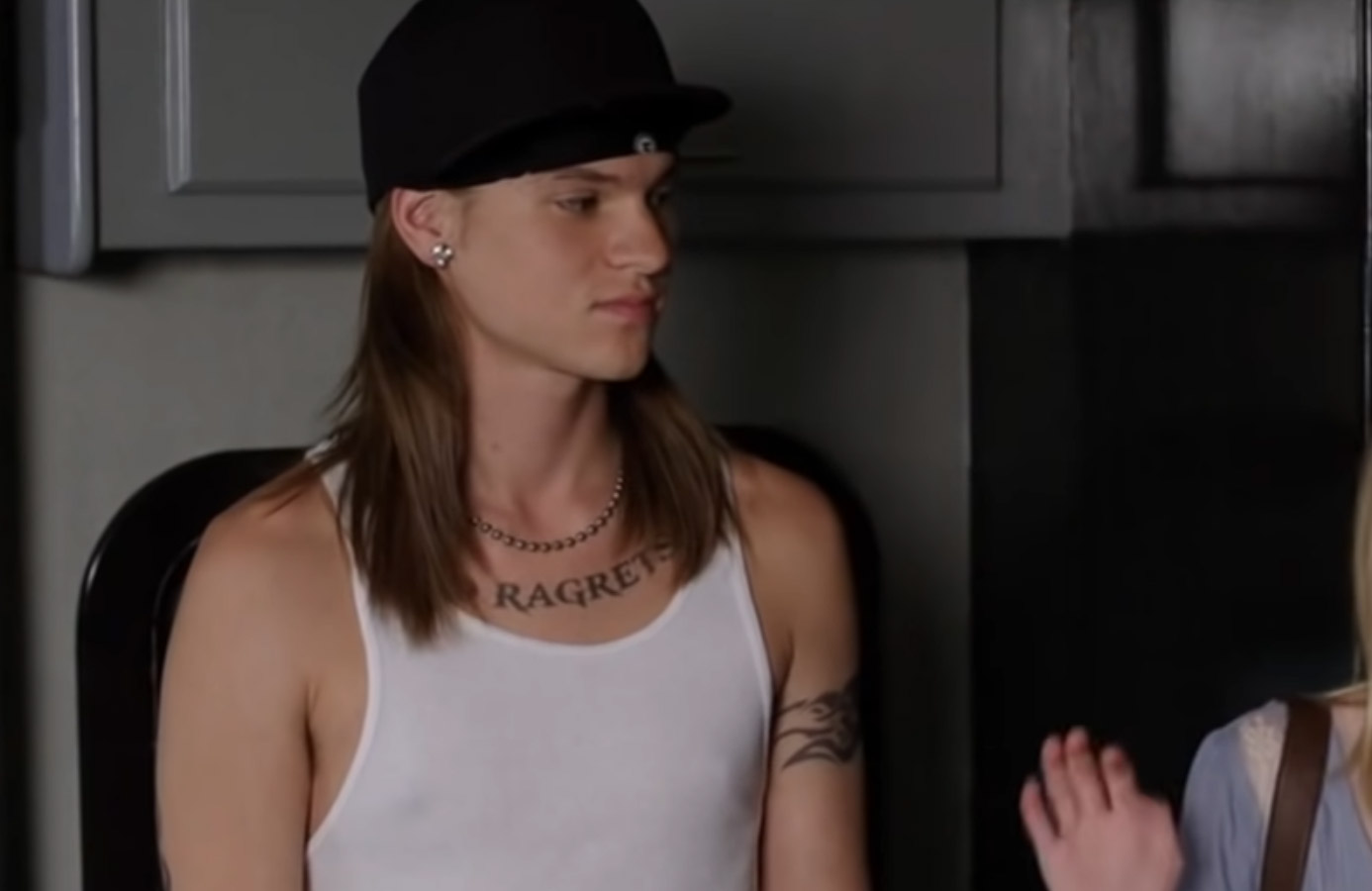 Unfortunately, we couldn't find a temporary tattoo that says 'No Regerts' but you could make one your self using various temporary tattoo letters from Amazon here!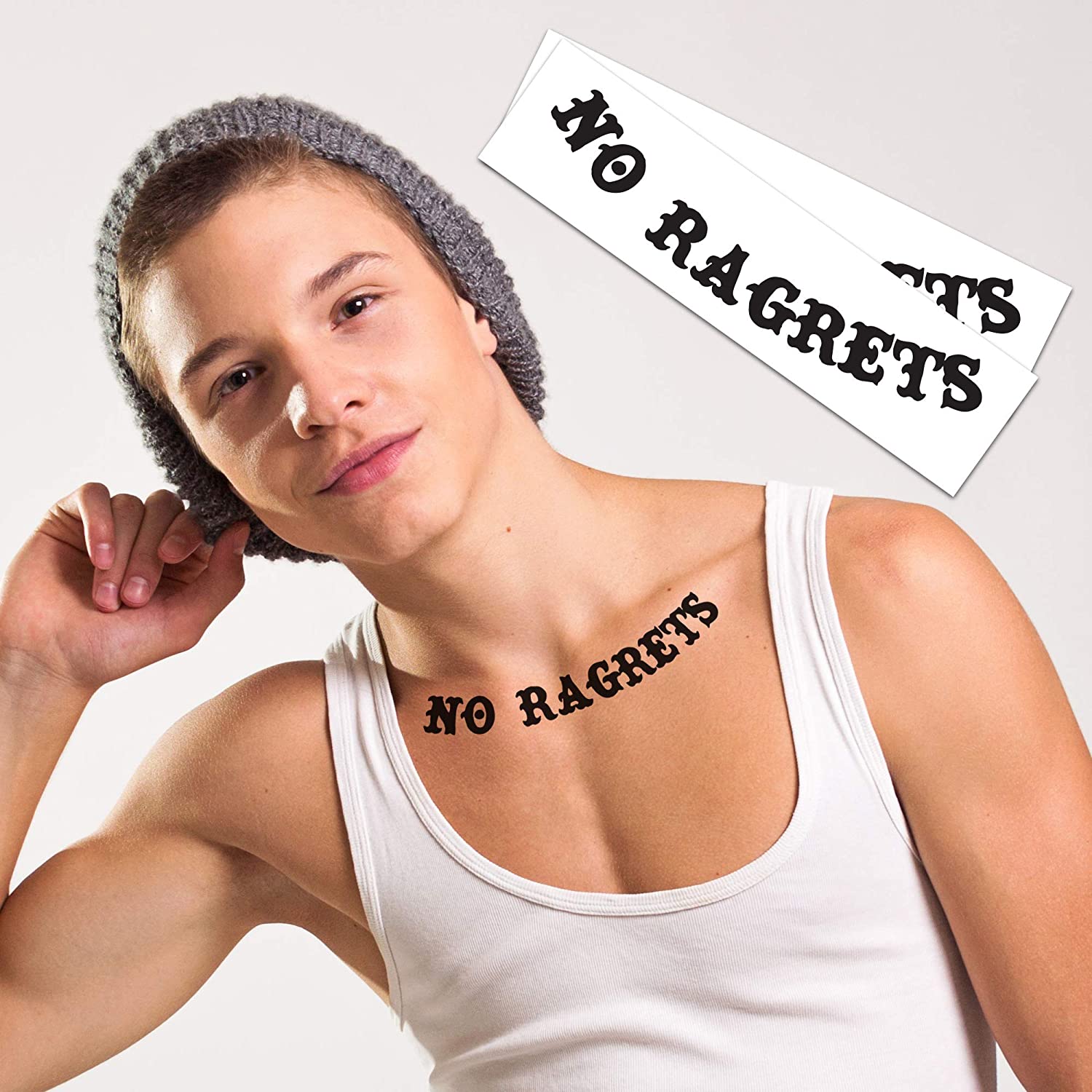 Check out the infamous 'No Ragrets' tattoo scene from We're The Millers in action via the video below!
Subscribe To Our YouTube Channel