HD New York City Wall Mural Decal
By Ryan on 03/03/2015 8:19 AM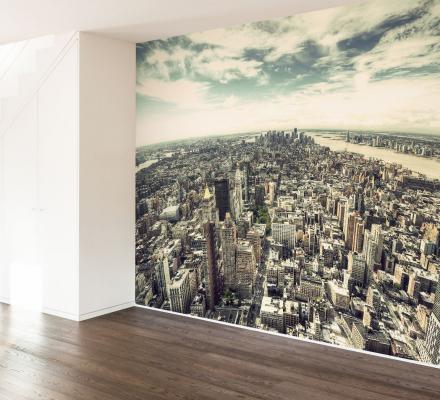 This New York City wall decal is a high-definition print of New York City with a view down 5th Ave that you can place on your wall in place of wallpaper. Instead of looking out the window to see your fat ugly neighbor mowing his lawn with his shirt off, now you can take a gaze down 5th Ave in New York City whenever you want, as it will almost seem like you're tiny little apartment or house has a window on a massive skyscraper in NYC. When in reality you're living in some suburban neighborhood in Iowa with a field of corn across the street. Plus, the wall mural is a perfect way to spice up your living room or dining room with a bit more to look at then a painting of some flowers or a bowl of fruit.
The 5th Ave NYC decal comes in three different sizes, the 9 panel full image version that measures 15 feet wide, the 7 panel image that measures 11.66 feet wide, or the 5 panel image that measures 8.33 feet wide. No matter what size you order, the image will remain the same size, but you will just receive a cropped version of the image. So basically the 5 panel and 7 panel version of the decal are just cropped version of the full 9 panel version.
The 5th Ave New York City wall decal is easily installed with no tools required, can be removed clean and easily from your wall if you choose to remove it or reuse it on a different wall if you choose to move it, and each size will measures 8.33 feet tall (all panel sizes).