This $1.7 Million Luxury Motorhome has Its Own Side-Load Garage To Hold a Car
By Ryan on 10/27/2022 8:05 AM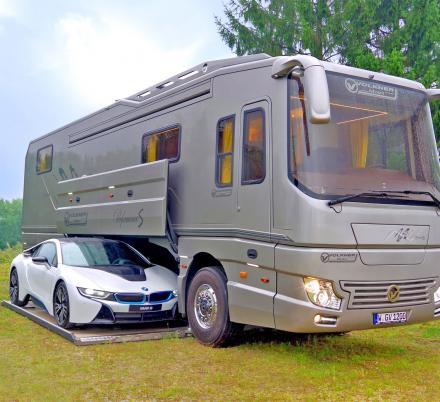 When I think about a motorhome, my mind usually goes to some rusty bucket of an RV that looks similar to the one on Breaking Bad that was most likely manufactured in the 1980's. But actually motorhomes now-a-days are actually pretty-darn-nice, and this new one by Volkner might just take the cake.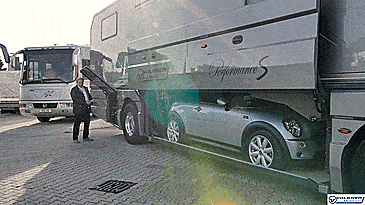 It's a luxury motorhome called the Volkner Mobil Performance S, and yes it has it's own little garage underneath of it to hold a car so you can easily get around once you reach your destination.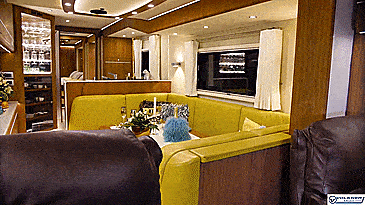 Oh, and yes it costs a massive $1.7 million! But what can you expect with an RV that has it's own car garage!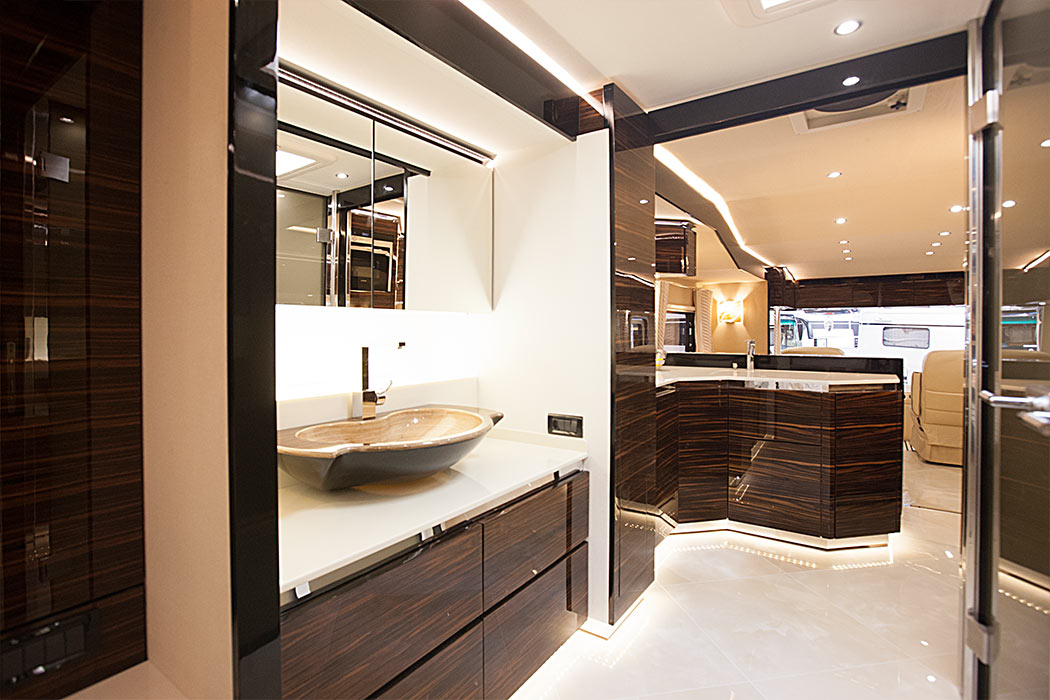 If you're used to 5-star hotels, and are looking to get into camping, the Volkner Mobil Performance S motorhome is probably for you, that is you have truckloads of cash that you're looking to off-load.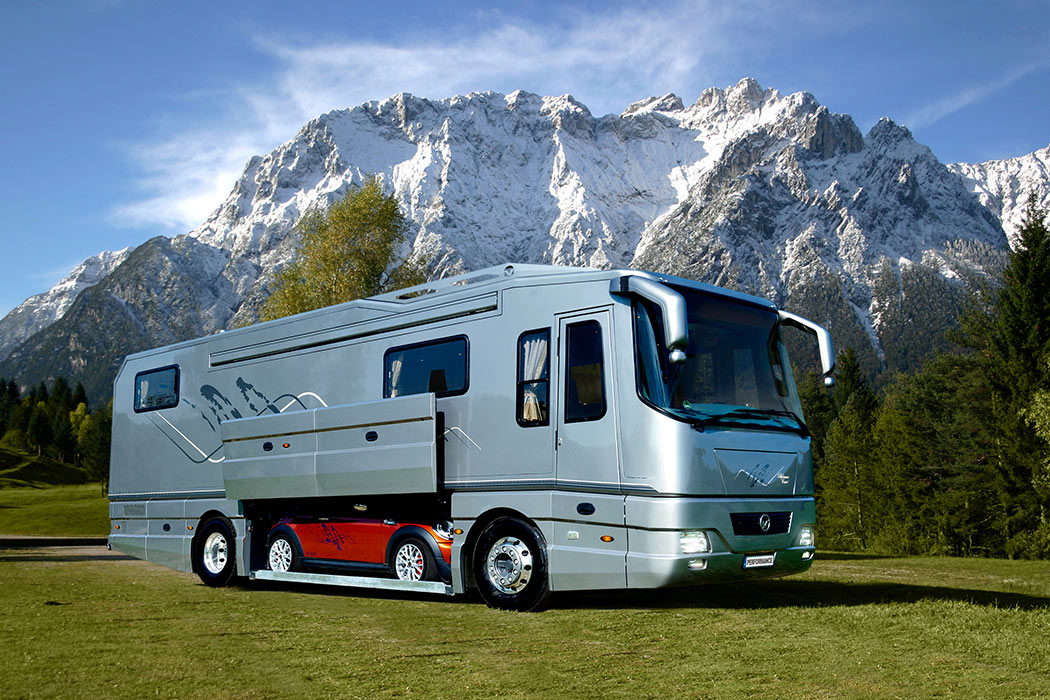 The luxury motorhome that holds its own car measures 40 feet long, and has essentially all of the amenities that you're used to in your penthouse or luxury hotel room.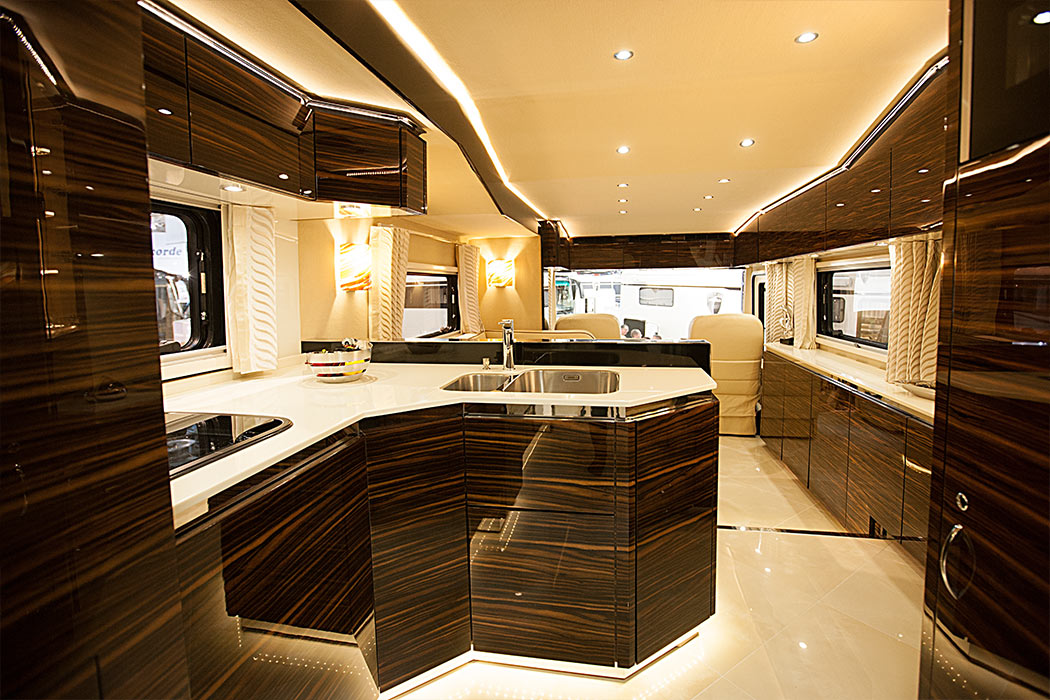 For starters, the luxury motorhome is made with it's own undercarriage garage with a electro-hydraulic lift that will automatically stow and un-stow your car.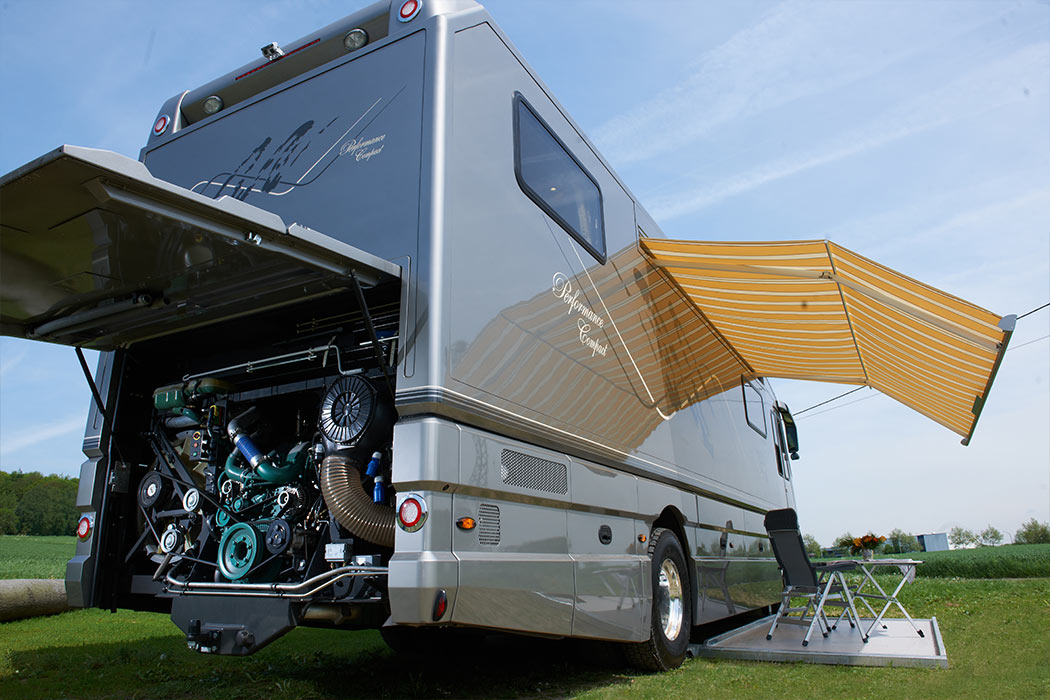 This way you can simply push a button and your car is brought out form under the RV, and you can then drive off instantly. When you're back, just park the car on the platform, press another button, and it'll automatically stow the car back under the RV.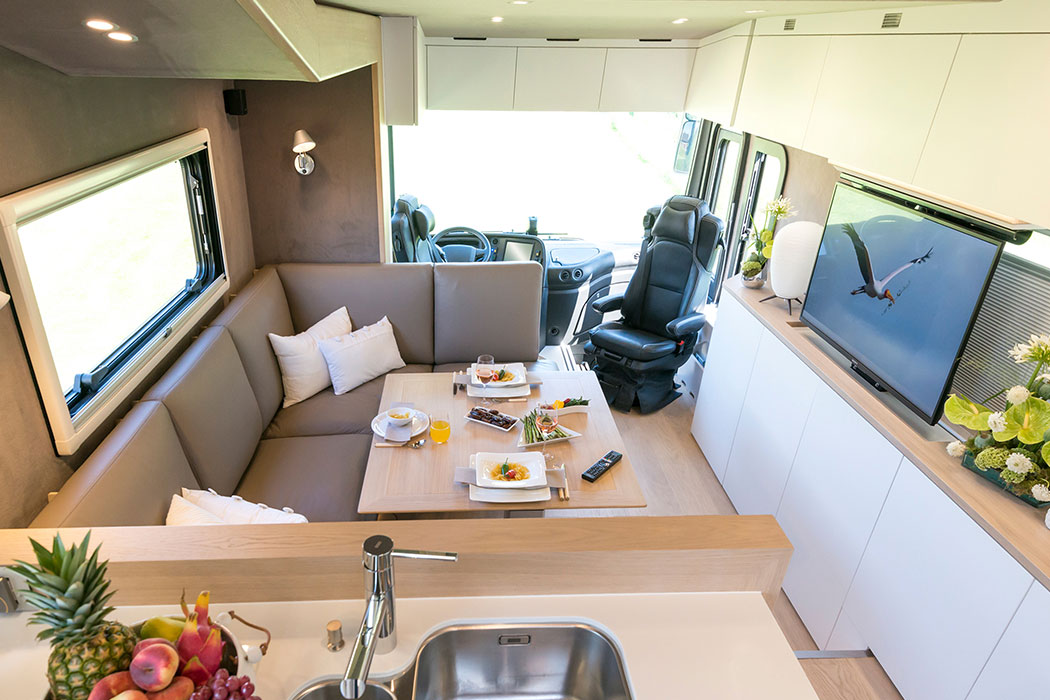 Other features of the 1.7 million dollar motorhome include an expandable interior that gives you 115 square feet of luxury living space, a fully equipped kitchen with dishwasher, stove, and more, a spacious lounging/living area, and even a heated bathroom.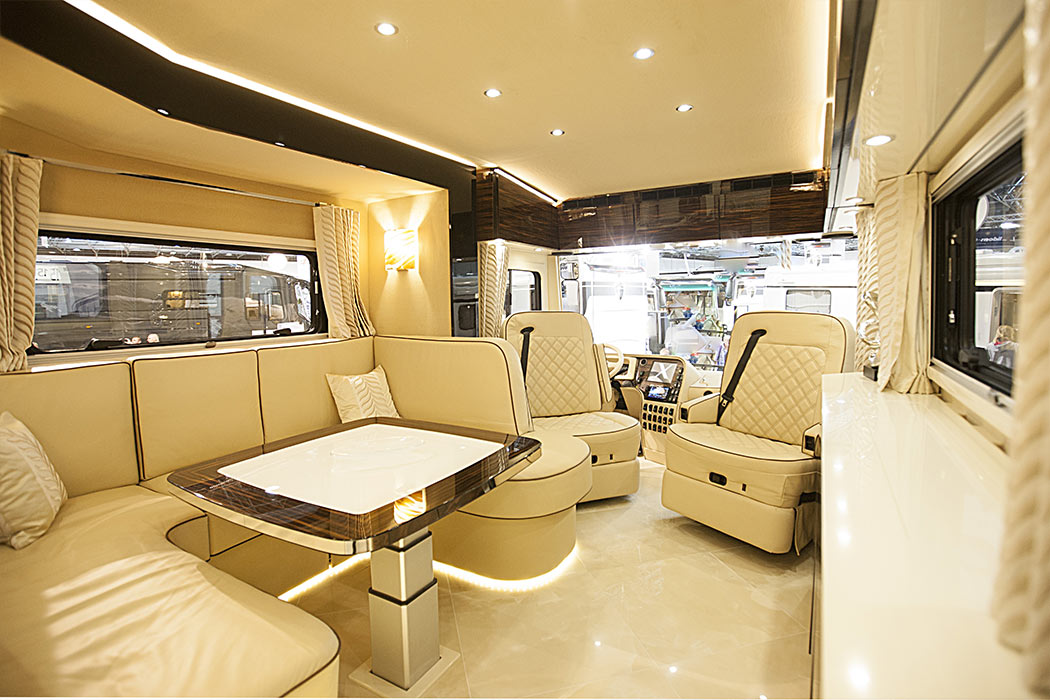 The interior is filled with expensive wood and luxury finishes, a comfy double bed in the master bedroom, a pop-up television, and more.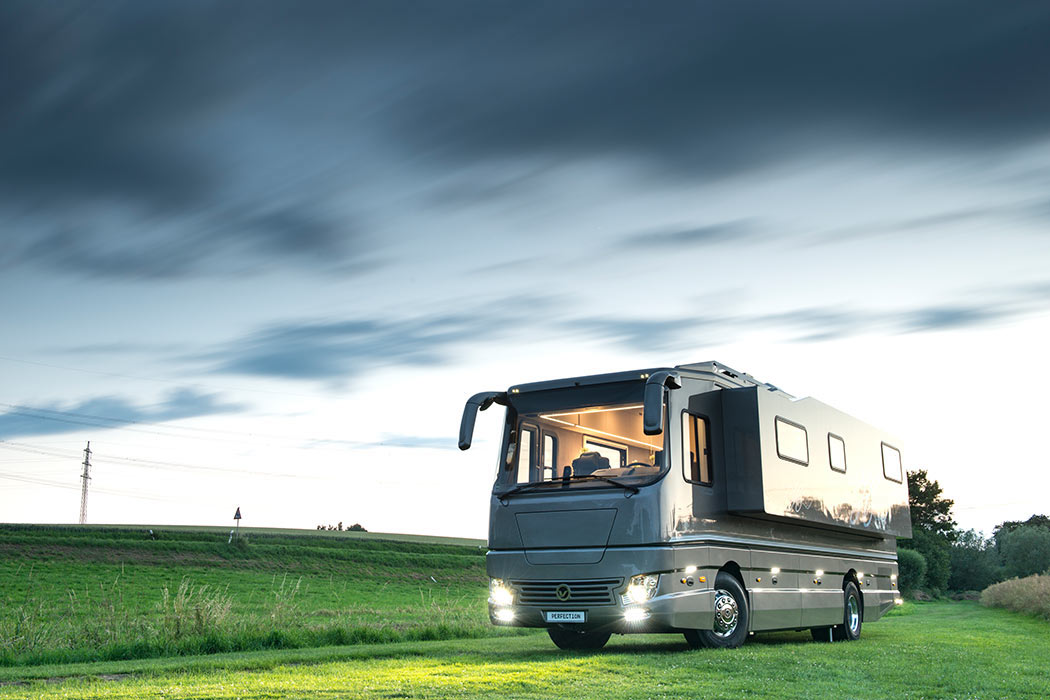 The exterior of the RV is filled with cubbies for tons of storage, an automatic retractable awning that covers the car platform that doubles as a little patio!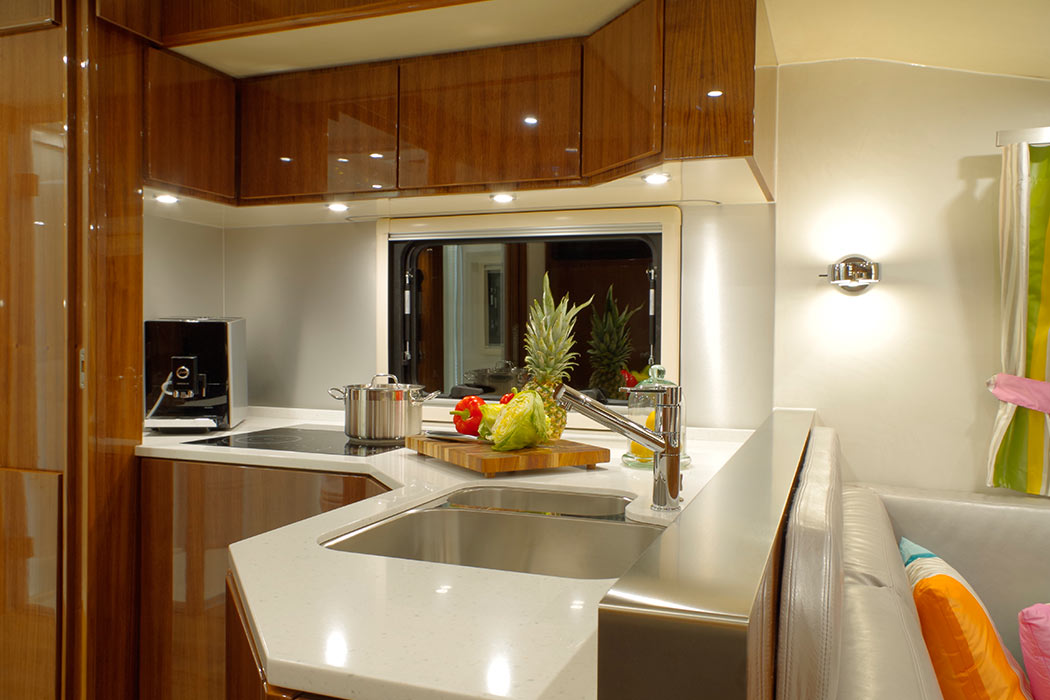 Keep your patio and chairs in tact and in place by just pressing the button to store them for the night without having to move anything.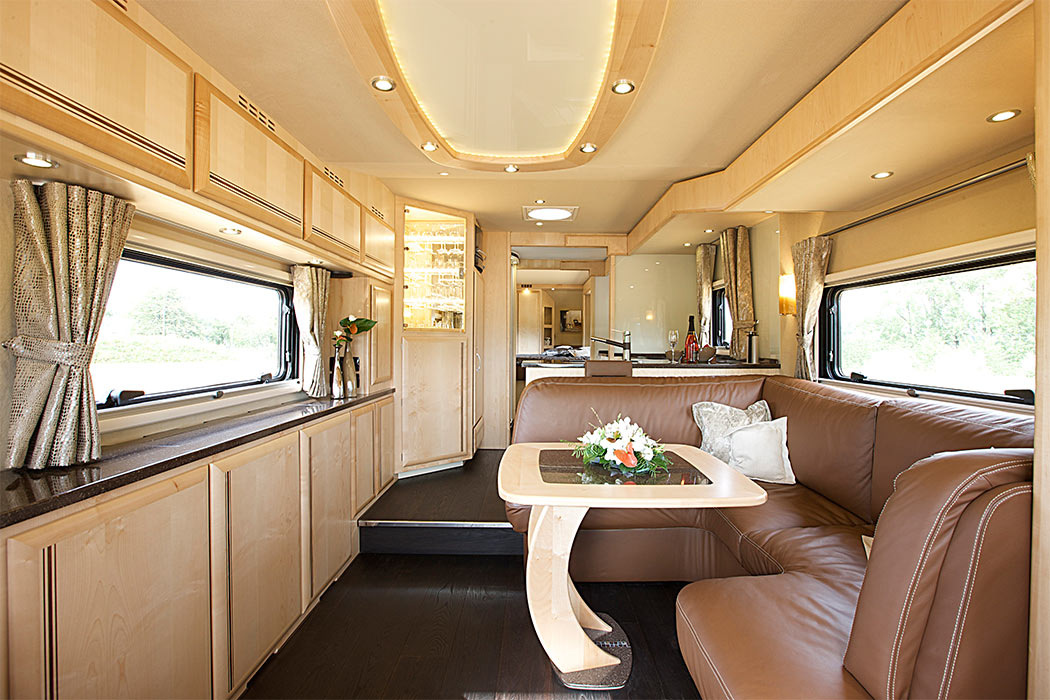 You can customize practically anything in this luxury RV, including finishes, layouts, and more.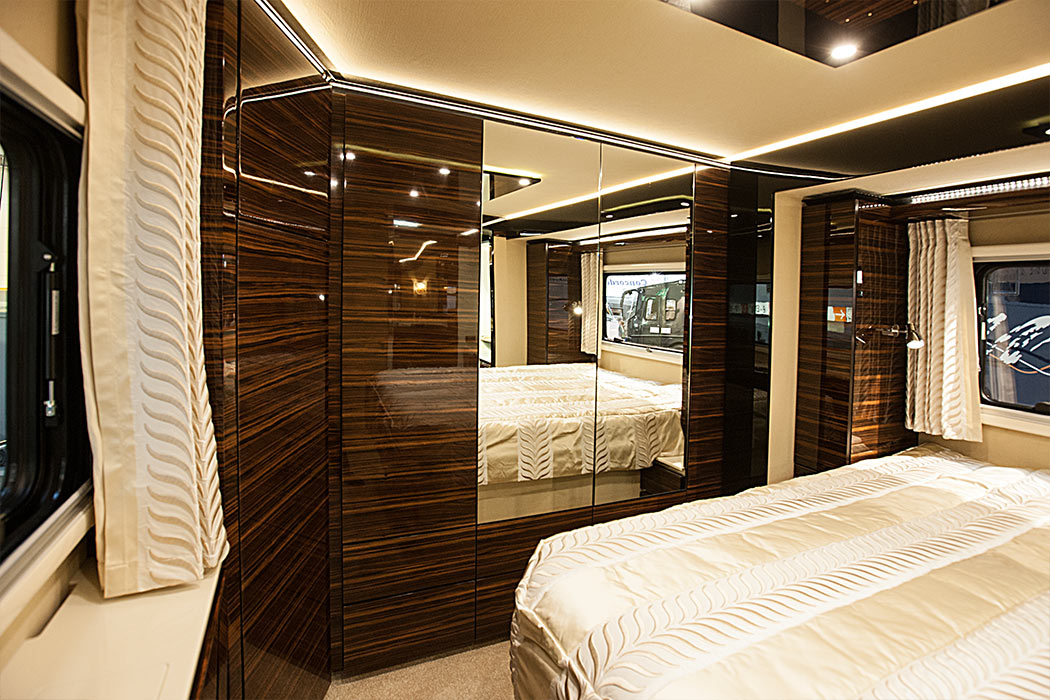 You'll even find a full size shower inside, rather than the tiny showers you're probably used to in RVs that make you crouch down while bathing!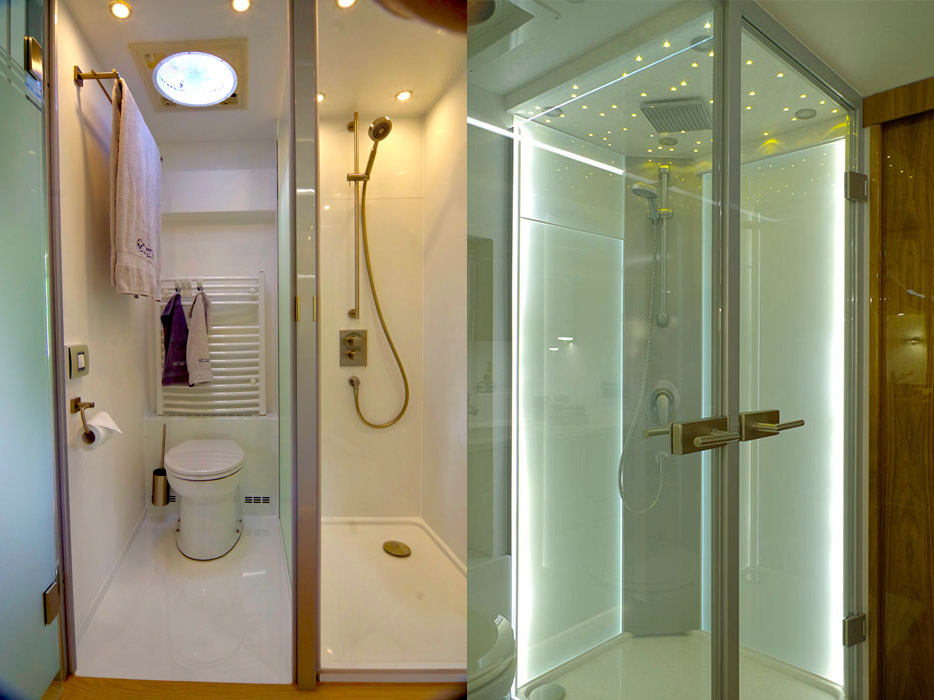 Volkner Mobil has 5 different versions of their RVs with garages, including three with the side-load garage, and two versions with a rear load garage.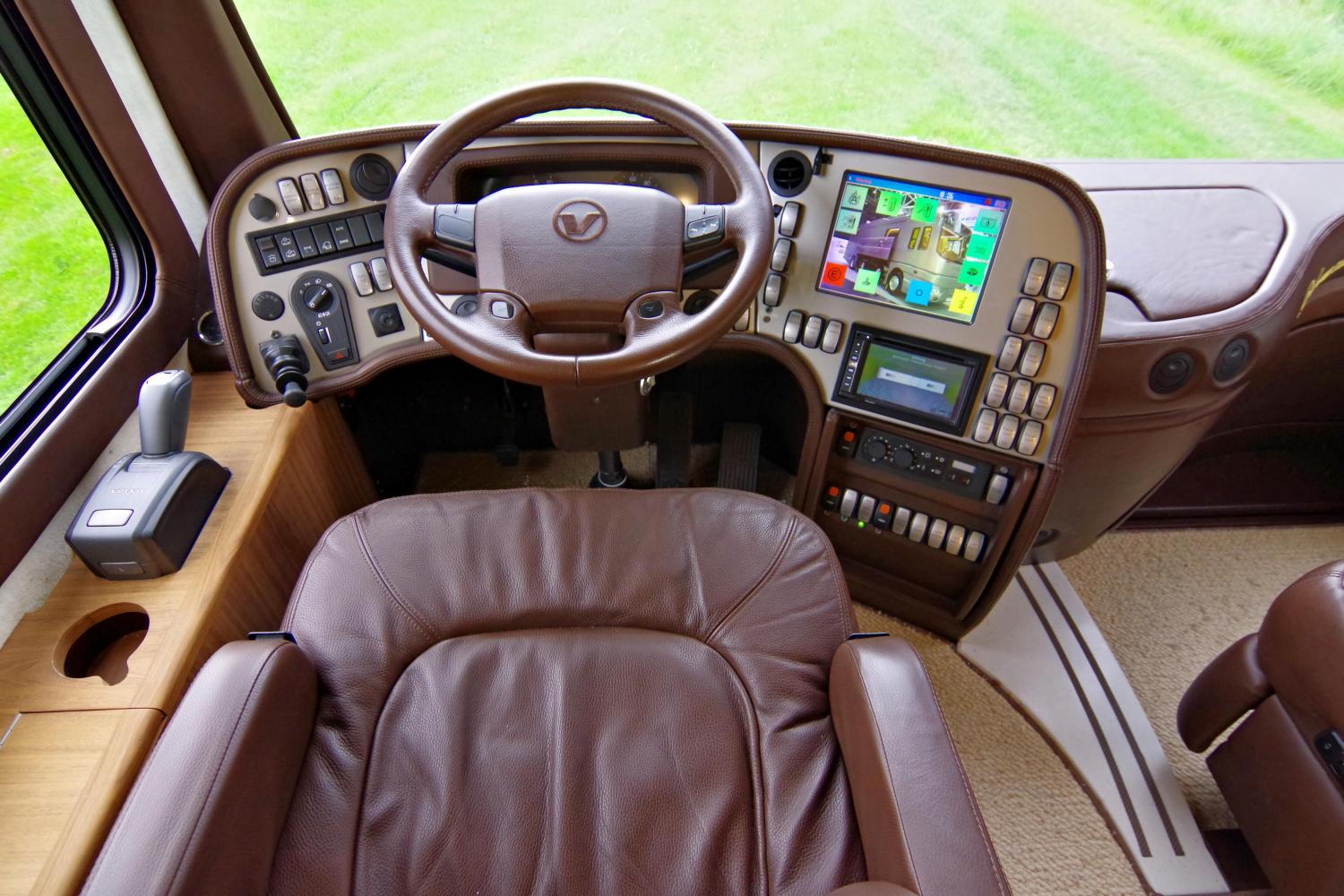 Their smallest RV with a side car storage measures 35.4 feet long, whereas their longest model measures 37.4 feet long!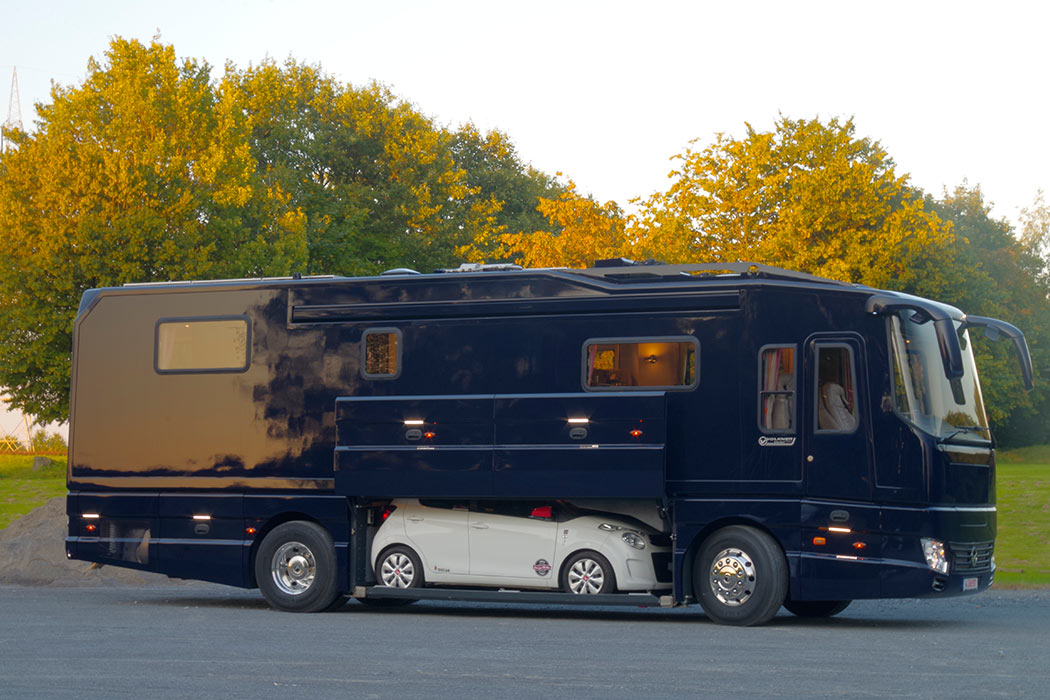 Each RV also features a 600 liter fresh water tank, a 580 liter grey water tank, and a 300 liter holding tank!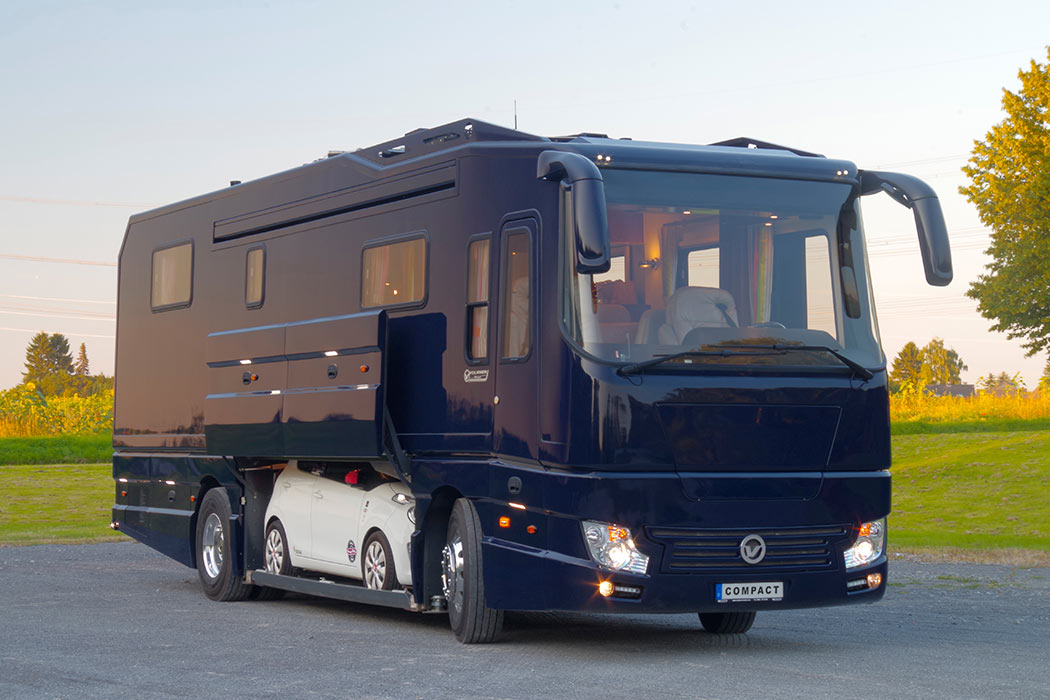 You can choose between 6 different pre-designed floor plans for the interior of the RV, or you could always design something yourself if they don't have what you're looking for!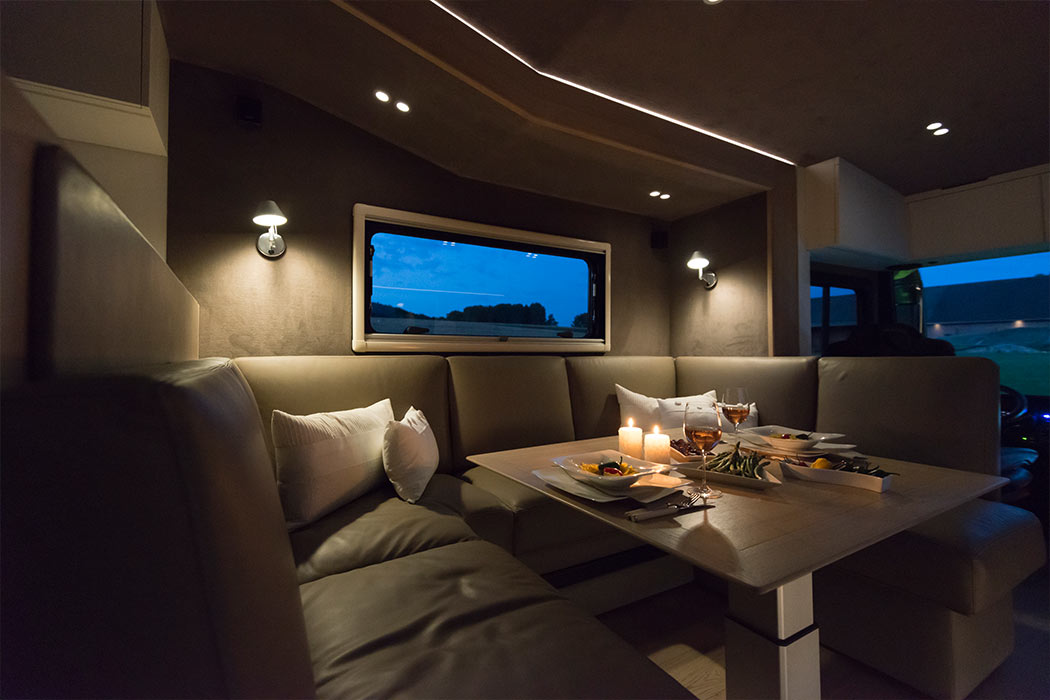 You can even have a workstation designed into the interior that's integrated with a printer and WLAN router!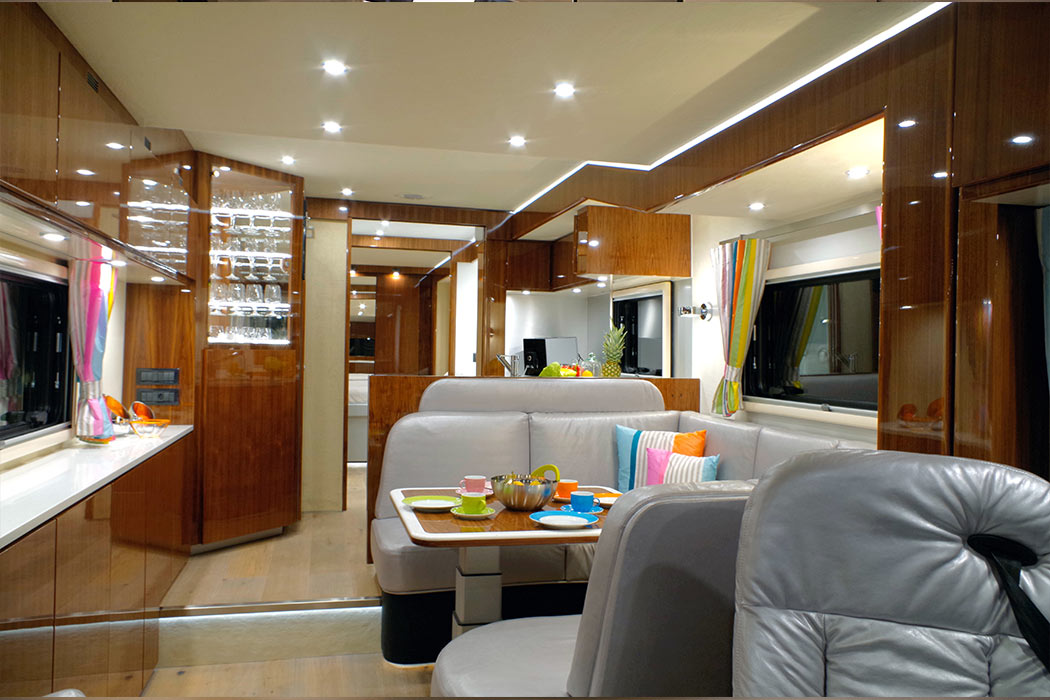 Along with a generator, the luxury RV is also powered by an internal 1,800 Ah battery that uses a 1,830 watt solar for recharging off the grid, along with a 110 Ah alternator and external power with the consumption.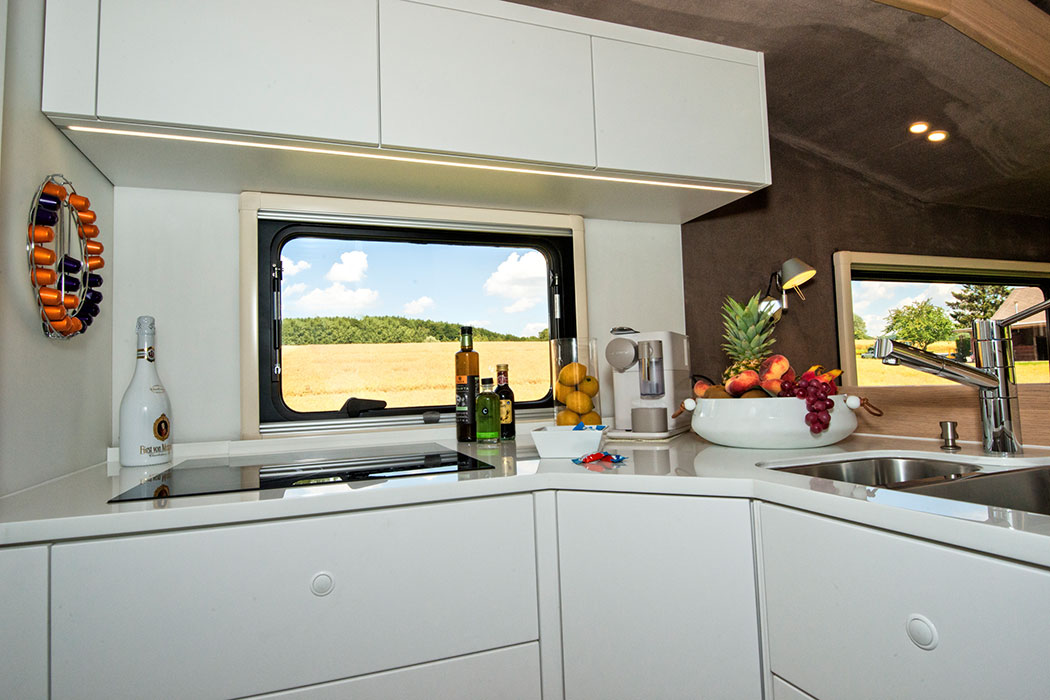 If the battery level gets too low, the generator will automatically turn on and power the RV while simultaneously recharge the battery.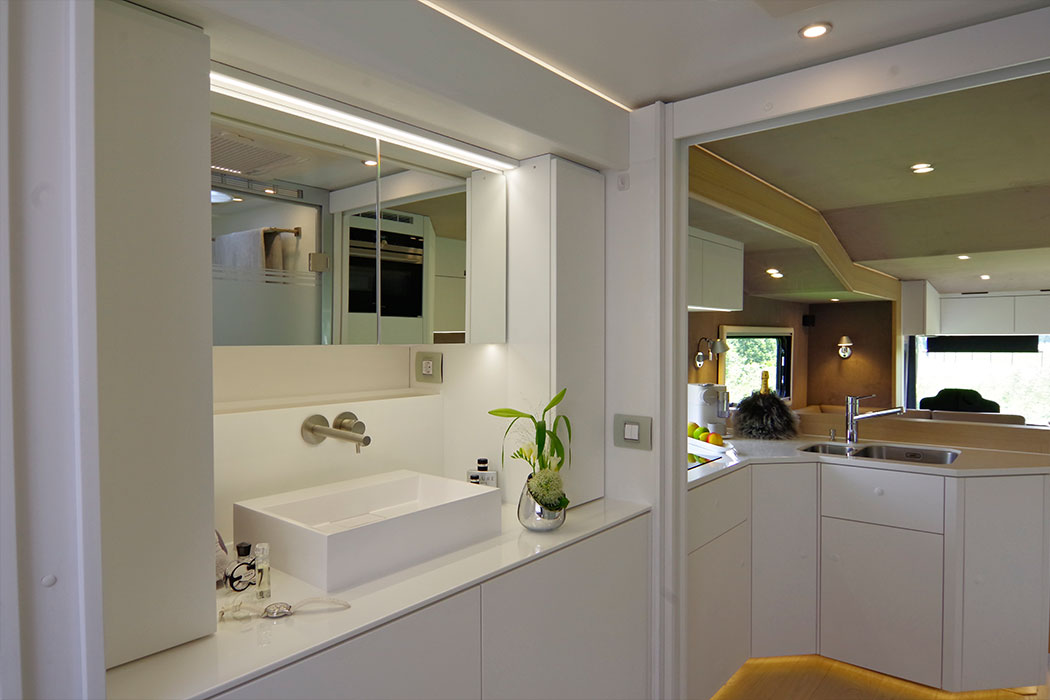 Just imagine going anywhere in this luxury motorhome, while also having a car that you can take on small trips to town!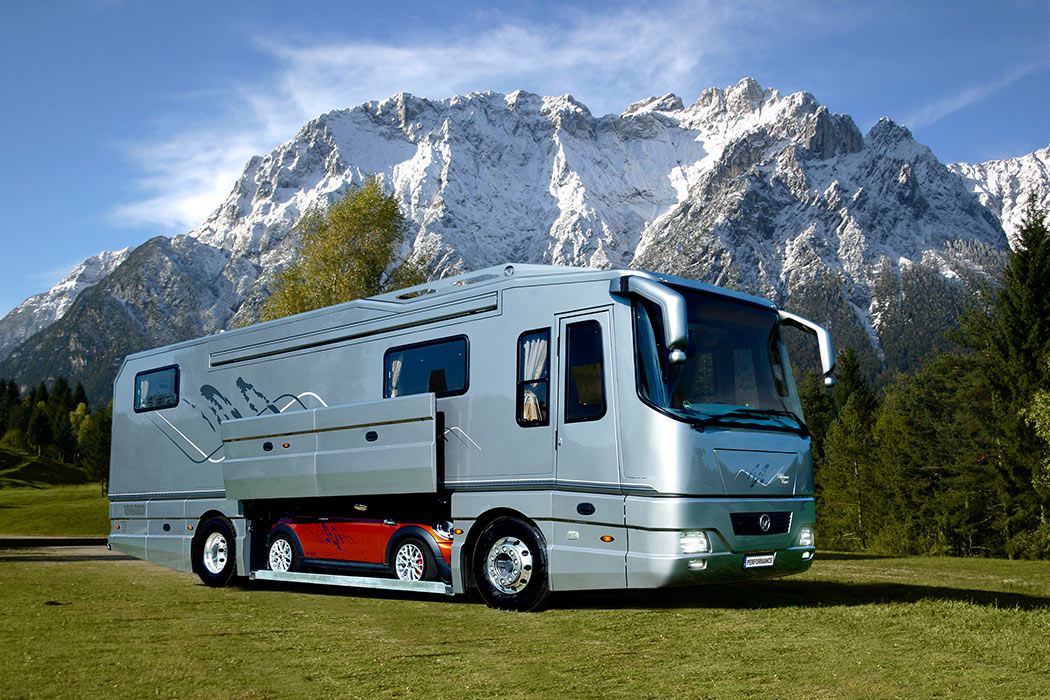 As previously stated, you can snag the luxury side-load car garage RV from their website for a hefty price of $1.7 million bucks!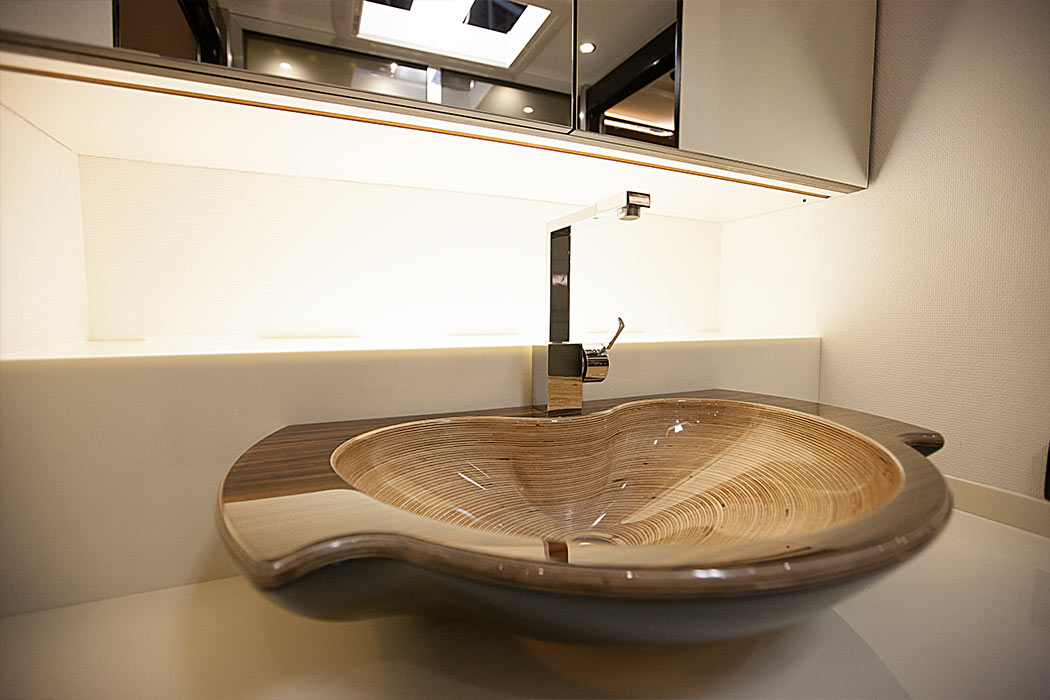 Check out the $1.7 million dollar luxury motorhome by Volkner in action via the video below.
Subscribe To Our YouTube Channel