We Found The 17 Funniest Wine Bottle Holders To Put In Your Home Bar
By Ryan on 10/10/2019 3:05 PM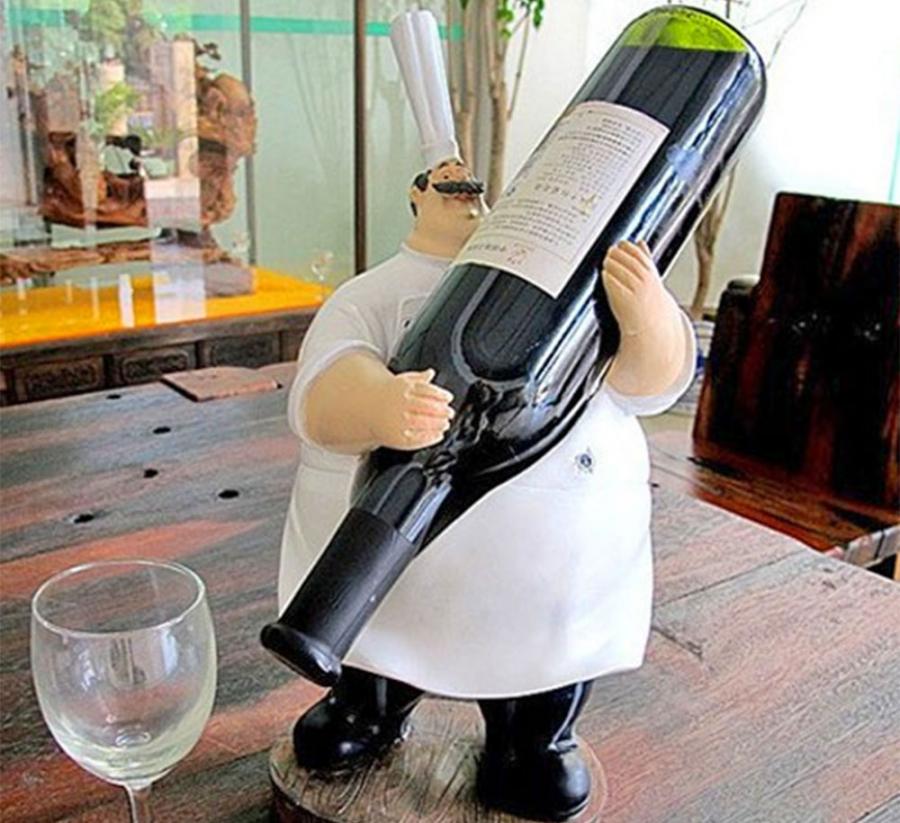 While wine is often thought to be for stuffy fuddy duddies, I assure you there is room for cheeky fun-lovers to enjoy that grapy goodness too and these fun wine bottle holders are the perfect way to show off not only your favorite wine, but also your personality.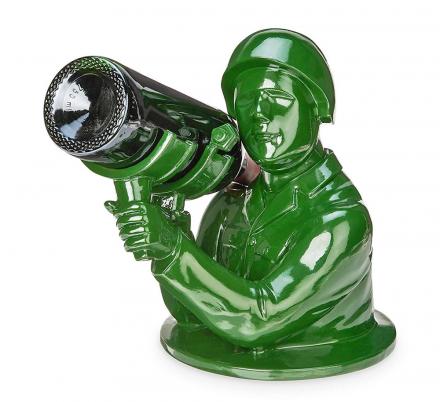 This wine bottle holder is designed for those rare people who are oh so classy (because classy people drink wine, right) but still like to have some cheeky fun. Designed to look like the top half of a classic green army man toy, the wine bottle turns into a bazooka when placed in its resting place. Being as versatile as it is, this wine holder will hold any standard sized bottle of wine or champagne - from Boone's Farm to Dom Perignon.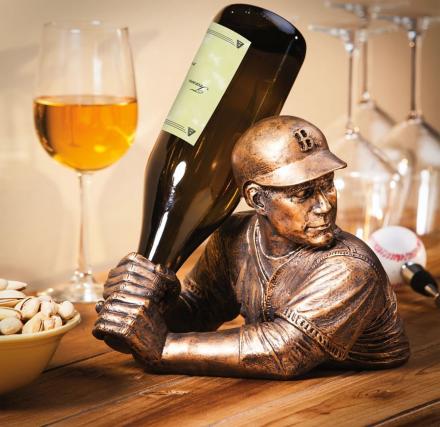 The Bam Vino is a wine bottle holder that is a bronze statue of a Major League Baseball Player holding the wine bottle like a baseball bat. Perfect for Baseball lovers, wine lovers, or maybe by the off chance you're someone who enjoys baseball and wine at the same time.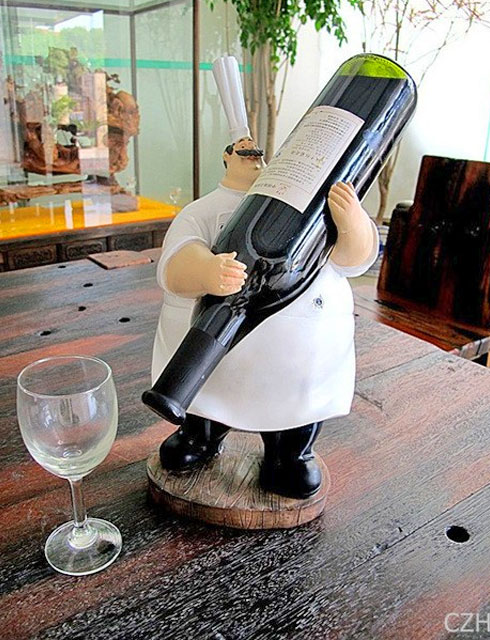 Bonjour le vin (Hello wine)! This plump chef is serving up a nice fresh bottle of wine for anyone who is interested. He may not be able to recommend what wine will go best with your Coq au vin or fromage, but you can be assured he will keep whatever bottle you do have safe in his large, sturdy arms and hands.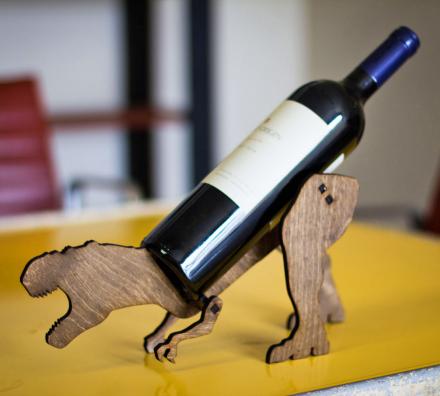 You probably think that good wine bottle holders are extinct since they are so hard to find, but nope, you won't have to dig one up like an archaeologist. They exist, and this one didn't have to be cloned and brought back to life either. This T-Rex Dinosaur Wine Bottle Holder is the most Jurassic way to display your wine.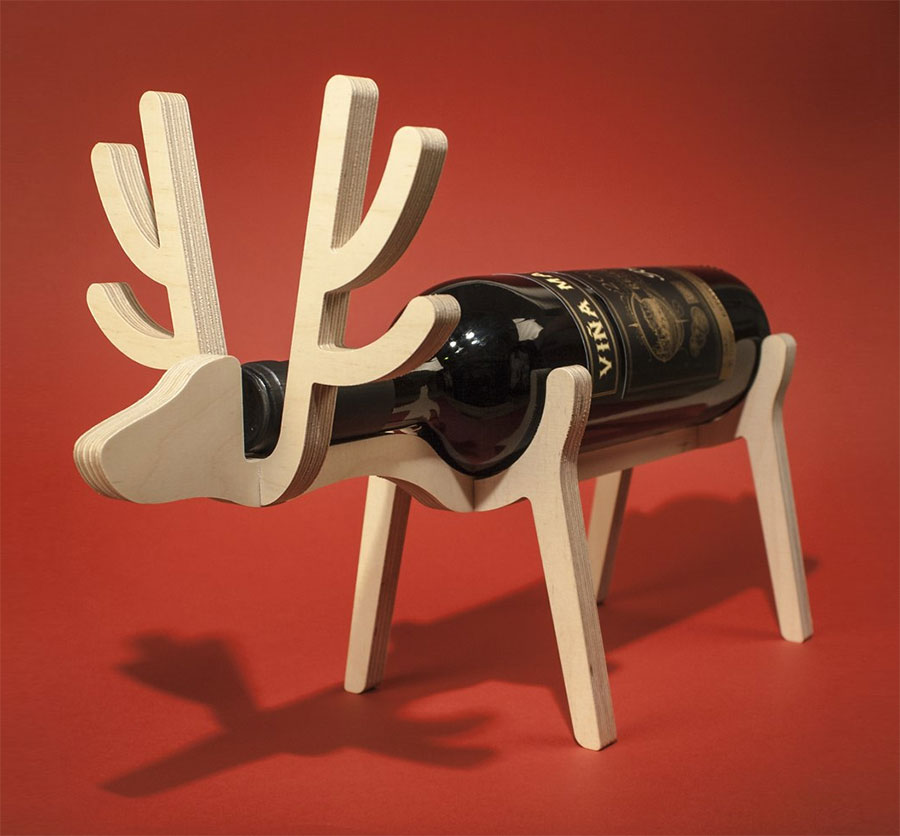 The reindeer wine rack is a perfect Christmas decoration gift for your families alcoholic. All you really know about them is that they love the booze, so what better gift to give them than a gift that has to do with alcohol. The reindeer wine rack is also available in other animal wine racks, such as an elephant wine rack, a doberman wine rack, and a penguin wine rack.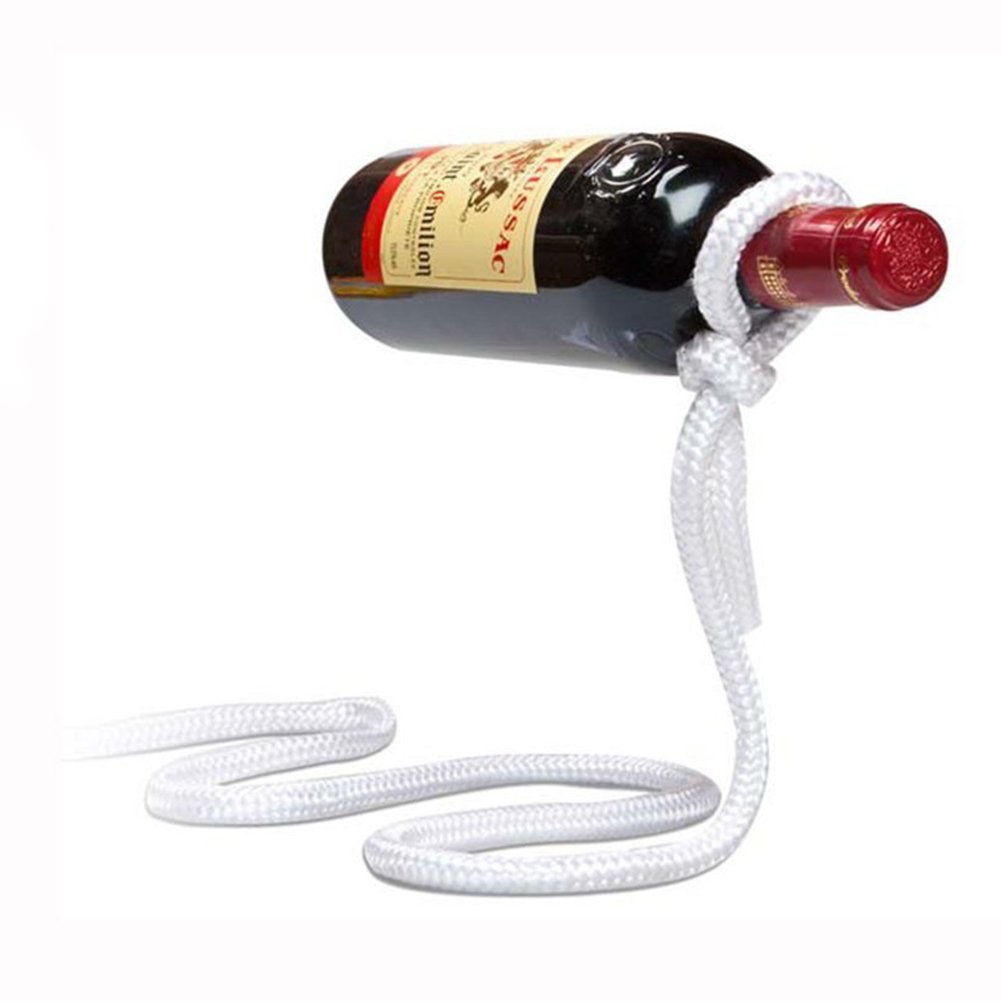 The magic rope wine holder is the perfect gift for that cowboy/cowgirl friend you know. But in reality what cowboy drinks wine? I'm pretty sure the true cowboys out there are drinking whiskey made in a dirty bathtub, not wine from the vineyards of Spain.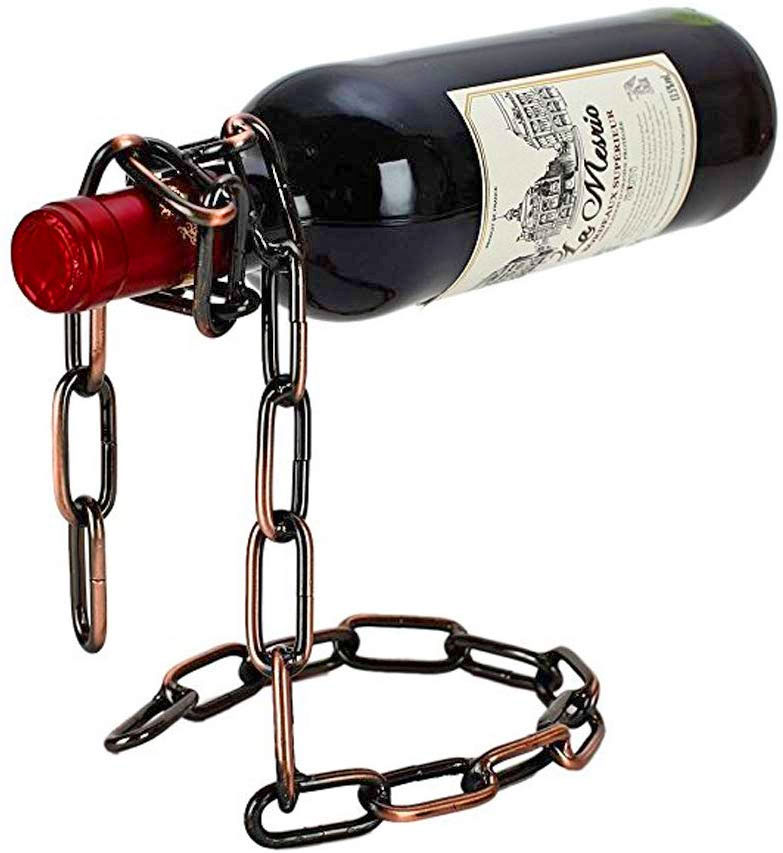 If the magic rope wine bottle holder is a little too country western or nautical for you then this steel link chain may be the perfect holder for you. It's the perfect mix between fancy (because if you drink wine you must be fancy, right?!) and BA. So bust out your leathers and sit back with a glass of rosé.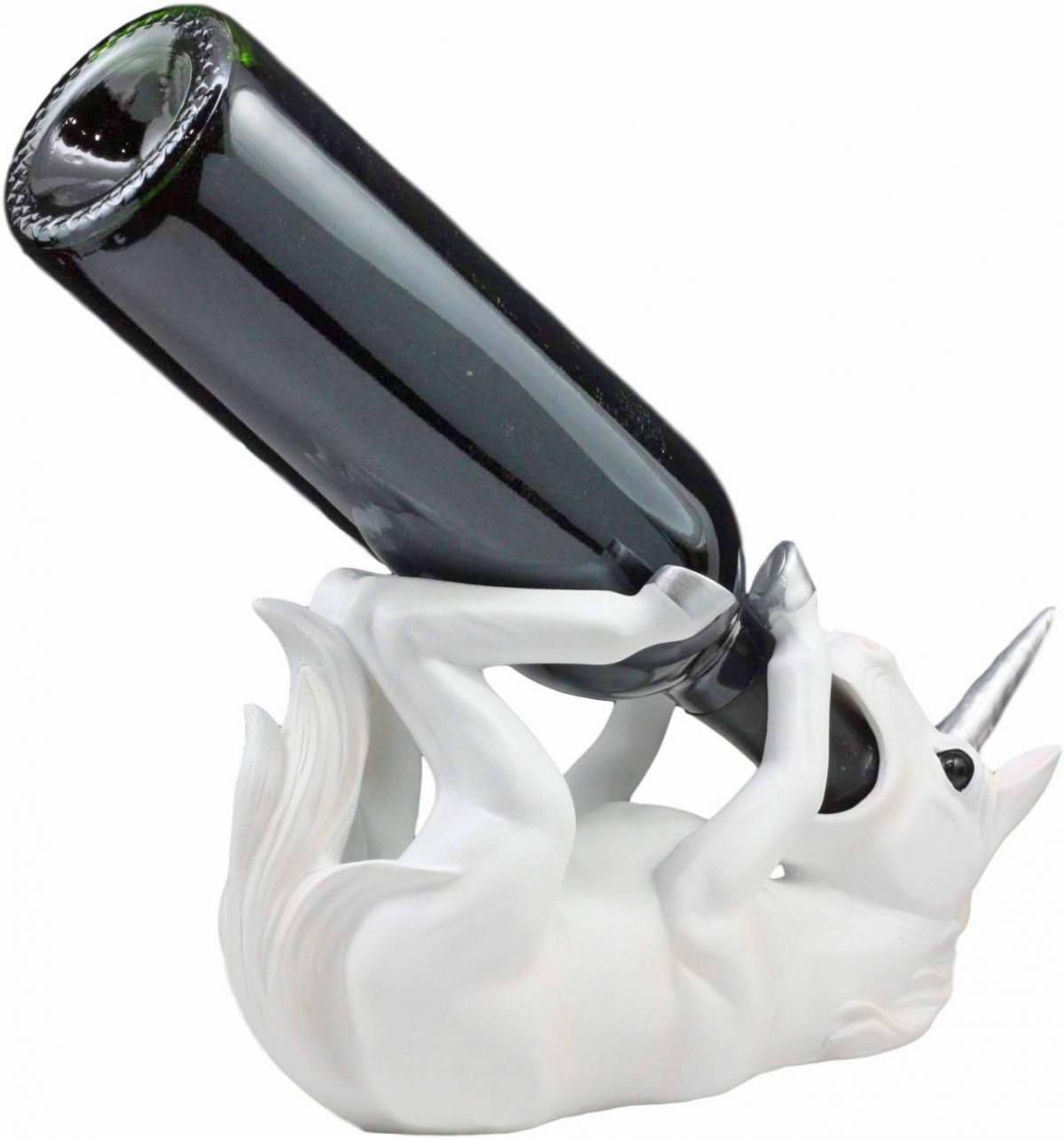 If you're wondering whether unicorns enjoy the occasional drink, the answer is yes...at least this one does! The perfect wine accessory for any of you unicorn or mystical creature lovers. When you place the wine botton in the holder it looks like the unicorn is guzzling your delicious vino - jealous?!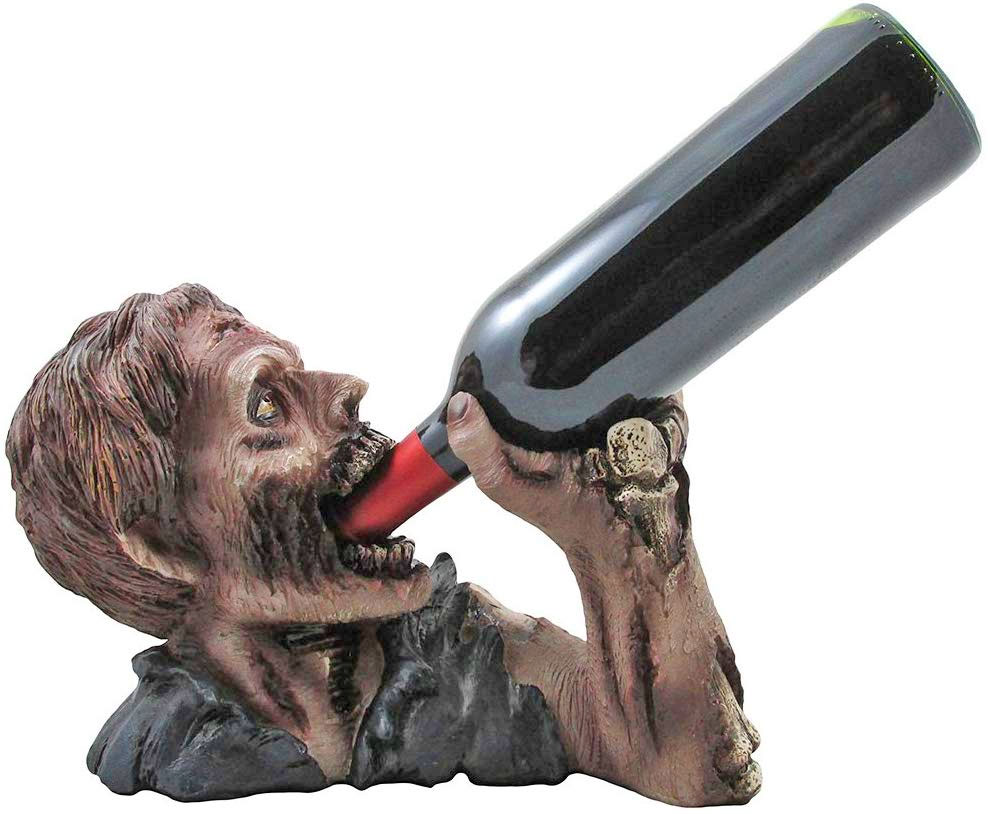 This zombie wine bottle holder is the perfect centerpiece for any Halloween party. It not only will go great with your undead decor, but it also holds your wine for you. The great novelty about this wine holder is that it looks like the zombie is getting drunk on your wine (I hope you didn't spend too much on it) - can zombies even get drunk?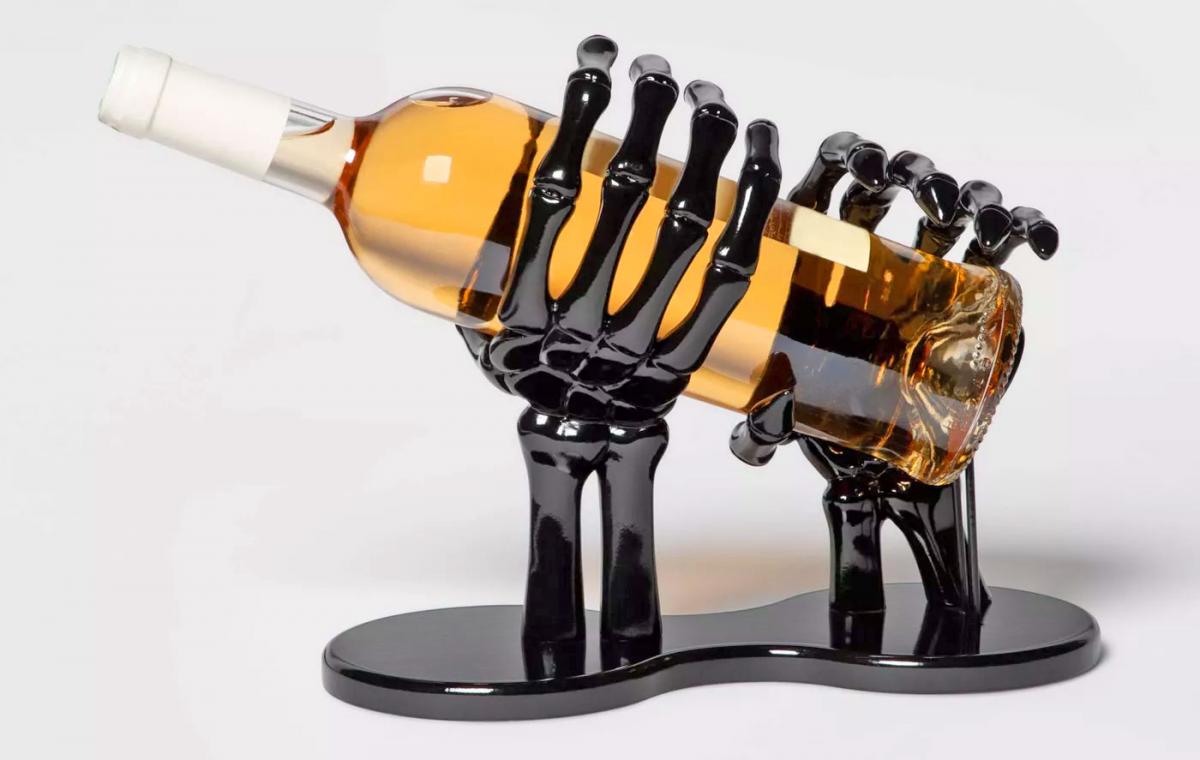 In keeping with one more Halloween wine bottle holder, this holder looks like skeleton hands coming up from the grave to hold on tightly to one last bottle of wine. I totally understand the feeling - just...one...more...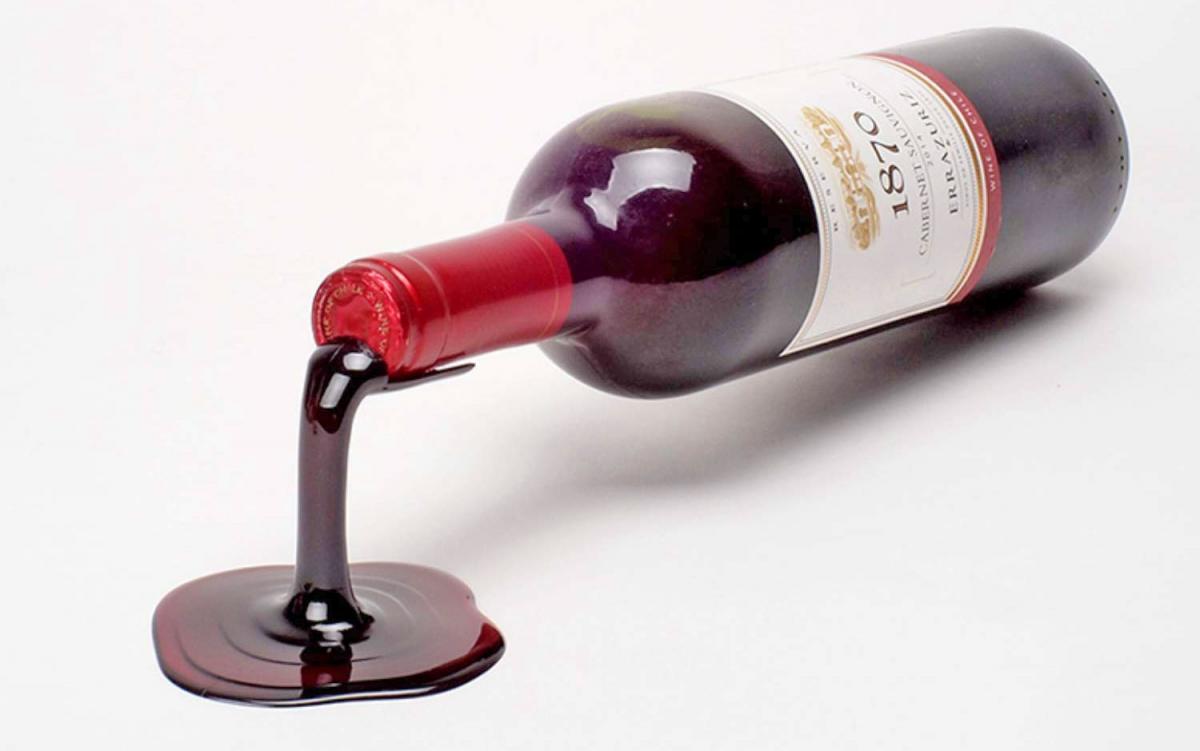 The worst has happened...you've spilled some of your precious wine...oh, wait, that's just the wine bottle holder?! Yep! This bottle holder makes it look like wine is spilling out of your bottle so you can play a fun practical joke on your visitors. The holder comes in a variety of colors so make sure you match the right bottle with the right holder!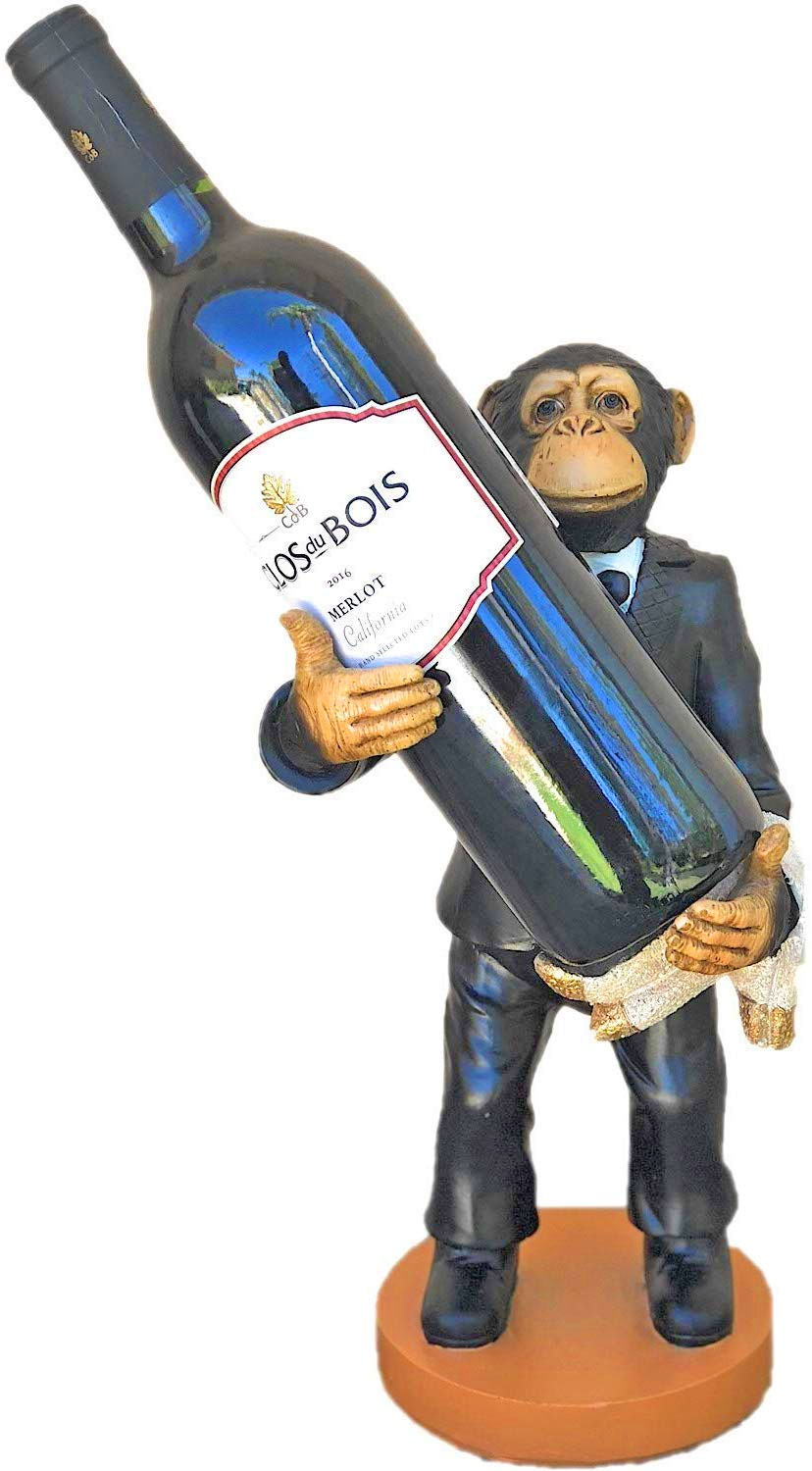 Have you always wanted a butler to stand there patiently waiting for you to ask for another glass of wine? If so, this is the perfect wine bottle holder for you. Okay, so when your cup runneth empty your monkey butler won't fill it up for you, but he will be there waiting to hand it to you (if you walk over to him and pick it up).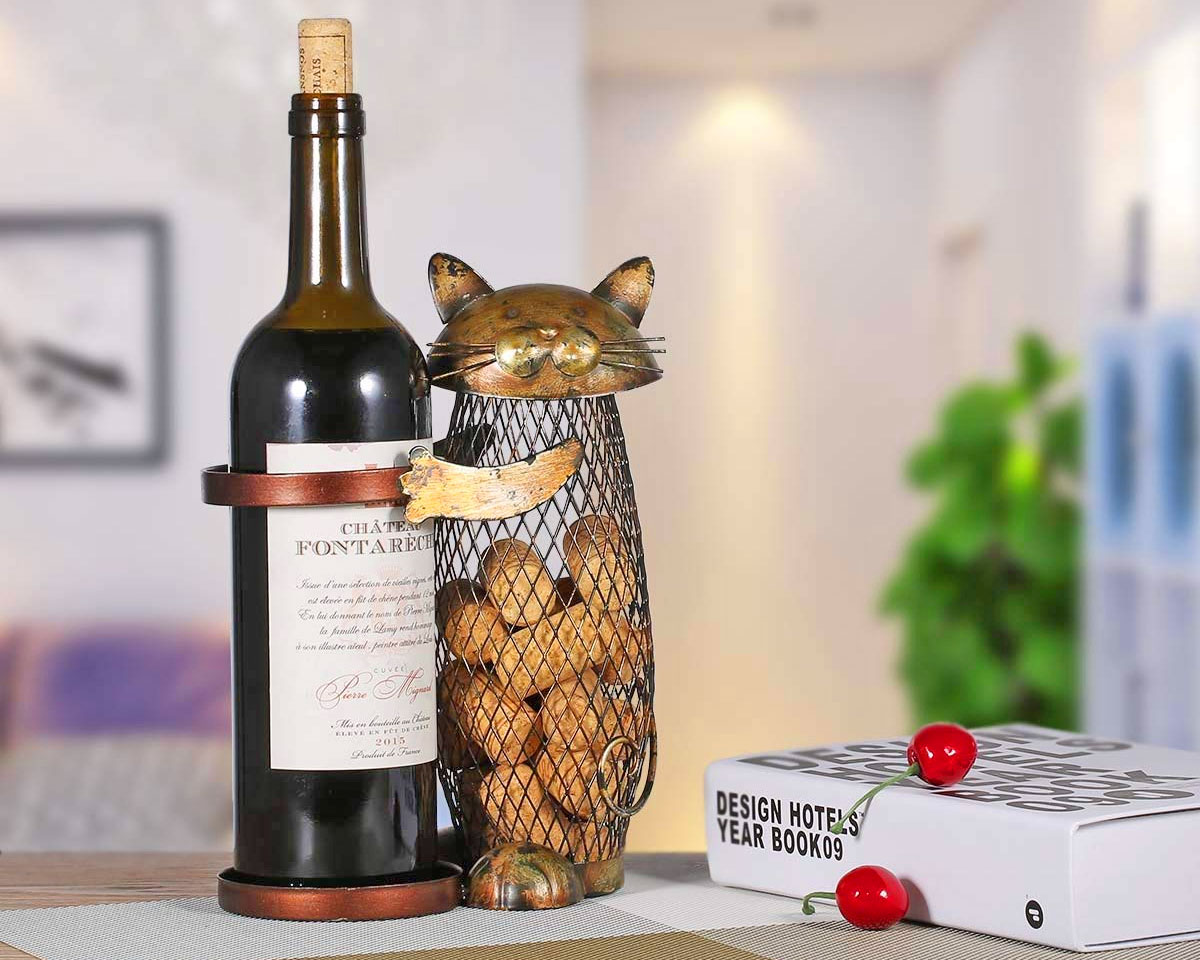 This is the perfect wine bottle holder for all you wine loving, crazy cat people. You not only get to show off your love of cats, but you also get to let your guests see just how much wine you drink thanks to the cat cork display - maybe take a few corks out before you have guests come over...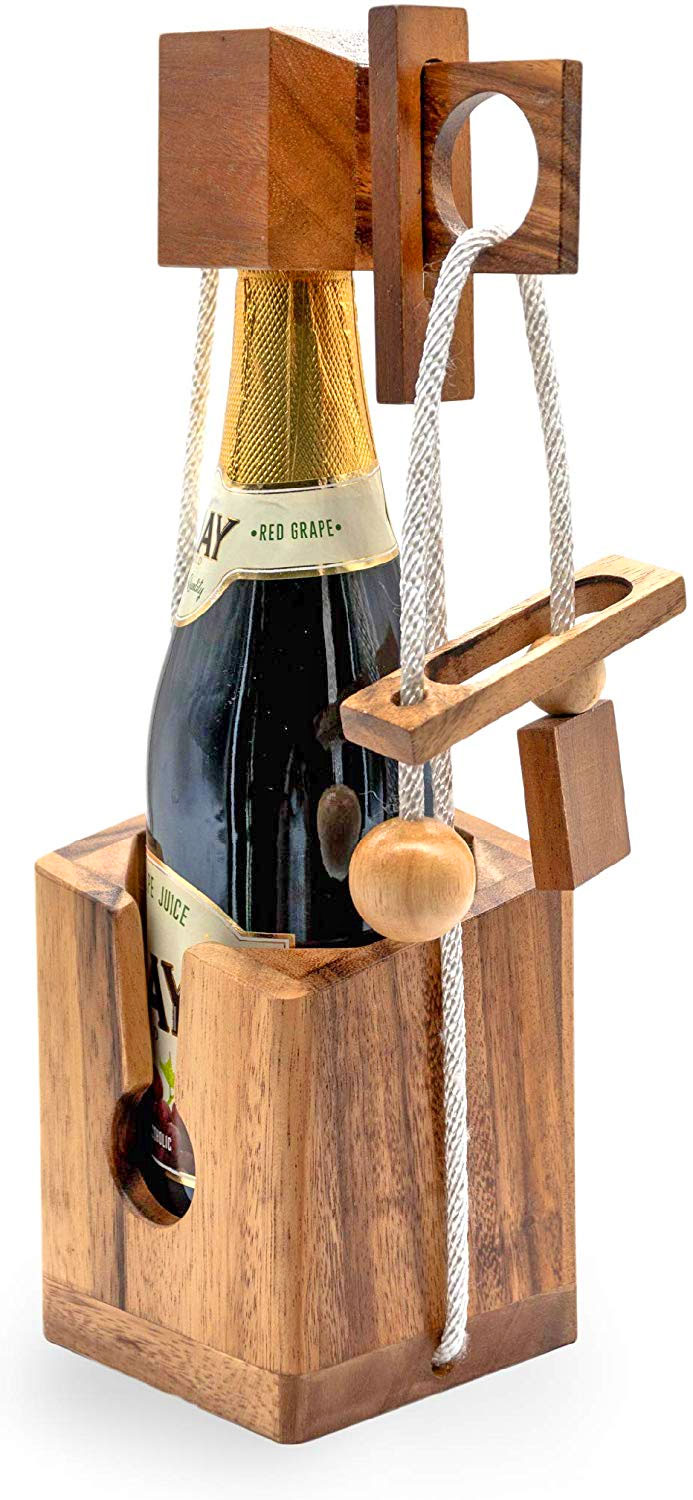 If you have a REALLY good bottle of wine and you want to make sure your friends are worthy before having a sip you need to present your wine in this holder. Made of wood, this wine bottle holder incorporates a brain teaser puzzle that needs to be cracked before you crack open your bottle of wine. Only those smart enough to solve the puzzle will be be able to quench their thirst.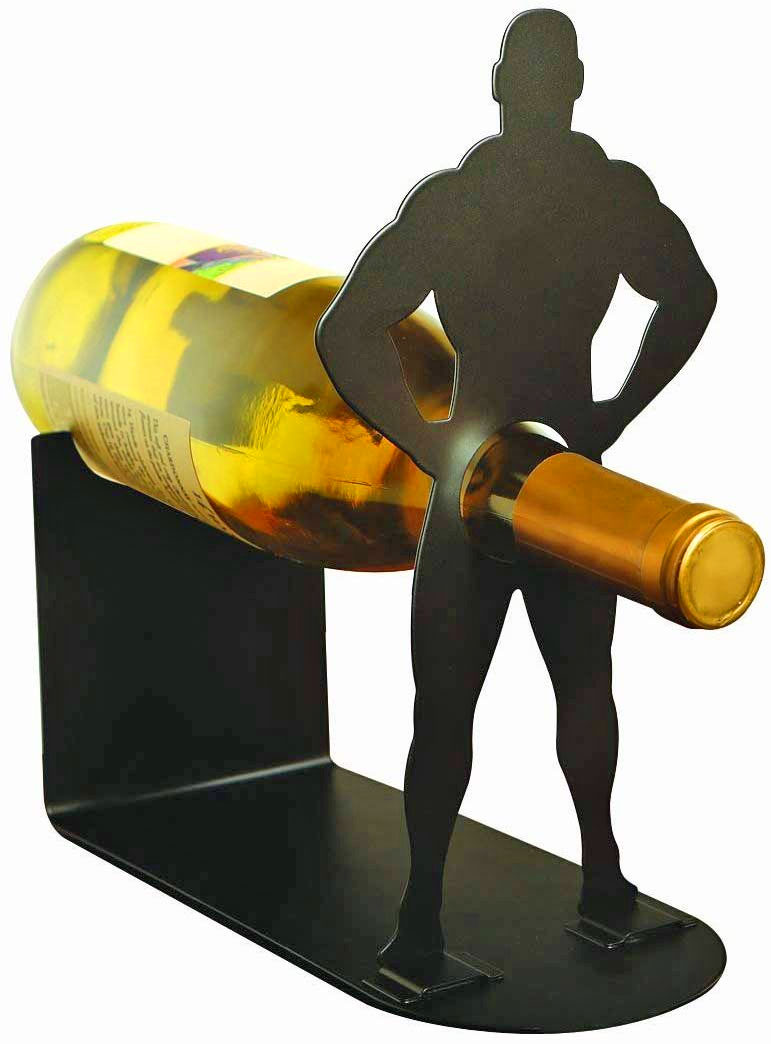 If you're planning a bachelorette party or any other sort of raunchy party this is the perfect wine bottle holder to add to the mix. It will be just the thing the ladies want to grab when looking to refill!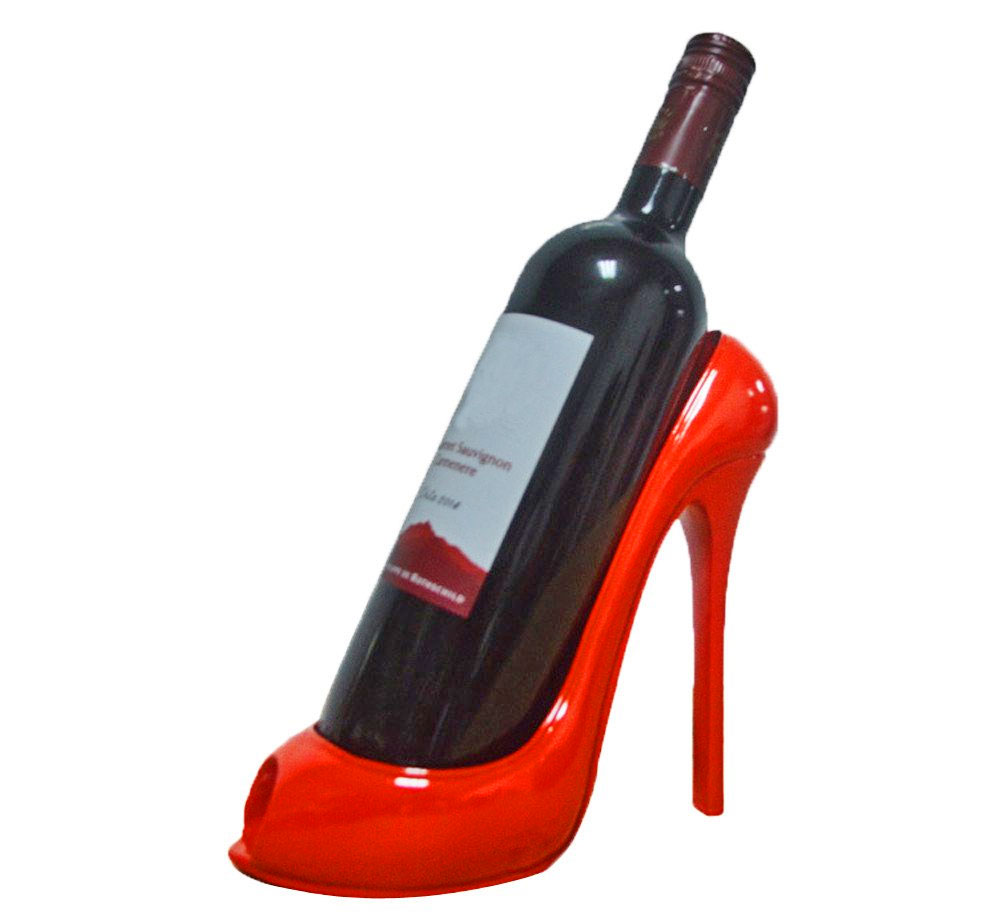 Let all your guests know what your paycheck goes to - shoes and wine - with this high heel wine bottle holder. It features a peep toe patent looking stiletto that nestles your wine bottle gently in the toe. With a color for every outfit you can now match your wine bottle holder with your purse and shoes!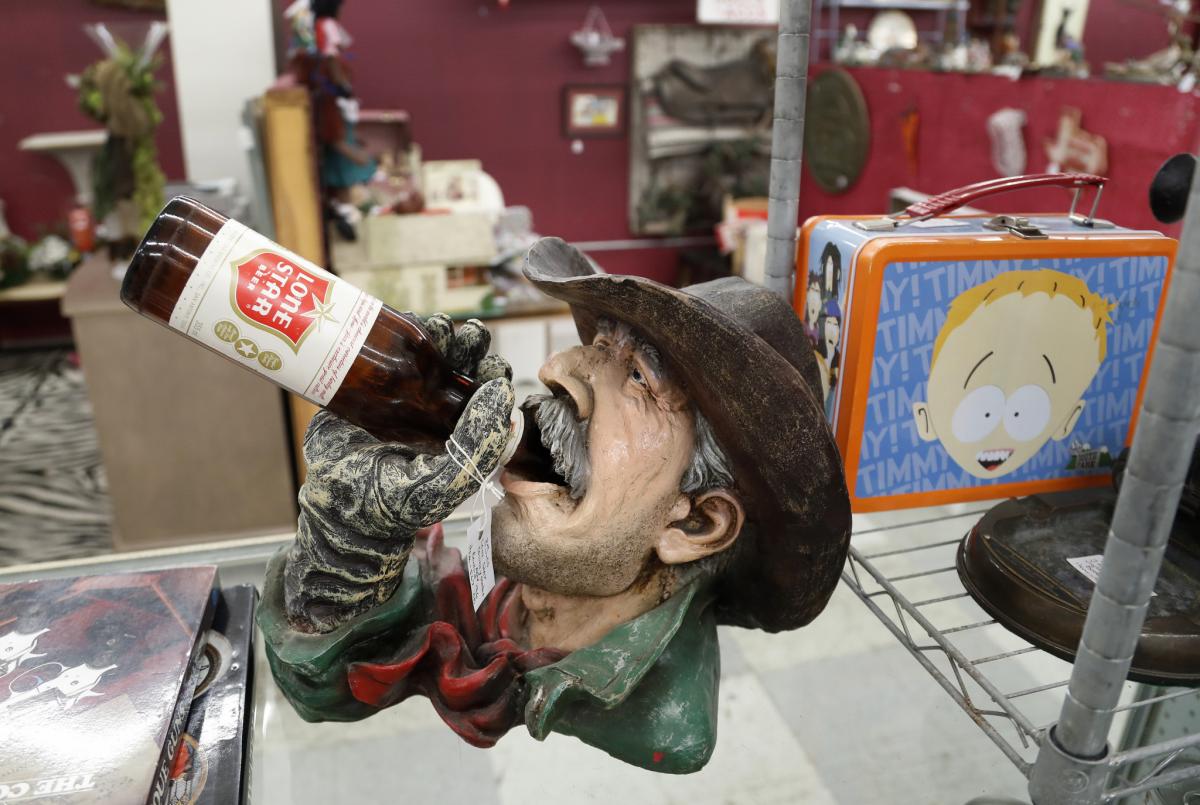 Whether you're from Texas, the old west, or just love western culture, this chugging cowboy wine bottle holder will hit a soft spot in your heart. It's the perfect wine holder for any wannabe cowboy, plus it'll look great in any home bar or man cave. You can check out a different version of the drinking cowboy bottle holder here.