Floating Canopy Island Inflatable Lounge
Date Published: 07/15/2015 8:36 AM
Buy Now

@Amazon
Find on Ebay

This floating Island is an inflatable lounge that could easily fit multiple people, but lets be honest, you're the only that's going to be enjoying it because of 1 of 2 reasons. Either you're a bastard who wants everything to yourself even though more people could easily fit on it with room to spare, or you've taken in so many cheeseburgers that you are literally the only person that could fit on it, even if it is half way underwater. Perfect for working off a hangover in the pool, the floating island lounge even has a canopy so you can block the sun from your pale greasy skin so you don't burn to a crisp. I mean who goes outside to be in the sun anyway...
SITE ANNOUNCEMENT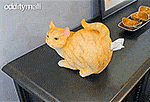 We Are Giving Away 6 Cat Butt Tissue Dispensers
The Intex floating canopy island uses two separate air chambers for added safety in case one of them springs a leak, includes two built in drink holders, the canopy is detachable in case you would like some sun, has a comfy back rest for optimal relaxation, comes with a repair kit, and measures 78 inches long x 59 inches wide.