This Suitcase Cat Bunk Bed Is a Brilliant Way To Re-purpose Your Old Luggage
By Ryan on 03/20/2020 10:10 AM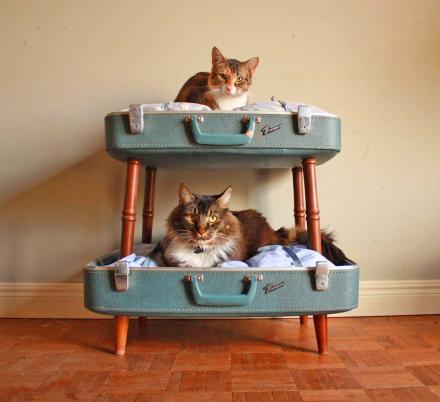 Chances are you probably have some old luggage back from the 90's packed away in that closet that you dare never open. If any of that old luggage happens to be of the trunk style, and you happen to have multiple cats, it may be time to re-purpose that luggage into a unique and creative little bunk bed for your cats. That's just what these people did, and we absolutely love the result! You can either use 2 sides of the same trunk, or use multiple trunks to create a smaller bed on top of a larger bed.

NOTE: Find retro hard shell suitcases on Etsy or Ebay
You have two different options for a luggage cat bed, as you can either simply buy one on places like Etsy, or there's the DIY option. If you're looking to get a luggage cat bed on Etsy, there's plenty of stores that offer a wide variety of designs using old vintage pieces of luggage and trunks with along with a variety of different leg types. For the DIY option, there's plenty of videos on YouTube to help you along, plus there's plenty of inspiration for suitcase cat beds that you can find on Pinterest.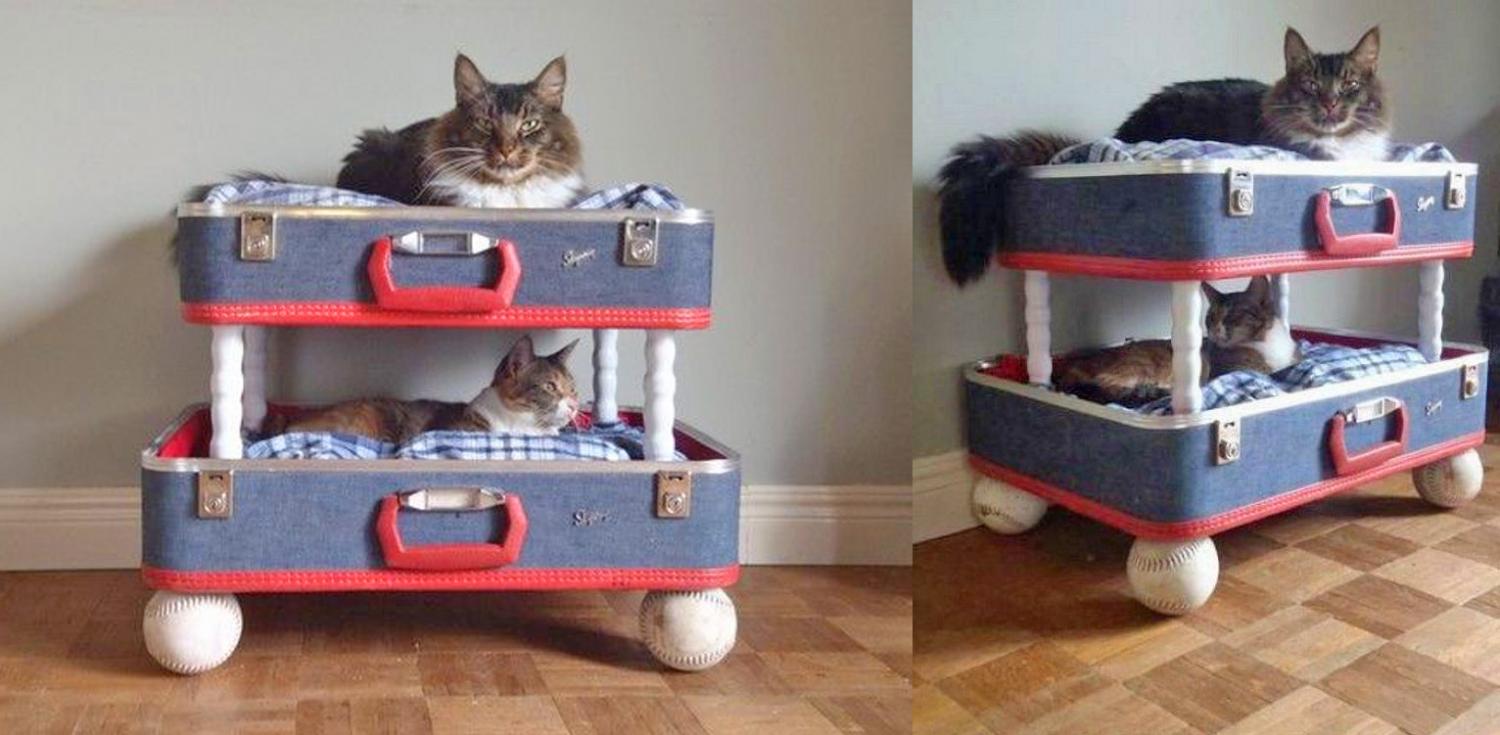 How to DIY Build A Suitcase Cat Bunk Bed
If you don't have an old trunk or shell suitcase laying around, you can most likely find one at your grandparents, a thrift shop, or possible even Etsy or Ebay. You'll then also want to find 4 fat and short wooden legs (use taller legs for the top bunk if you're creating a cat bunk bed), which you could also either find on an old table at a thrift store, or even on Etsy. You'll also want some Gorilla Glue to attach the legs to the bottom of the suitcases.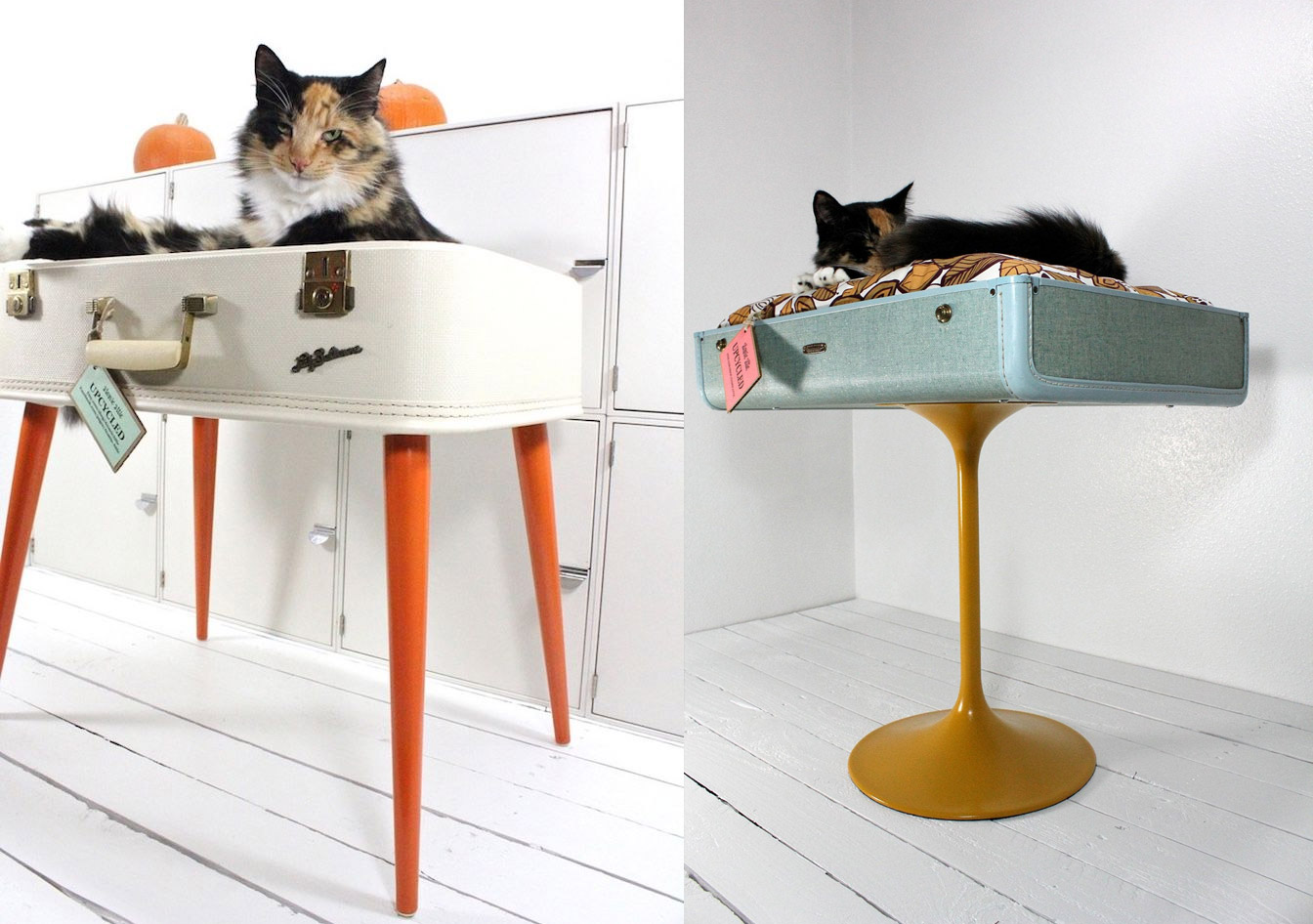 Credit: etsy
You'll want to find a pillow that either fits perfectly into the inside of the luggage, or custom make a pillow that's the perfect size for your retro suitcase. Make two of these if you're going the bunk bed route. Then take your wooden legs and glue them to the bottom/top of your suitcase, and place something heavy onto the legs and wait for them to dry. Again, if you're going the bunk-bed route, you'll want to do this twice, but make sure you use longer table legs for the bed that'll be on top.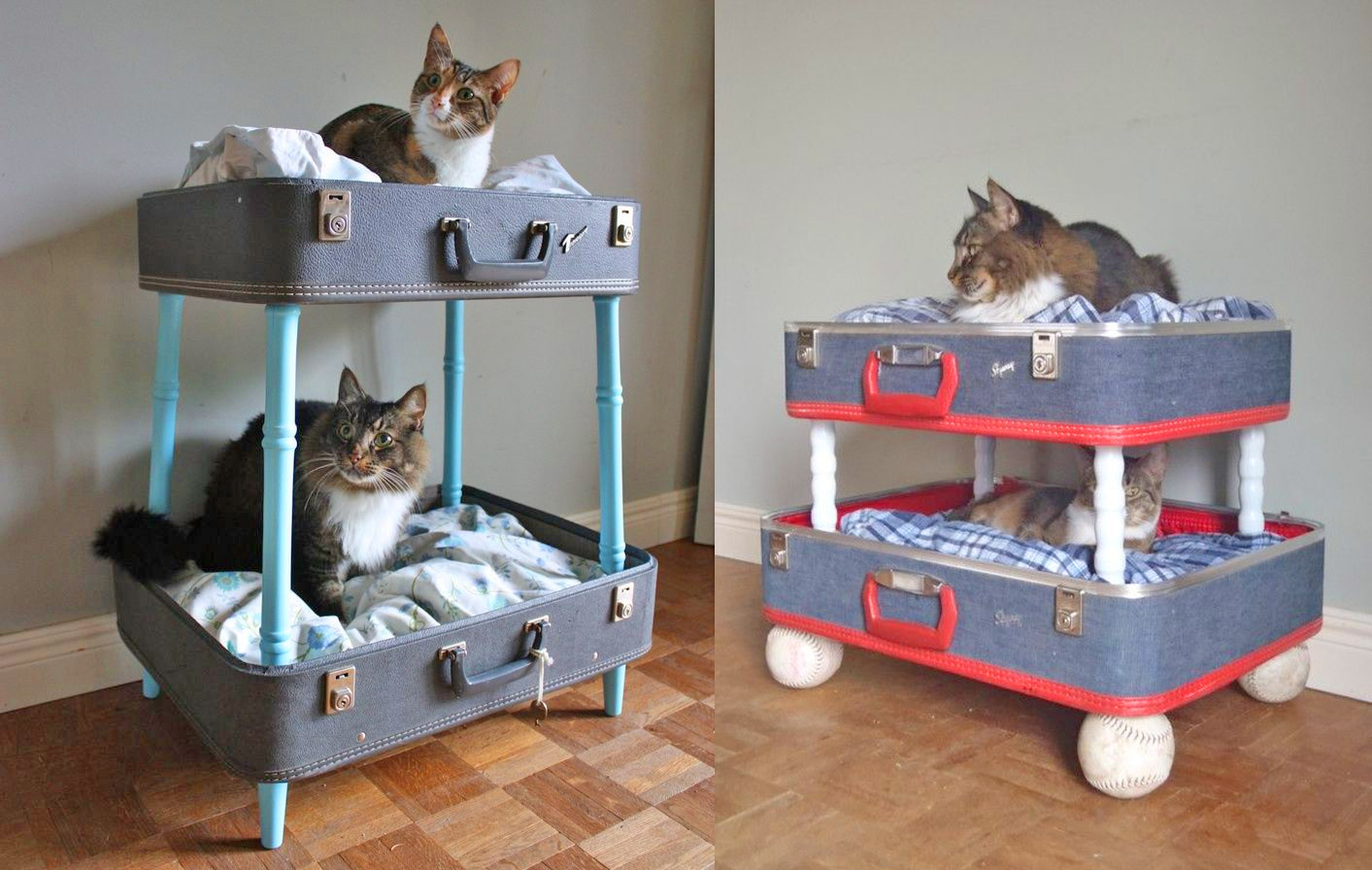 If you're just creating one suitcase cat bed (not a bunk bed), you can keep the other half of your suitcase intact and use it as a decorative backing to the cat bed where you can place decorations, pictures of your cat, etc... Whereas if you're creating a cat bunk bed from 1 or 2 hard shell luggage trunks, you'll want to remove the tops to each of the suitcases and then stack your finished beds on top of one another (keeping the longer-legged one on top of course). If you'd like to make sure that don't come apart, you can optionally use the Gorilla Glue to attach the legs from the top bunk to the inside of the bottom bunk.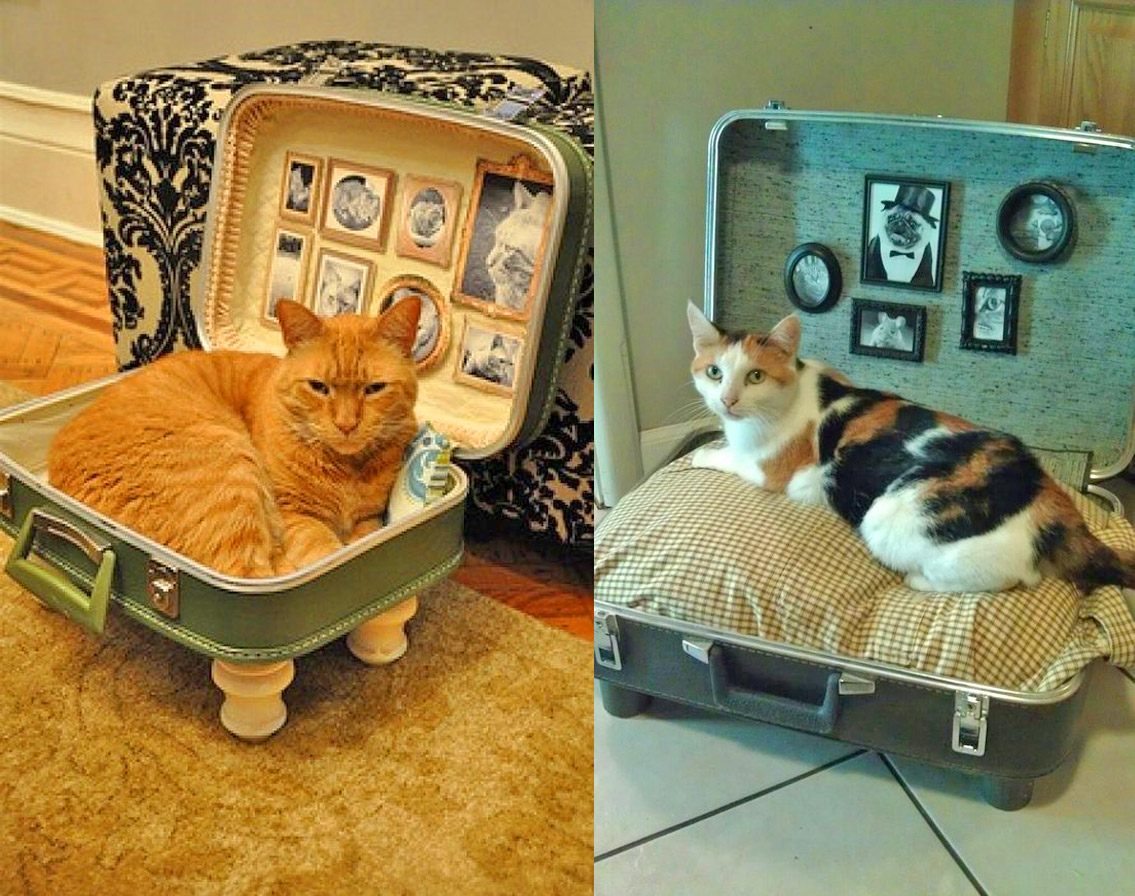 Once finished, just place your custom sized pillow inside each of the beds, and let you kitty take a nice little cat-nap in their new suitcase cat bed (or bunk bed).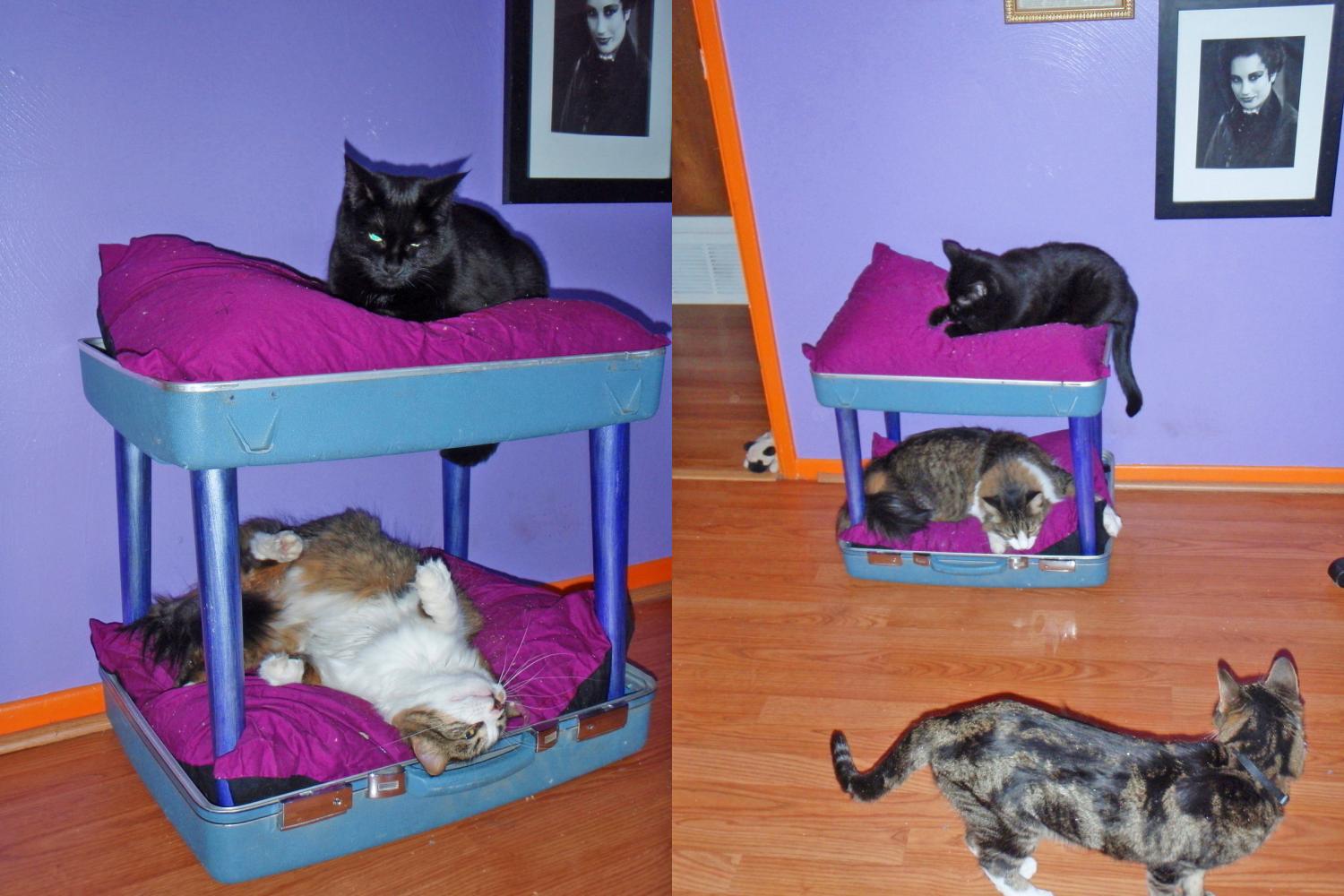 Source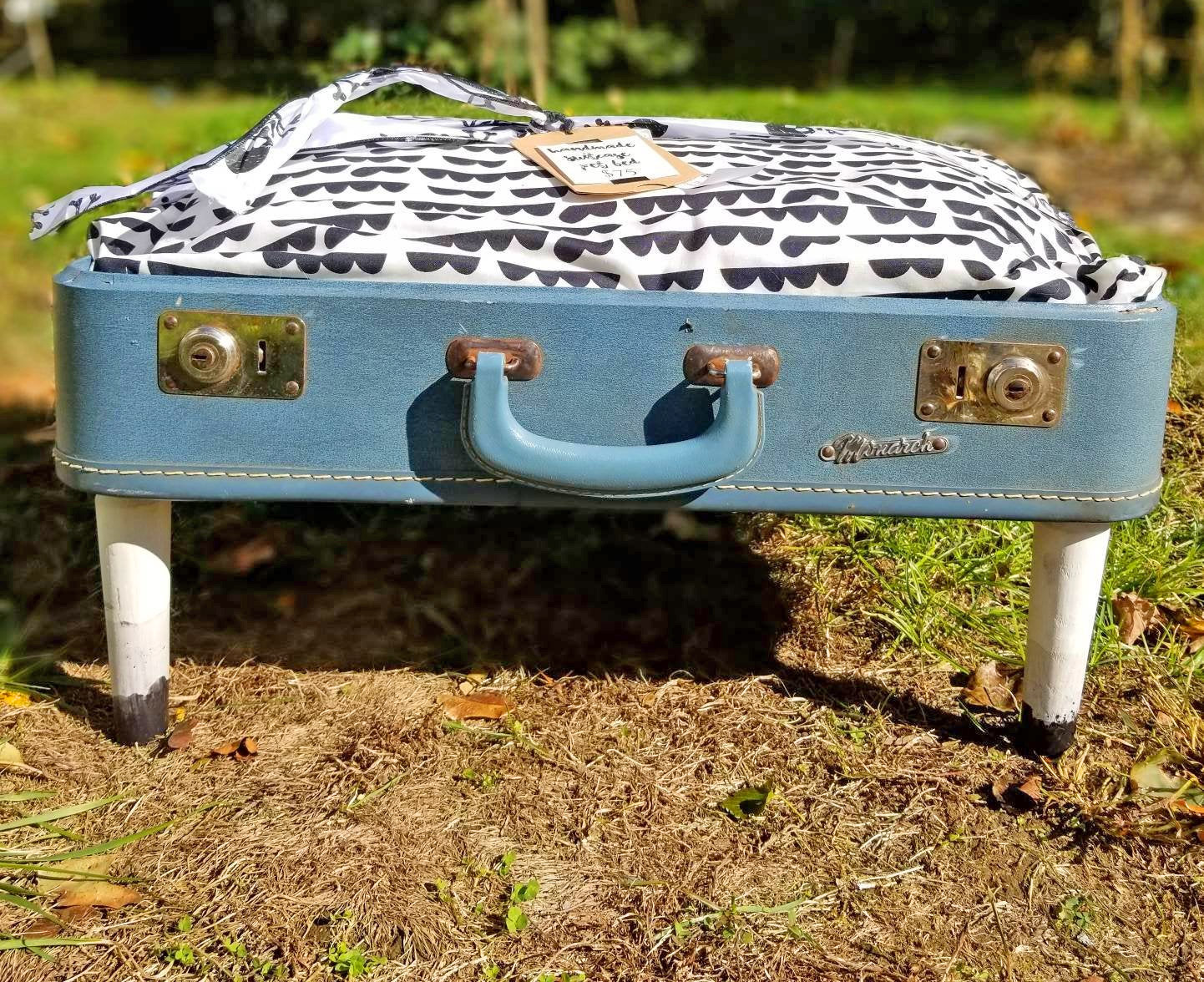 Source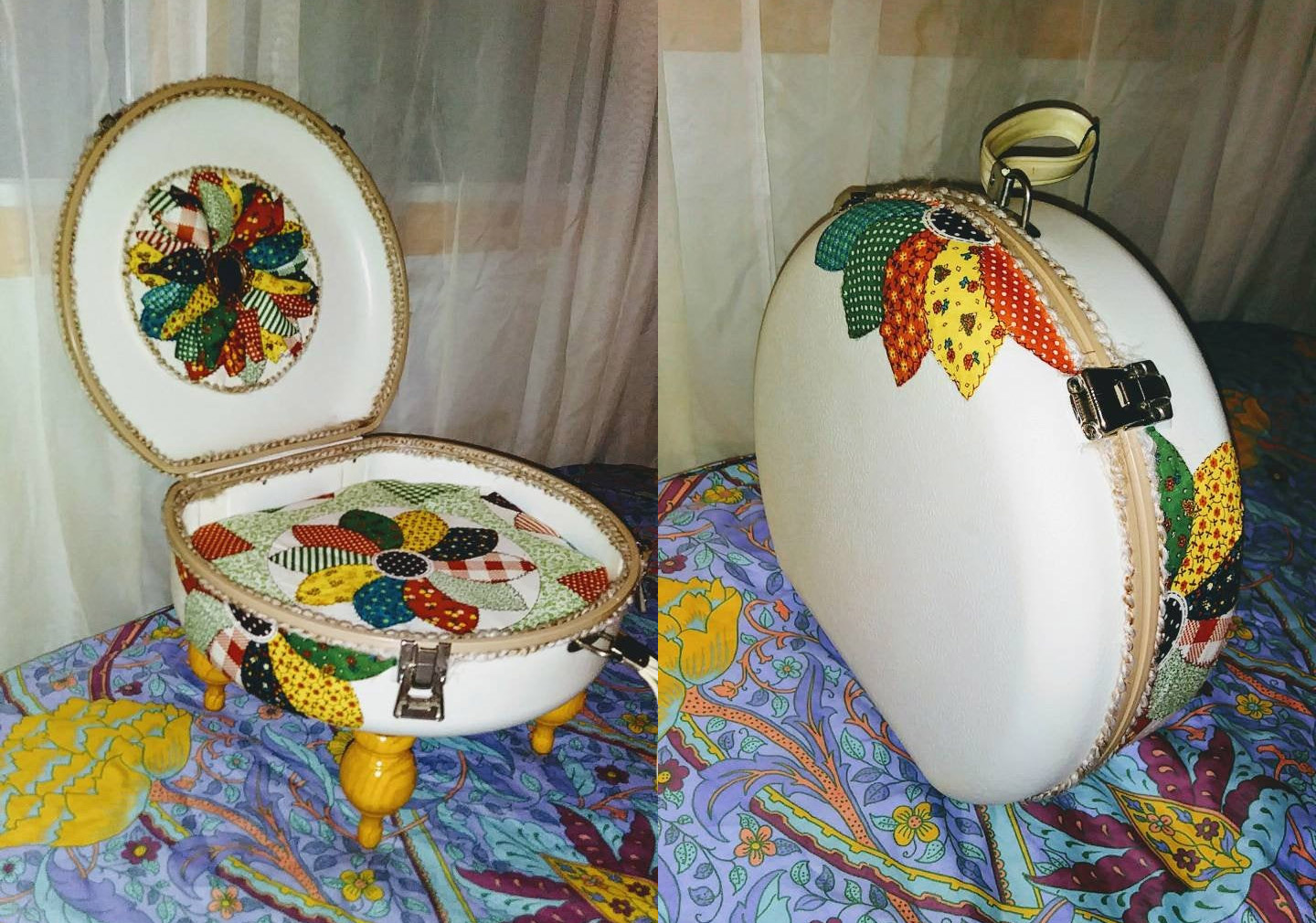 Source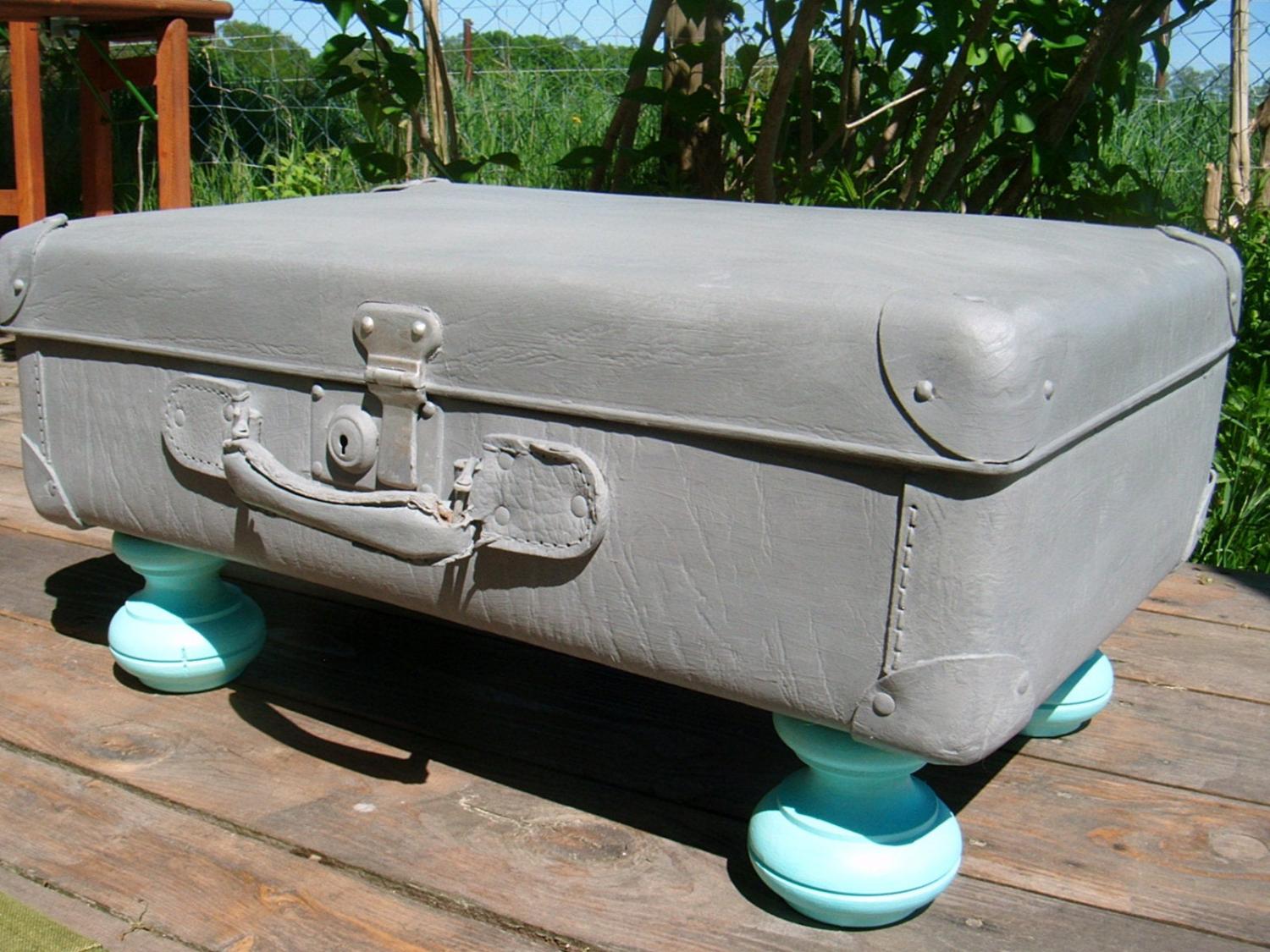 Source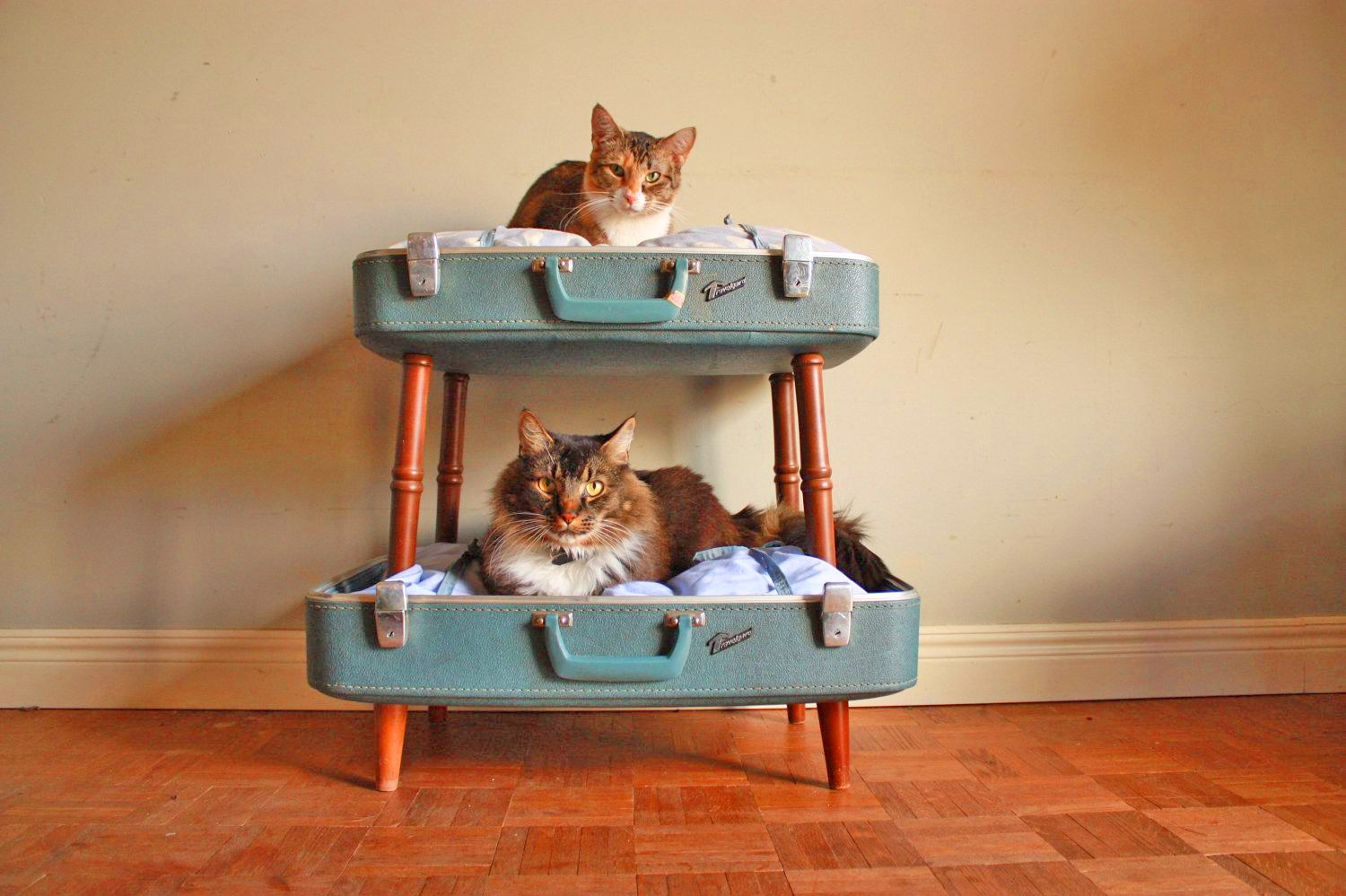 Also, no one says you can't create a hard shell suitcase bed for your dog as well!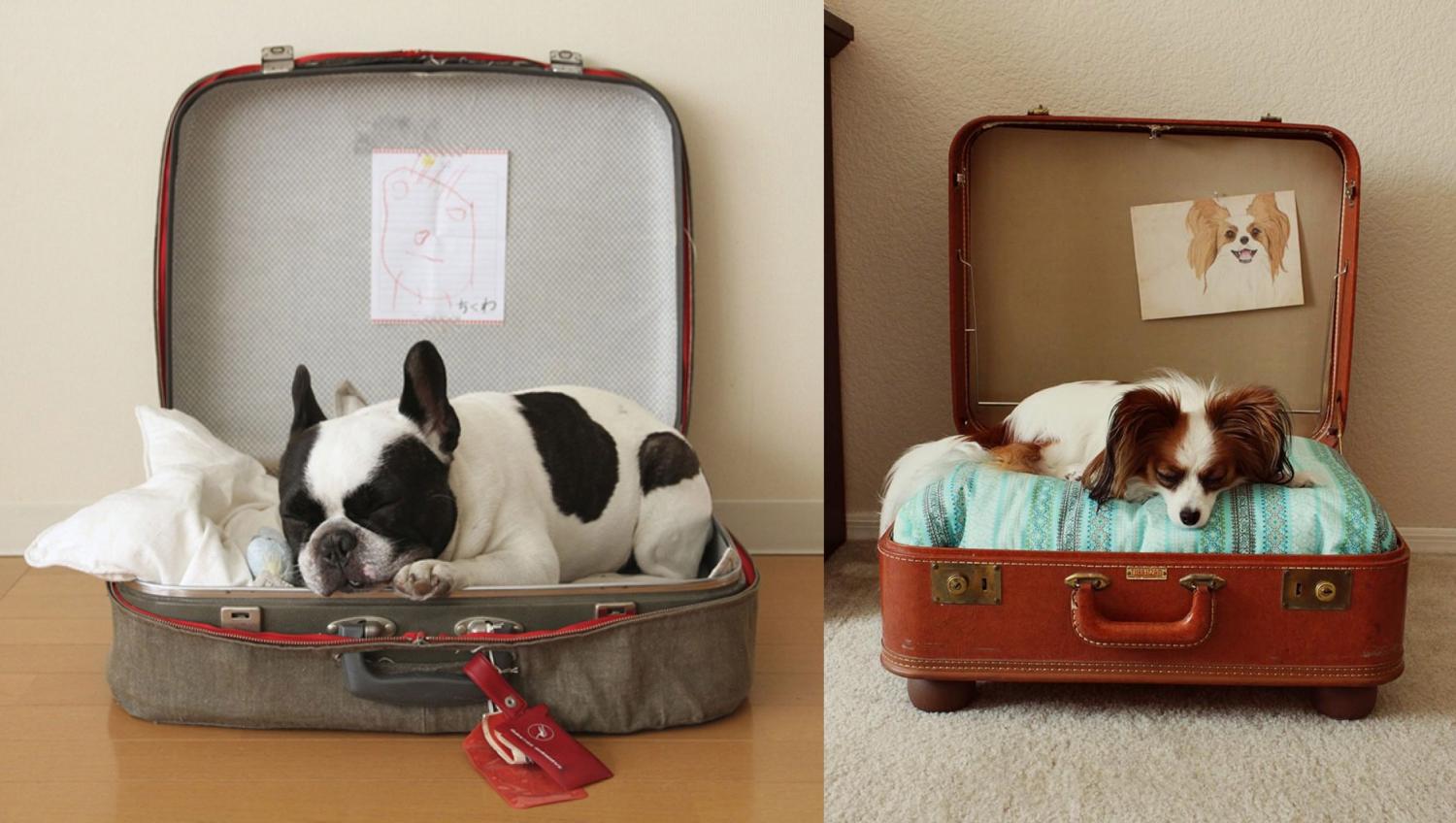 Subscribe To Our YouTube Channel