Card Pen Is A Pen That Fits In Your Wallet
Date Published: 09/05/2014 5:18 AM
The card pen is a pen that can be used as a business card that is slim enough to fit into your wallet to be used as an emergency pen. Maybe you just met a fine lady girl of tolerable attractiveness and she wants to give you her number. Well, assuming neither of you have a phone, which is likely, the card pen will save you from walking away with nothing. As slim as a quarter, the card pen is even retractable, to open the pen just slide it out and then back in 'On Hole', to retract it, just slide it back in the 'Off Hole'. The card pen is laser cut from birchwood, is able to have custom engravings at an added price, uses a black ballpoint pen, and measures 3.5 inches wide x 2 inches long x 1/8 inch thick.
SITE ANNOUNCEMENT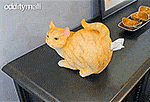 We Are Giving Away 6 Cat Butt Tissue Dispensers
The card pen is currently in a funding phase on Kickstarter with an estimated delivery date of September 2014, so go reserve yours now.