Balancing Bookshelf
By Ryan on 09/10/2015 2:01 AM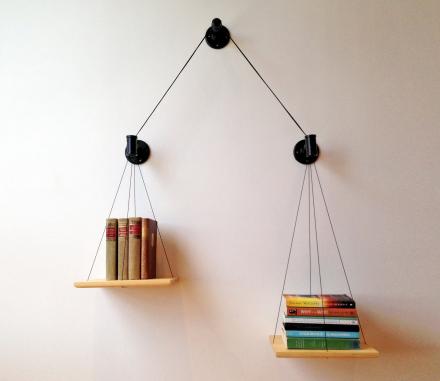 The balance bookshelf consists of two platforms that are hung from the same wire that balance with each other using whatever books you place on each side. Perfect for a home of creative readers, the balancing bookshelf can be displayed however you like. If you want the left side further up, just put more books on on the right side, and vice-versa. If you want them completely balanced, you'll need to find a variety of different sized books to make it precise as possible to balance the weight, or of course, you could always just buy two of every book you buy, for the simple reason of balancing your bookshelf. If I were to own it, It wouldn't balance very well, because the only books I have is a dirty sears catalog and a Yellow Pages from 2004.
Made by Etsy store Cush Design Studio, the balancing bookshelf uses black acrylic twine to hold up the wooden boards on each side that hold the books that gets draped over three pipes that attach to your wall. When a books is added the twine will slide against the metal pipes to find the right length of twine needed on each side of the scale to balance itself out.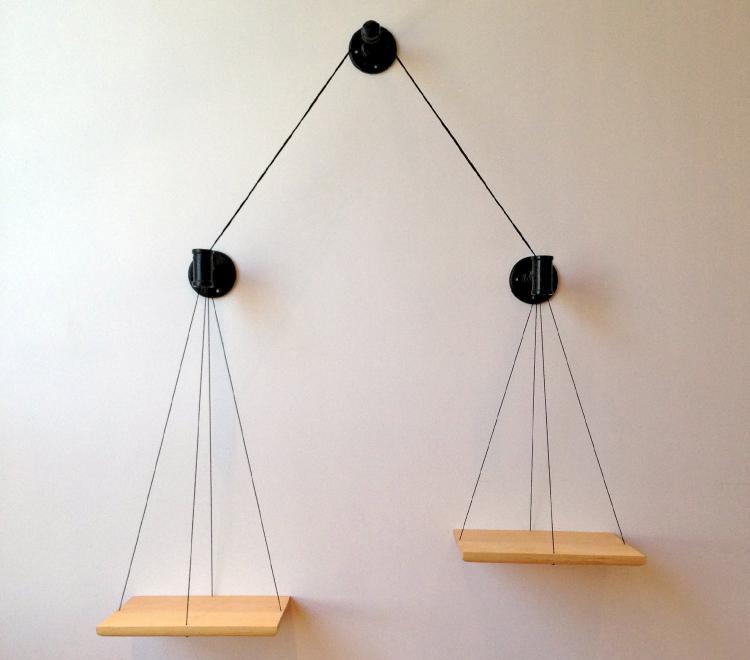 The Balancing Bookshelf comes in either dark walnut or natural pine wood to choose from, along with black or jute colored twine to select from, and is able to accommodate around 5-10 average sized books on each side of the scale. When fully set up the balancing bookshelf measures approximately 4 feet tall x 3 feet wide x 9.25 inches out from the wall.