Bacon Scarf: A Scarf That Looks Exactly Like Delicious Bacon
By Ryan on 08/18/2015 7:10 AM (Updated: 01/26/2018 1:29 PM)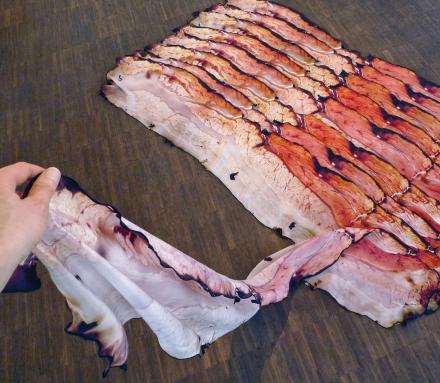 This bacon scarf looks so much like delicious greasy bacon that I would probably just end up putting the end of it in my mouth while I wear it and walk around. I suppose this will have to do until they actually do make a scarf out of real bacon. Better yet, why can't they make all of my clothing out of bacon? I would eat my clothes throughout the day, and by the time I got home, I would pretty much be naked and ready to change into my pajamas and slip ever-so-softly into a bacon coma. Plus the bacon scarf will go great for nustling up into your bacon & eggs pillow and blanket.
Made by Natalie Luder, a designer from Switzerland, the "Fou Lard Bacon Scarf" as so it's called is made from 100% silk (not actuall bacon ) as it's more-so made for fashion than to actually keep you warm. The bacon scarf is digitally printed, along with a black rolled hem, and measures 70.8 inches long x 13.7 inches wide.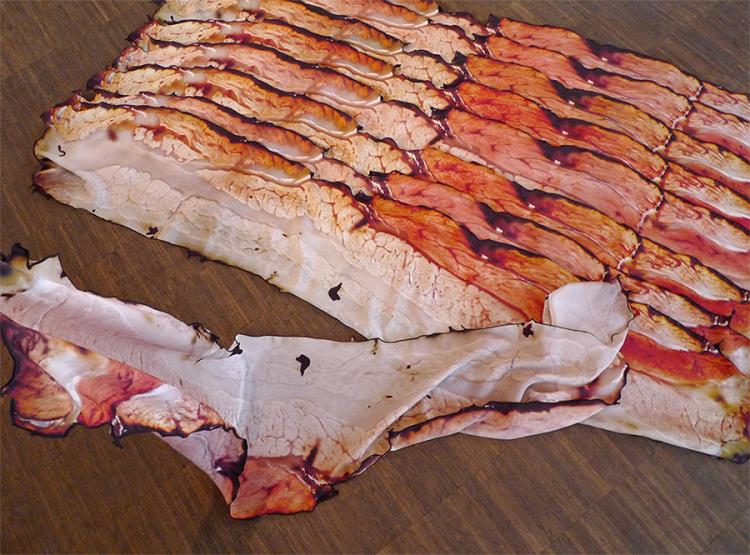 Now you just need to get a set of 10-15 bacon scarves and line them up ever so perfectly to make a giant package of bacon.