This Rotating Watermelon Slicer Cuts Perfectly Cubed Watermelon Slices
By Ryan on 10/24/2019 1:26 PM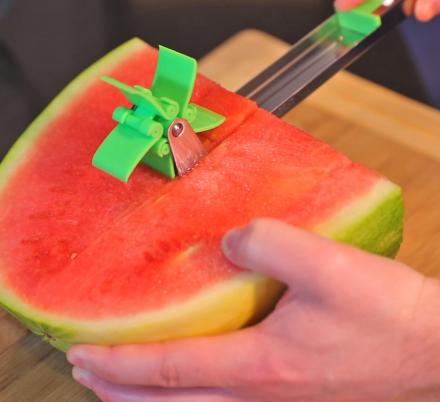 If you're someone prone to cutting themselves while slicing up watermelons and other fruits, you should probably put down the knife, and grab a tool that's better suited for someone of your caliber. Take for instance this brilliant new watermelon slicing gadget that will automatically slice up your melons into little squares in mere seconds.
How does the automatic cube watermelon slicer work?
How it works, is the automatic watermelon cube slicer gets inserted into a flat side of the watermelon, and as you push it forward, a little windmill-like contraption spins around slicing each individual cube of watermelon. Each watermelon square then gets push back into the sleeve of the device until you empty it.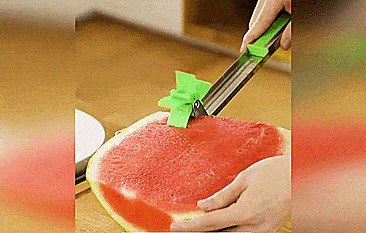 Depending on the length of your watermelon, and how evenly the cubes get stacked, with each row of slicing you do the device can hold around 5-6 cubes until it should be dumped into your bowl or container. You can then do this over and over again effortlessly until you have the entire watermelon in perfect cubes for consumption.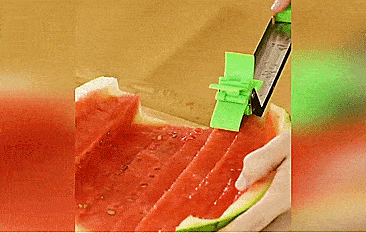 The auto cube slicing watermelon cutter could be the easiest and quickest way to get bite-sized morsel of watermelon, and actually looks quite fun to use. It uses child-friendly edges on both the sleeve slicer, and the rotating slicer blades, so even kids can use it.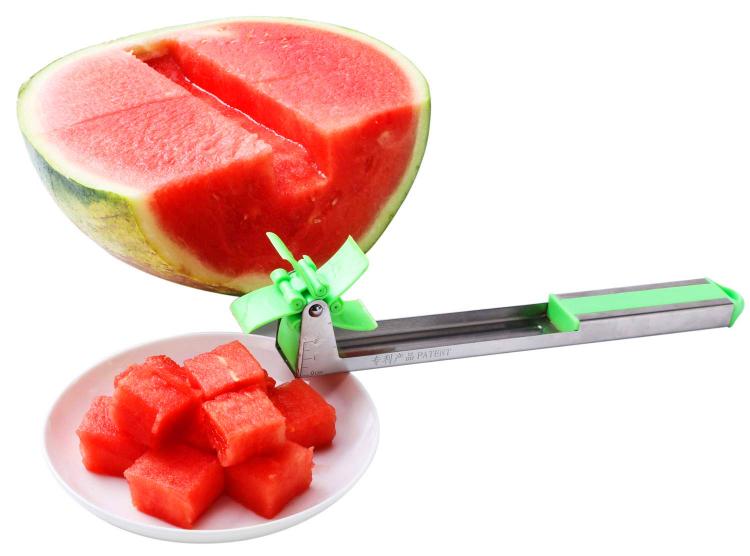 The rotating blades watermelon cube slicer is made from 18/8 stainless steel, creates perfect cube shaped watermelon slices, features a watermelon cutting ruler on the edge of it so you know just where to press in on the watermelon edge, and features a comfy and easy handle that has a delta hang hole on the end of it. The melon slicer is also dishwasher safe so cleanup is easy afterwards.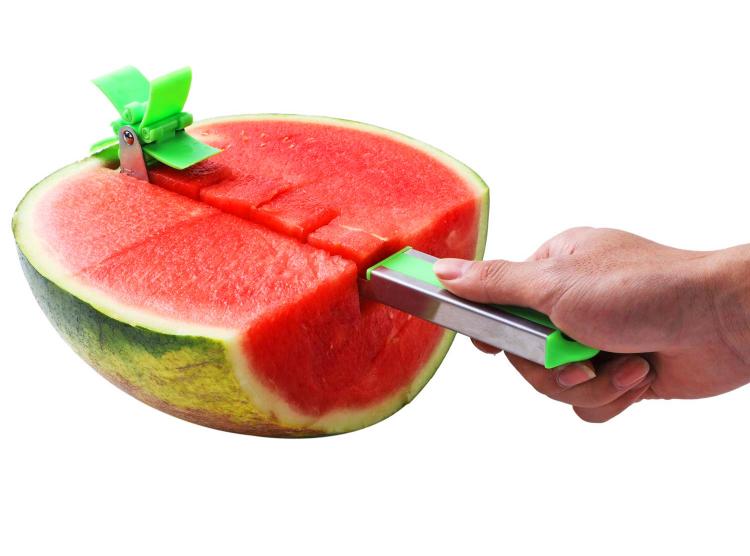 While the rotating watermelon cube slicer is great for taking care of the main body of the watermelon, the included melon scooper lets you easily take care of the rest of the fruit by scooping out the watermelon that's closer to the rind.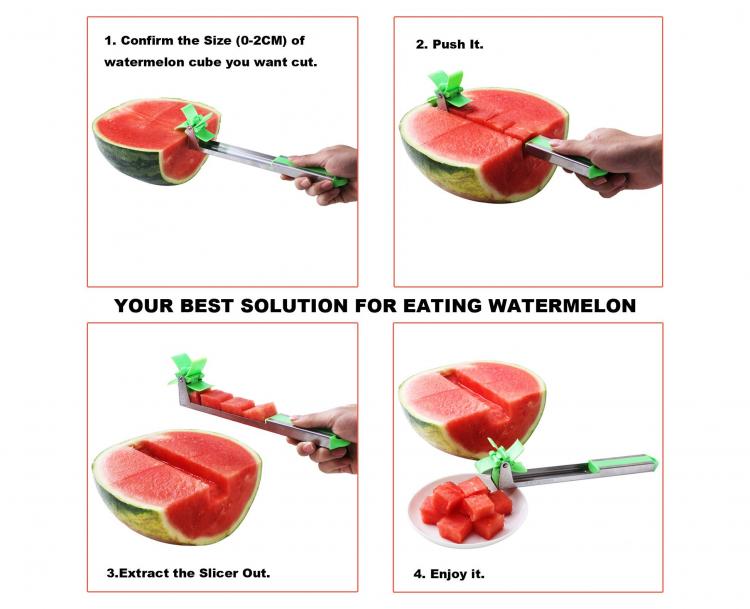 How large does it slice the watermelon cubes?
The auto watermelon cube slicer makes watermelon cubes that measure right around 1.2 inches cubed. Though, since there's a ruler on the edge of the slicer, you can actually slice the watermelon as thin as you like. The watermelon sleeve measures around 3 cm wide, whereas the entire tool measures 10 inches long and the handle measures 3.75 inches long.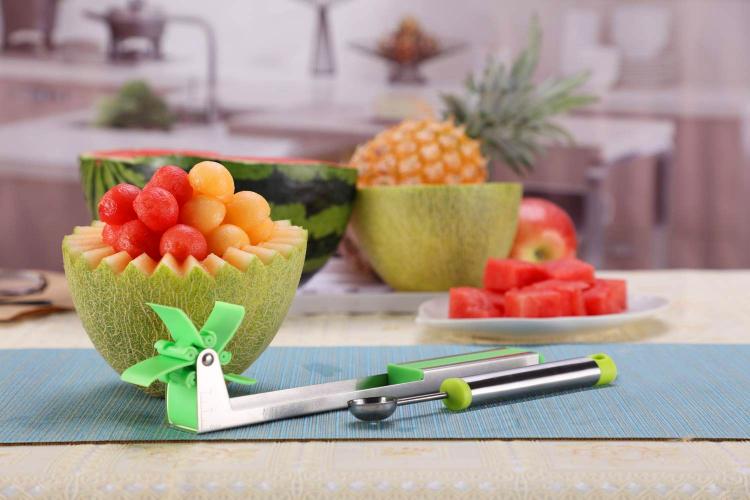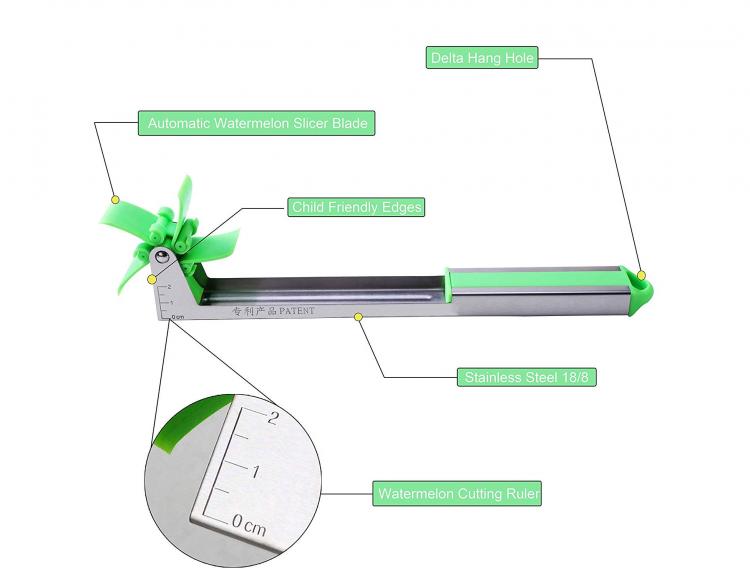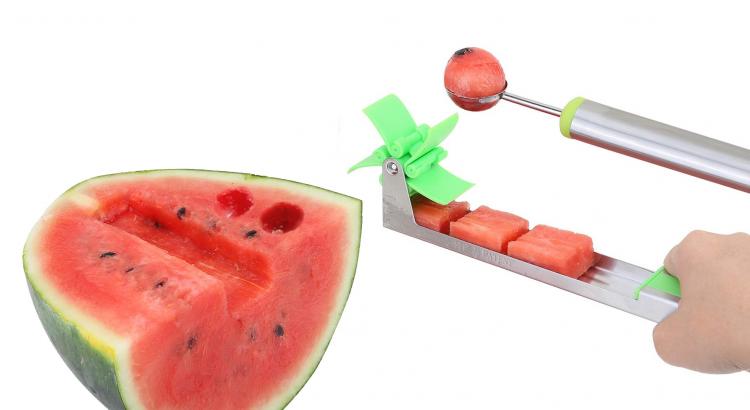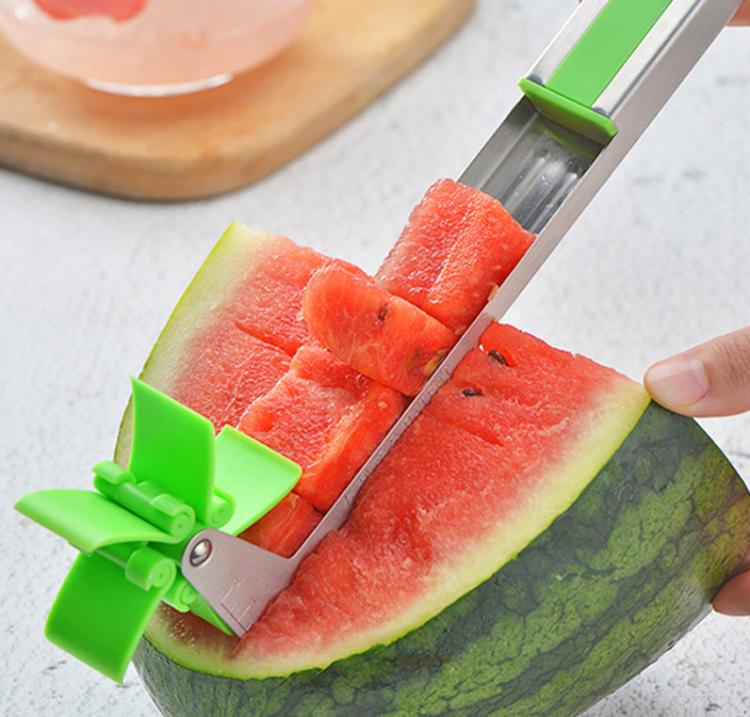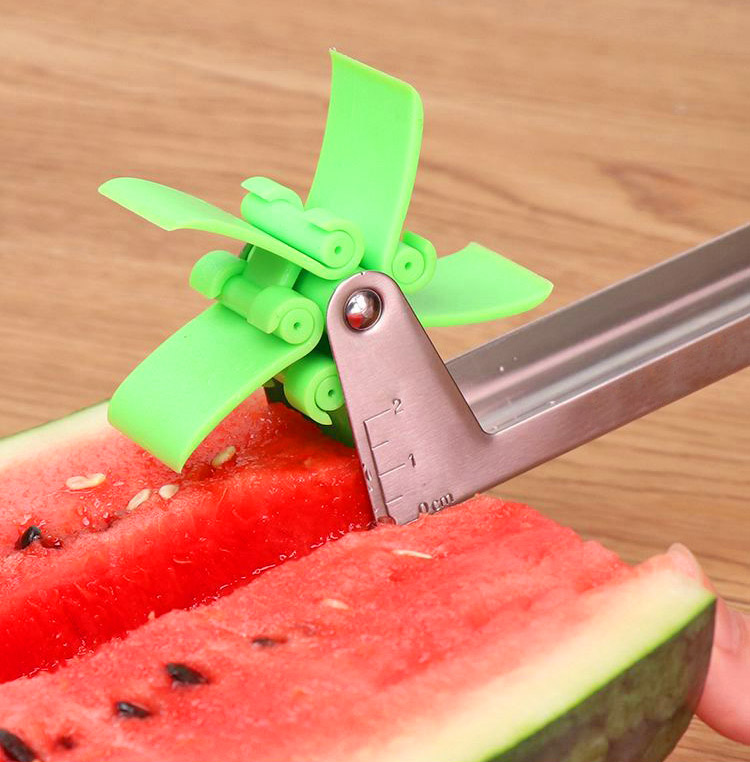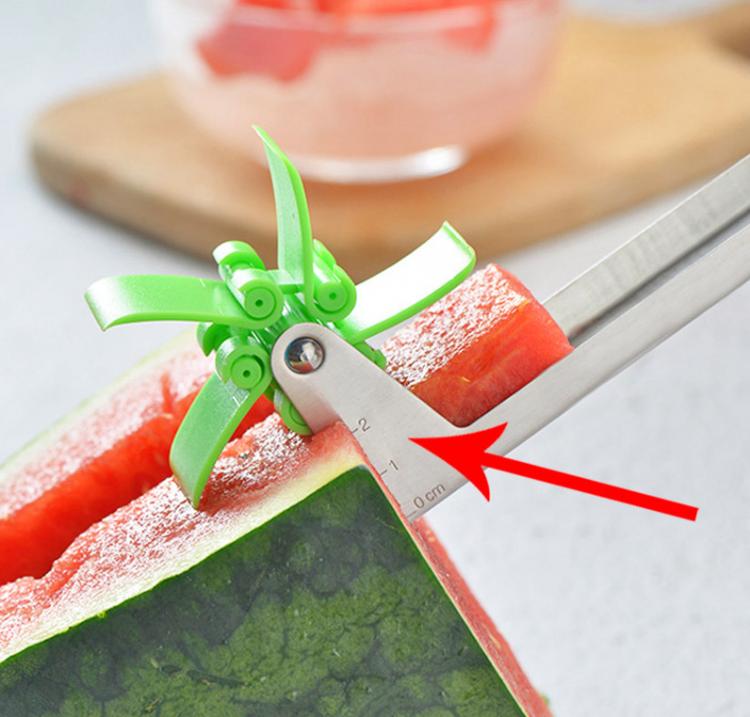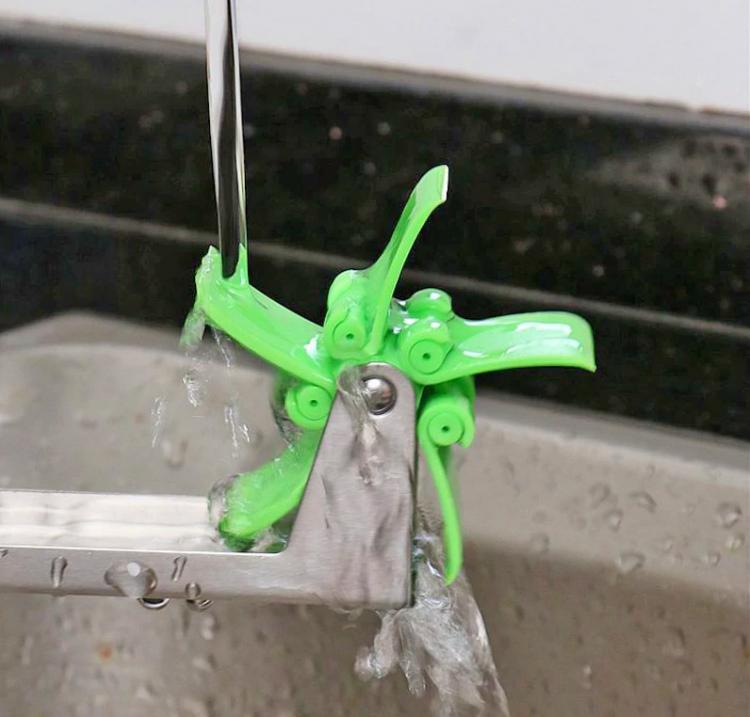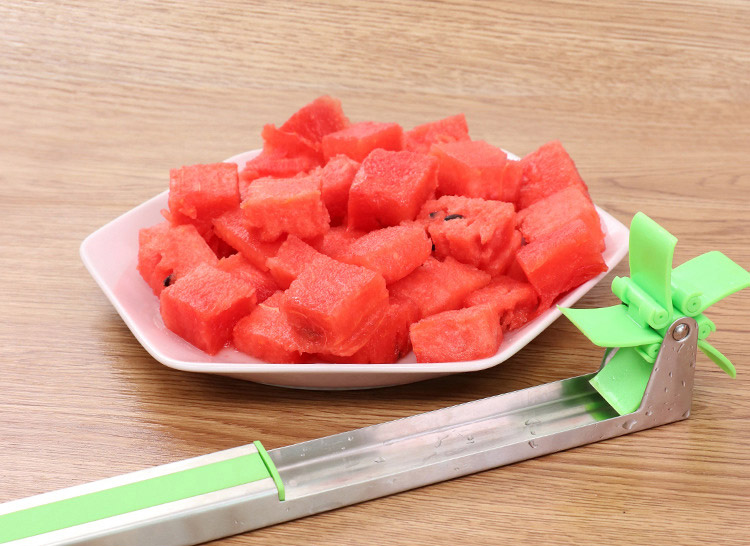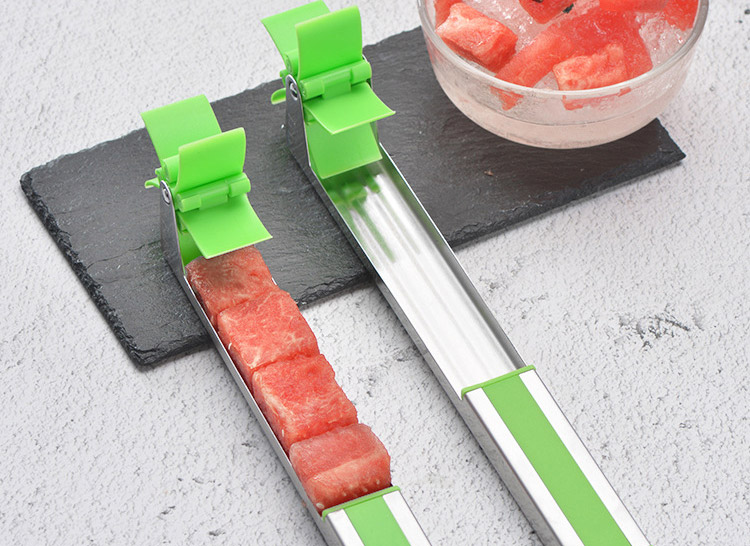 Subscribe To Our YouTube Channel