This 4-in-1 Pizza Cutter Doubles as a Pizza Serving Spatula
By Ryan on 02/01/2018 12:42 PM (Updated: 07/20/2018 7:27 AM)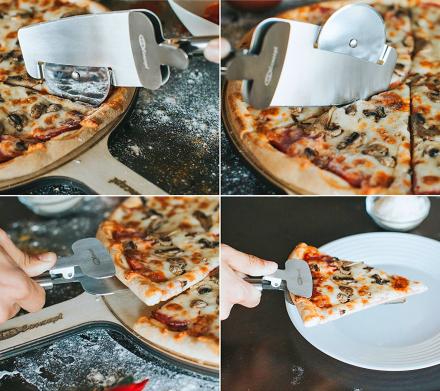 There are plenty of pizza cutters to choose from and they all do one thing well. They cut pizza. I mean they should, they have one job. However, this pizza cutter goes the extra mile, by doing more than just cutting. Sure, this one cuts, but it also doubles as a handy pizza serving spatula too.

Note: This 4-in-1 pizza cutter also comes with a high quality ice cream scoop spoon
The 4-in-1 pizza cutter has a super sharp pizza wheel for slicing pizza, a serrated spatula on the side of it for when there's still some connection between the slices when pulling them apart, plus the whole thing acts as a spatula to easily serve slices right to your plate. Not only that but there's a clip on the end of it to clamp down and secure each slice as it's transported to and fro.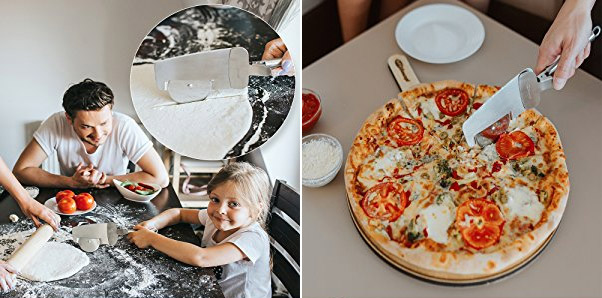 Not only does this multi-purpose pizza cutter practically do everything for you besides chew and digest the pizza for you, but is also comes with a really nice metal ice cream scoop for when you're ready for dessert after your pizza. As if pizza wasn't really just dessert in and of itself already!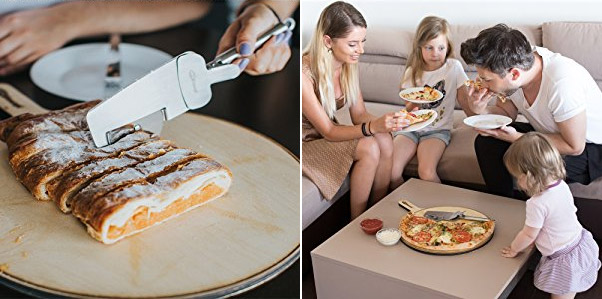 The combination of the pizza wheel and cutter blade on the side of the spatula will cut through your pizza whether it's extra cheesy or if it's extra thick dough and topped with everything. So you'll never have to worry about pulling the cheese right off your slice when the slice is still slightly connected.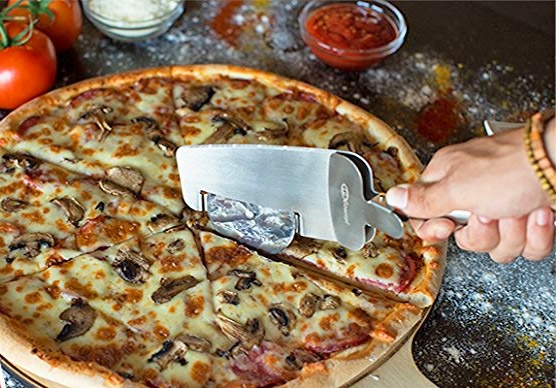 The 4-in-1 pizza cutter is made using a stainless steel construction, which means that it will stay sharp and never rust. Just cut your pizza and serve it with the same handy utensil. The extremely handy clip on the end of the spatula is something you never knew you needed until you've actually used it, which is actually quite handy.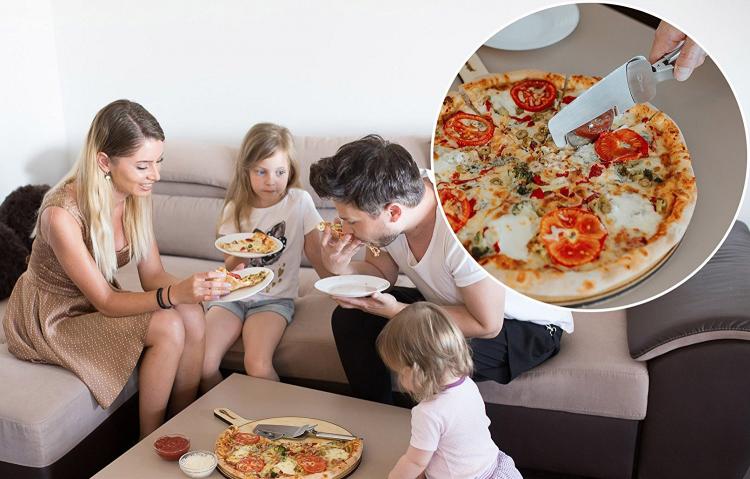 The unique design of the multi-purpose pizza cutter and spatula makes it super easy to clean and is also dishwasher safe. It's got a 2.7 inch diameter extremely sharp pizza cutter wheel, weighs 9.1 oz, and measures 11.2 inches long x 3.5 inches wide x 1.2 inches thick.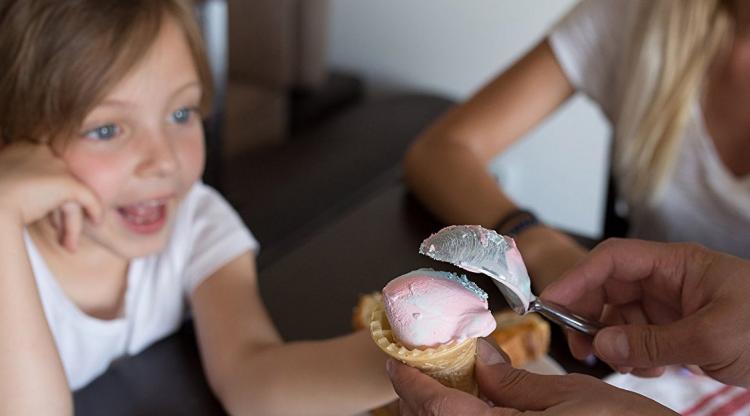 The ice cream scoop cuts through hard frozen ice cream without bending or breaking, with a tapered tip, pointed edge, mirror finish and comfortable grip. This kitchen gadget lets you have your pizza and a nice cold dessert too.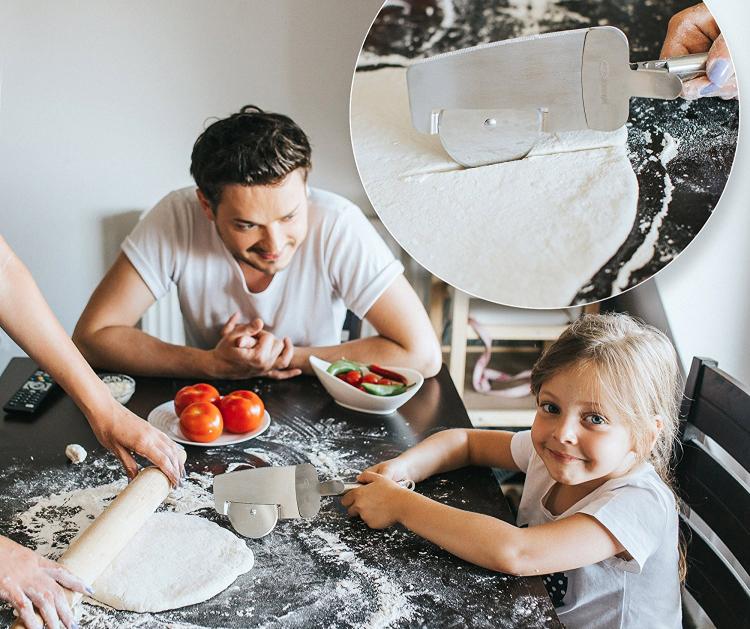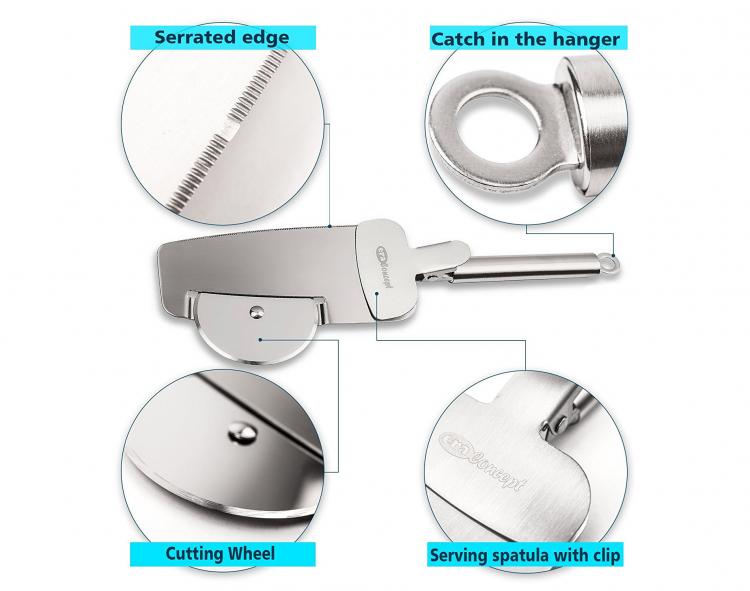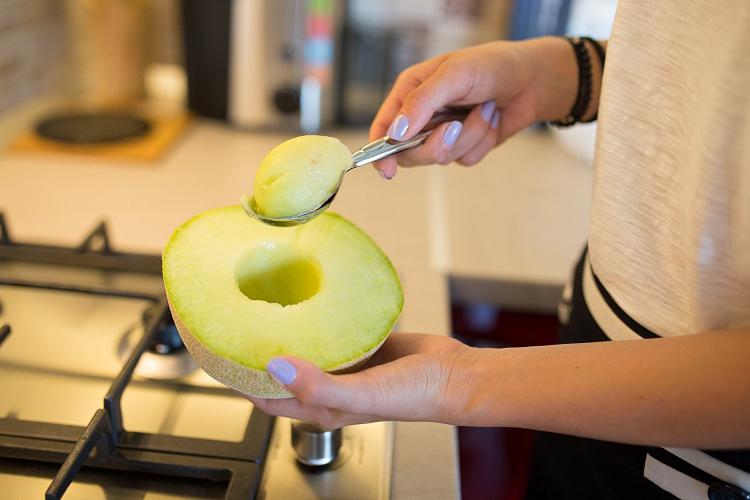 Subscribe To Our YouTube Channel