Wooden Bottle Opener Coasters
Date Published: 04/07/2015 3:41 AM
Buy Now

@Amazon
Find on Ebay

These wooden coasters have an integrated bottle opener hidden on the bottom of each coaster which solves the two worst disasters that can often occur while drinking: someone makes a water stain on your precious coffee table, and someone has a beer that cannot be opened. Perfect for the lazy drunkard who can't be seen wasting their time walking to the kitchen to get a bottle opener, or the inept fool who doesn't already have a bottle opener on them already with the millions of unique bottle opener products out in the world already. The bottle opener coasters are customizable so that if you wish you can get an initial inscribed on the top of each one, which would make for a great birthday gift, groomsmen gift, or wedding gift.
SITE ANNOUNCEMENT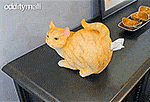 We Are Giving Away 6 Cat Butt Tissue Dispensers
The wooden bottle opener coasters come in a set of 4, are made from light handcrafted wood, and each coaster will measure 3.5 inches wide x 3.5 inches long x 0.5 inches thick.