Wall Mounted Trouser Rack
By Ryan on 01/28/2015 3:36 AM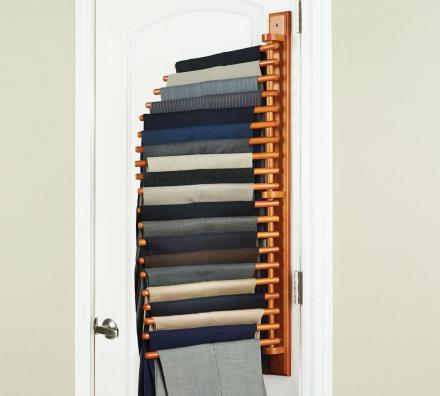 If you're like me and live out of your hamper with an empty clothing dresser sitting right next to it, this may come in handy to you. The trouser rack is a device that you can hang on your wall or door to hold you pants in a nice tidy organized manner. No longer will you have to sift through the pile of smelly garbage you call clothing that's lying in the corner of your room next to six empty bags of McDonald's. The trouser rack allows you to easily hang your pants up when you're done wearing them, or if you're feeling real ambitious, you can hang them up after you've cleaned them so you don't have to walk around with so many wrinkles in your pants that you look like Joan Rivers right before her monthly face lift appointment.
The wall mounted trouser rack can up hold up to 20 pairs of pants on it's 20 swiveling poles which can swing up to 180 degrees out from the wall, it contains a 10-gauge steel support bracket, and is made from either oak wood or cherry wood which you can choose between. The mounting board measures 39.75 inches long x 3 inches wide and the poles measure 5/8 inch in diameter each.
If you don't own 20 pairs of pants like me, you may want to look into the 10 pair trouser rack, or if you just own 1 pair of pants, you can just look into buying a single pole that can buy at your local lumber yard.