Soapstone Double Layered Ice-Cream Bowl Koozie
Date Published: 05/11/2015 5:12 AM
It was just a matter of time until someone made a koozie for your bowl of ice cream. These ice cream bowls are doubled layered so that the inside bowl is made form stone which keeps your ice cream cold and keeps it from melting, whereas the outside bowl is made from wood and makes it easier to hold on to and keeps your hands warm while doing so. How it works is you leave the inside bowl that's made from stone in your freezer, so that when you're ready for some ice cream, dish the creamed ice into the freezing cold stone bowl, take the wooden bowl out of your nice warm cabinet and put the stone bowl inside the wooden bowl. You will be eating ice cold cream with hands that are nice and cozy warm. Now it's just the diabetes you'll have to worry about.
SITE ANNOUNCEMENT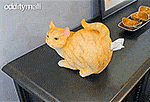 We Are Giving Away 6 Cat Butt Tissue Dispensers
The ice cream bowl koozies come in a set of two double layered bowls, the inside bowl is made from soapstone, whereas the outside bowl is made from Acacia wood. The soapstone bowl is dishwasher safe, and the wooden bowl is hand wash only. It will take the stone bowl at least one hour in the freezer to get to it's max coldness for optimal ice cream holding abilities, although 30 minutes will still suffice.