Pizza Slice Night Light
By Ryan on 03/03/2016 6:45 AM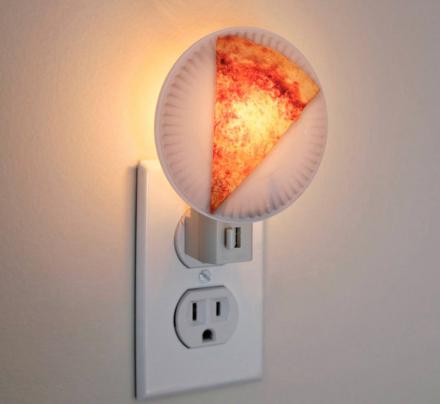 This pizza night light features a mini slice of pizza that's attached to s greasy paper plate, and I don't think I've ever seen a product that was more fit for a college student in my life. The pizza slice actually looks quite realistic, and I would guess that if a college student got drunk enough and hungry enough, he might just try to pull the slice out of the wall and attempt to eat it. I know I've tried stupider things in my life... The pizza night light is perfect for falling asleep while thinking about your one true love, pizza, while having a soft glowing light in your room. If you get too scared, just remember, the pizza slice is there to protect you.
I think If I had this pizza night light in my room, I'd end up not being able to sleep and finding my way to the kitchen to put a frozen pizza in the oven pretty much every day of the week. The constant glowing delicious looking slice of pizza would just get to my head and somewhat brainwash me into eating pizza in the middle of the night. Maybe this product was made by the big frozen pizza companies to make you eat more frozen pizzas...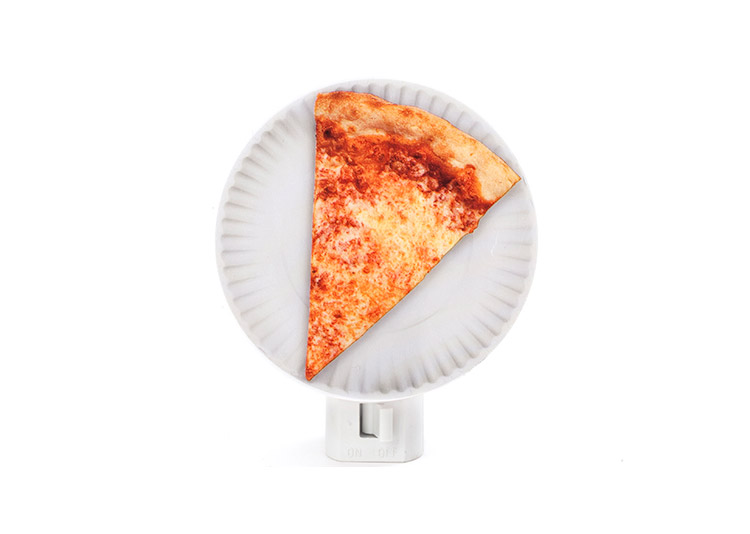 The pizza slice paper plate night light is made by Kikkerland, is made from plastic, comes with a 7 watt bulb that sits behind the pizza slice, has an on/off switch on the front of it, and measures 5.24 inches long x 1.57 inches wide x 7.09 inches tall.