There's Now a McDonald's Logo Brass Knuckles and It's Called The McKnuckle Duster
By Ryan on 03/22/2023 8:41 AM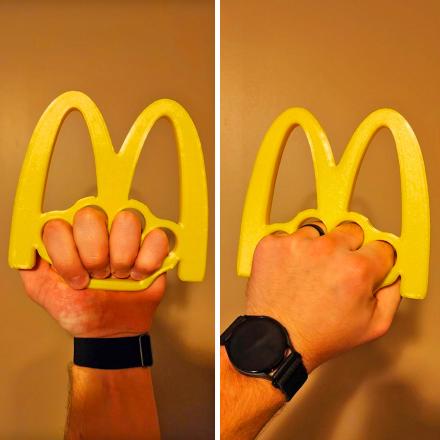 Knock, Knock! Who's there? It's the McKnuckles Duster, the cheekiest conversation starter you never knew you needed! Imagine the golden arches of the McDonald's logo, but with a hilarious twist. The McKnuckles Duster is a set of brass knuckles shaped like the iconic fast-food emblem, guaranteed to bring a hearty laugh (and maybe a hankering for some fries) to anyone who lays eyes on it.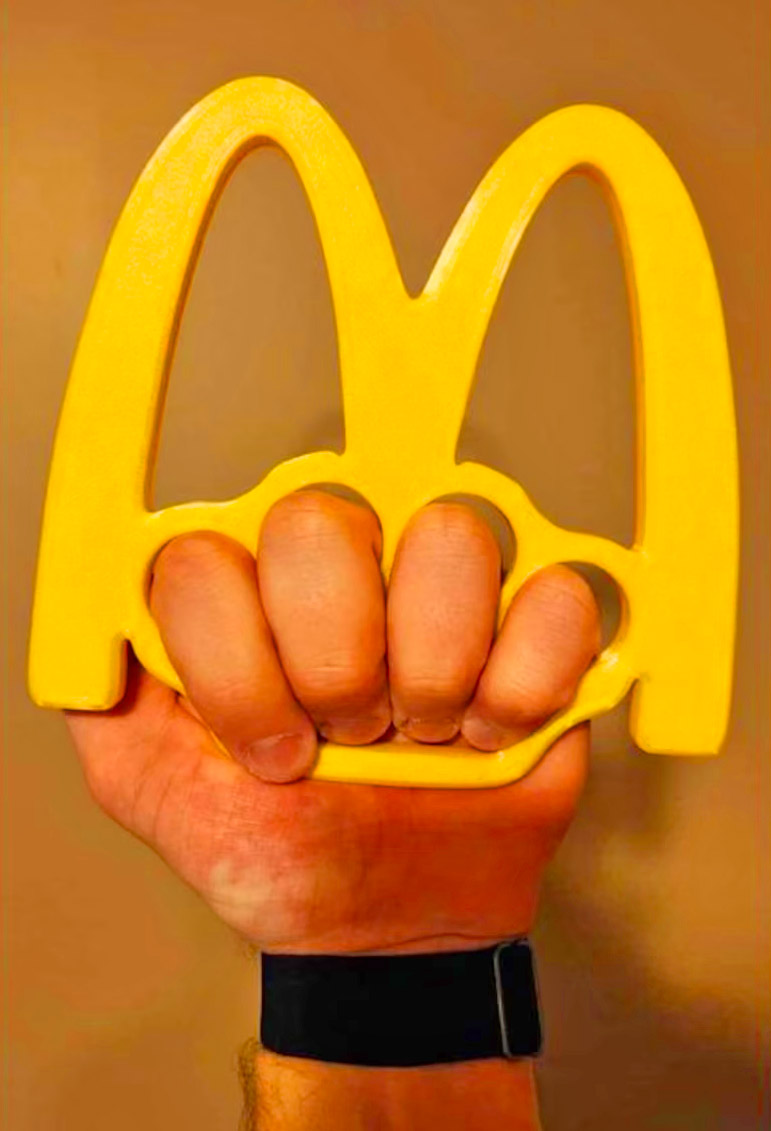 You're hosting a party, and you want to show off your witty sense of humor? You place the McKnuckles Duster in a prominent spot, and before long, guests are snickering and chatting about this quirky piece of art. Or maybe you need a touch of levity at the office. Set the McKnuckles Duster on your desk, and watch your coworkers gather 'round to crack jokes and bond over this zany creation.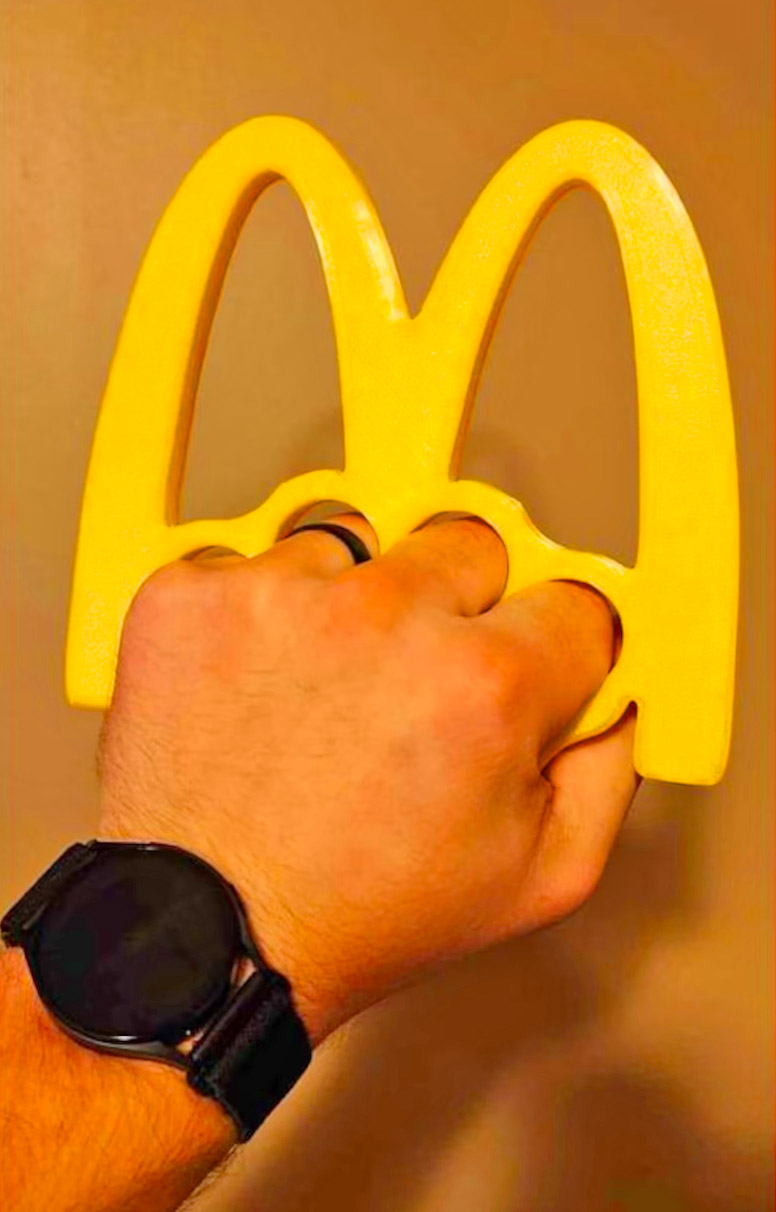 Now, before you start worrying about any unintended pugilistic consequences, let's make one thing clear: the McKnuckles Duster is not meant to be used as a weapon. It's for display purposes only, so don't go getting any wild ideas! This is all about fun, laughter, and an appreciation for the bizarre.
So, what's the secret behind this peculiar piece? The McKnuckles Duster is actually 3D printed from PLA plastic, a lightweight and environmentally friendly material. This means you can actually get it customized with a name if you like! This means that, despite its quirky appearance, it won't leave a heavy impact on the environment. Plus, PLA plastic is known for its versatility, which brings us to another fantastic feature of the McKnuckles Duster: it's available in practically any color you want! Whether you're a fan of classic McDonald's yellow and red, or you want something that matches your office's color scheme, the possibilities are endless. Worried about whether the McKnuckles Duster will fit your fingers? Fear not, because this amusing accessory is designed to accommodate most finger sizes. It's comfortable enough to slip on for a quick laugh, but remember, it's not for actual use, so don't go swinging it around like a prizefighter. The McKnuckles Duster is more than just a comical replica of the McDonald's logo – it's a symbol of pop culture's far-reaching influence. With the golden arches being one of the most recognizable symbols worldwide, it's no wonder that this tongue-in-cheek rendition is capturing people's attention. Its clever design speaks to our shared love for humor, entertainment, and the enduring impact of the fast-food giant. If you're searching for the perfect gift for that friend with an offbeat sense of humor, look no further than the McKnuckles Duster. It's a guaranteed conversation starter that will have them chuckling every time they catch a glimpse of it. After all, who wouldn't want a lighthearted reminder of their favorite fast-food joint sitting on their desk or adorning their mantelpiece? So go ahead, make a statement with the McKnuckles Duster! Display it proudly in your home or office and let the laughter and conversations flow. You can snag this McDonald's logo brass knuckles set from Etsy for around $25 bucks! The same Etsy shop even has a miniature keychain version of the McDonald's logo brass knuckles available here for around $10 bucks!