This Heated Chip and Dip Tray Keeps Your Dip Warm
By Ryan on 01/12/2016 4:33 AM (Updated: 06/14/2018 7:41 PM)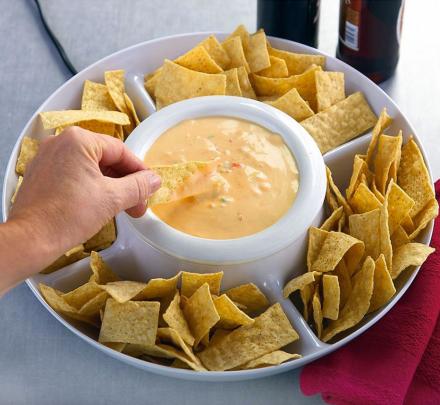 There's nothing worse than cold dip. Ok, actually it's really not that bad, sometimes I prefer cold dip to warm dip. But for others a tub of cold dip is pretty much the worst thing in the world. This chip and dip tray has a removable heated base that will keep your cheese or dip warm or melted throughout the entire duration of your chip consumption session.
To use it, simply warm your dip initially and then plug the heated dip tray into a wall socket and place your dip in the corresponding dip slot. Perfect for hosting a party or having some people over for the game, the heated chip and dip tray works great for chip dip, cheese, salsa, or really anything you'd like to keep warm.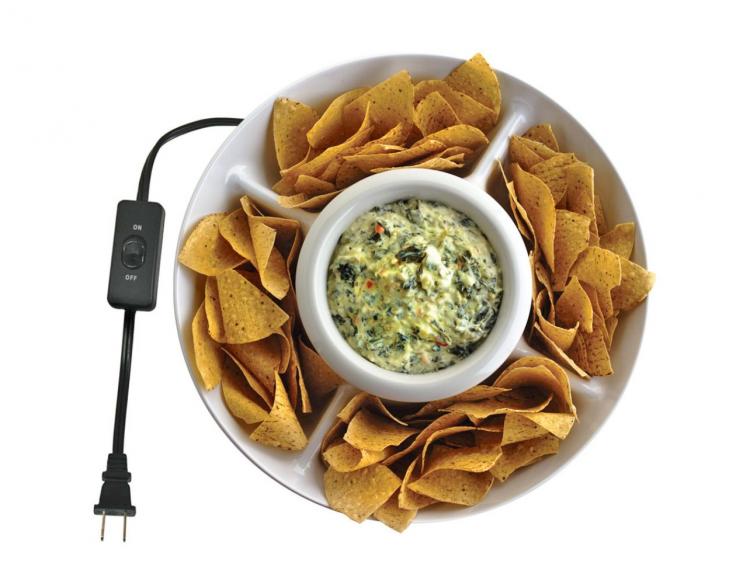 The heated chip and dip tray comes with 4 chip slots so that you can offer a variety of different chips. The tray comes with three pieces, the serving tray, the dip cup, and a removable hot plate that goes under the dip cup to keep it warm, the dip cup can hold around a quart of dip, and the entire tray weighs 3.8 lbs and measures 15 inches in diameter x 4.5 inches tall.