FingerPickin Finger Food Sampler
Date Published: 11/20/2013 3:18 AM (Updated: 11/15/2016 8:40 AM)
Buy Now

@Amazon
Find on Ebay

The Fred and Friends FingerPickin Cocktail Picks are small little things that you put over your finger so that you can eat samples of food or Hors d'oeuvres that are served at a party without having to use your disgusting chubby fingers or waste precious precious expensive toothpicks. No longer will you get the Flu everytime you eat food at party due to someone flipping through slices of salami like its a deck of cards, everyone will be using the FingerPickin food sampler picks so no one will be touching the food and passing along their pathogens.
SITE ANNOUNCEMENT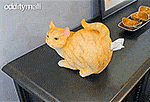 We Are Giving Away 6 Cat Butt Tissue Dispensers
The FingerPickin Finger cocktail picks come in a pack of 12, and come in a plethora of different colors to choose from.