This Genius Table Has a Built-In Trash To Quickly Devour Crab, Lobster, or Crawfish
Date Published: 09/22/2020 3:26 PM
Buy Now
@Amazon
Find on Etsy

Do you love lobster, oysters, shrimp, crawfish, or pistachios- really any food needing a good peeling - but hate how messy they are to eat? This new Crawfish Boil Tabletop will make eating those messy foods easier and cleaner. All you need to do is place this tabletop on top of a 55 gallon barrel or trash can and watch the scraps go right into the trash...no messy carcass cleanup later.
If you suffer from a shellfish allergy and think this table would be wasted on you...think again! This tabletop is great for any meal that includes "leftovers". The bones from a nice rack of ribs or chicken...directly into the garbage. Muffins or cupcakes? You won't be finding wrappers for weeks with this handy tabletop. A 21st birthday shot buffet...the shot glasses can go right into the garbage once the liquid is warmly in your belly.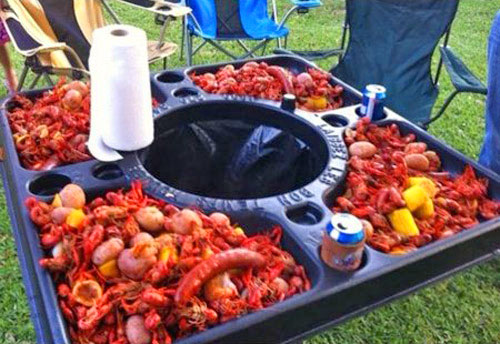 The table top is made of food-grade Polycarbonate making it easy to clean and transport to your clambake on the beach or your lobster feast in your dining room. The 44 inch square table features 4 large sections so you can separate your food into large heaping mounds without worry of them mixing. The 2 paper towel holders provide easy access when you need to wipe the melted butter dripping off your face. And the 4 cup holders and 4 condiment slots will ensure you have all the meal accessories you need to make it as enjoyable as possible. And last, but not least - the giant hole in the middle for you to throw your rubbish. And with the two bungee cords included to help secure the tabletop to the garbage can handles, you wont need to worry about the tabletop tipping off and spilling all your delicious food.