Map Of The World According To Americans
Date Published: 07/25/2014 5:31 AM
Designed by Yanko Tsvetkov, the map of the world according to Americans takes a satirical look at the different stereotypes American's have of the world. From labeling the entire country of Russia as 'Commies', to labeling half of Africa as 'AIDS', the ignorance of American's can probably be attributed mostly to the Media, seeing how we apparently care more about Justin Bieber, and American Idol than actual events that are happening in the world. If the rest of the world had to label the United States with one word what do you think it would be? My guess would be "fat-lazy-cheeseburger-eating-rascal-driving-walmart-loving-gun-toting-mutha-fuckas". To be honest it just didn't sound as good without the "mutha fuckas" part, it just had to end with a bang.
SITE ANNOUNCEMENT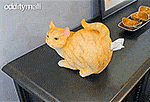 We Are Giving Away 6 Cat Butt Tissue Dispensers
The map of the world according to Americans print comes in 3 different options to be printed on: value poster paper (glossy, semi-gloss or matte), archival heavyweight paper, and premium canvas, and can be printed in basically and size you need, ranging from 6 inches x 4 inches to 56 inches x 40 inches.